Recognition comes as firm launches its in-depth Sustainability Report examining progress to date and strategy for coming years
European IP firm Mewburn Ellis has been awarded a silver medal by EcoVadis, the universal sustainability ratings provider. They are the first IP firm with a presence in the UK to be awarded a silver medal, placing them at the forefront of sustainability in the IP sector. The firm was in the top 25% of all rated companies worldwide and top 19% of the legal and accountancy profession worldwide.
EcoVadis sustainability assessments examine performance across a range of sustainability metrics, including environment, social and governance. They have been used by over 90,000 companies in over 160 countries and over 200 industries. The comprehensive assessment is based on a customised questionnaire linked to industry, country and size, and resulting in an actionable scorecard.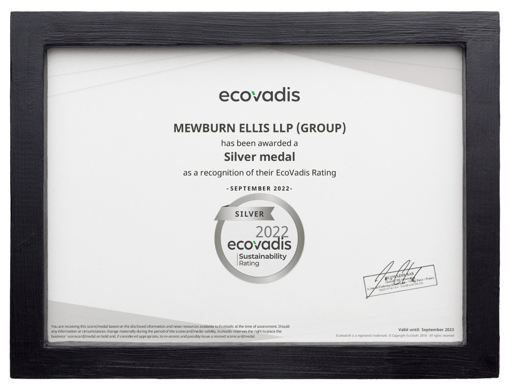 The ranking coincides with the launch of Mewburn Ellis' own sustainability report, which looks at the firm's strategy in the areas: - of Inclusion and Diversity, Community Giving and the Environment as well as publishing Carbon Footprint and Gender Pay Gap data.
The report examines the progress made to date across the board and methodology supporting the firm's strategy across the different areas. It outlines specific initiatives such as the Mewburn Ellis Forest, by which the firm plants a tree for every new matter opened, and its work with partners -such as the British Science Association and the CREST Awards for young scientists. Lastly, it looks at case studies with actionable takeaways for other organisations, and at the firm's targets and strategy for the future.
Following their creation of a Chief Inclusion & Diversity Offer role on their board in January of this year, the firm have also just announced the appointment of Partner Eleanor Maciver as their new Sustainability Champion.
Richard Clegg, Managing Partner at Mewburn Ellis, said:
"This is the culmination of several years' work and is a significant achievement. As the forward-looking IP firm, environmental, social and governance concerns have been high on our agenda for some time now and to have this recognition from EcoVadis is hugely rewarding. We will continue to work together as a firm to deliver on the commitment set out in our Sustainability Report: to do everything we can to be a business with sustainable communities at our heart."
Eleanor Maciver, Partner and Sustainability Champion at Mewburn Ellis said:
"This EcoVadis rating is important both in that it attests to our work to date, and helps guide the next steps of our sustainability journey. I am excited to take on the role of Sustainability Champion at the firm and to move our sustainability agenda forward. One of my first tasks will be to form a sustainability collaboration group and start to gather ideas and input from across the firm. We will also look at how we raise awareness around sustainability issues and build on the feedback from EcoVadis with a view to achieving a gold rating in 2023."
Find out more about our Sustainability work here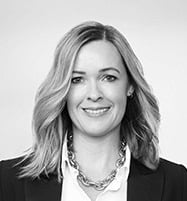 Maria is the firm's Chief Marketing & Business Development Officer and a member of the Management Board. She is responsible for all marketing and business development at the firm. Maria is also heavily involved in the Forward Community Programme at the firm. She was previously Group Marketing Director at an international IP firm and before that Marketing Director for a full service European law firm. Other roles have included Head of Marketing at the world's largest IP services provider and Account Director for a full service marketing agency.
Sign up to our newsletter: Forward - news, insights and features
Contact Us
We have an easily-accessible office in central London, as well as a number of regional offices throughout the UK and an office in Munich, Germany. We'd love to hear from you, so please get in touch.