In a dynamically growing artistic world artists are seeking to maximise protection of their creative works.
Recently, the British street artist Banksy ran into difficulties with trying to retain trade mark registrations of his iconic graffiti-style images in the EU. The legal saga that followed sparks an exciting question: can an artistic work be registered as a trade mark?
Whether an artistic work can take advantage of trade mark rights is a compelling new debate for legal practitioners and artists alike. Now is certainly a good time to consider the benefits and drawbacks of attempting to register an artistic work as a trade mark in the UK.
Artistic works and copyright law
The IP right that practitioners of fine and modern arts tend to benefit from is that of copyright. The raison d'être of copyright law is commonly recognised to be the cultivation of artistic activity. In 1894, Lord Justice Davey captured the justification of early Copyright legislation to be "to afford greater encouragement to the production of works [that are] of lasting benefit to the world."; Hollinrake v Truswell (1894) 3 Chancery Division, 420.
In light of this goal, UK law has enacted specific legal criteria that must be met for a work to qualify for copyright protection.
These criteria are found the UK Copyright, Designs and Patents Act 1988 (CDPA) and whilst there are many, the most relevant for the purpose of this article are the following: (i) the work must be permanently fixed, (ii) created by a recognisable author and (iii) original.
According to the above criteria, paintings and other artistic mediums – such as sculptures and buildings – will readily qualify for copyright protection.
Commercial signs and trade mark law
By comparison, the raison d'être of trade marks is to act as commercial indicators. There are some notable variations of this function. For example, a Geographical Indication (GI) specifically indicates a method of production rather than a single commercial source of a product. You can read about GIs, and how these differ from 'ordinary' trade marks in a post here. However, the General Court (European Union) reminds us, that "the specific context of trade mark law…is that of the course of trade"; C-371/18 Sky v Skykick, [74].
This different purpose of trade mark law is reflected through the legal criteria that must be met to obtain a trade mark right. Three provisions are most relevant when considering the potential of an artistic work to be registered as a trade mark:
Distinctiveness:

a mark must be "capable of distinguishing goods or services of one undertaking from those of other undertakings" (s1(1)(b) Trade Marks Act (TMA) 1994) and bear "distinctive character" (s3(1)(b)TMA). This simply means that a mark must direct consumers towards its single commercial source. A trade mark has in fact been given the legal nickname of a "badge of origin". This is a fitting name, as a trade mark ultimately indicates the trade origin of a particular product or service; Société des Produits Nestlé S.A. v. Cadbury UK Ltd, [2016] EWHC 50 (Ch), [78].

Genuine intention to use the mark:

Every applicant must also be either using the mark, allowing someone else to use it with their consent, or have a genuine intention to use it in relation to the products and/or services requested at the time of applying for the registration of a mark in the UK. If it is found that the applicant does not have such intention, this may result in an initial rejection of the application, or a cancellation of the trade mark after registration, on the ground of 'bad faith'.

Actual use in trade:

In the UK, there is a requirement for a mark to be used in trade at least five years after its registration. After five years, a trade mark may be cancelled if it has not been put to genuine use in the UK market.
Can artistic works be registered as trade marks?
Whether an artistic work can be registered as a trade mark will depend on whether it satisfies the relevant criteria of trade mark law. The three above criteria may likely be the most challenging ones for an artistic work to satisfy.
Firstly, for an artistic work to meet the requisite standard of distinctiveness, it would have to be shown by the owner that the work is interpreted by consumers as a symbol of trade origin. This may present an obstacle for the artist, as many people are simply not accustomed to interpreting artistic works as trade-symbols.
This does not mean that an artistic work is incapable of meeting the criterion of distinctiveness on an exceptional basis. If an applicant can evidence the use of a painting as an artistic work, but also as an indicator of a single business source, then it is possible that the criterion of distinctiveness may be satisfied.
For example, if an artist took the motif of The Starry Night painting, which was originally created by Vincent van Gogh, and recreated it into a graphic logo for a chocolate business, they may try to obtain a trade mark registration of this work.
Importantly, copyright in The Starry Night has now expired and this work is in the public domain. If the work was still protected by copyright, turning a visual variation of this work into a logo may constitute copyright infringement.
Nonetheless, the motif of this painting could potentially satisfy the distinctiveness requirement of a trade mark. A graphic representation of a painting could viably be used to indicate a trade origin in much the same manner as the more traditional marks which we are used to seeing on popular consumer products.
The applicant must also have a genuine intention to use the mark in relation to the products and/or services requested.
For an artistic work to meet the criterion of using the mark in the course of trade, the owner of the registered trade mark would have to be prepared to furnish proof of use of the mark within five years of registration. The owner would need to show evidence of sales of products and/or providing of services in order to retain their trade mark. For the fictitious chocolate business using a graphic variation of The Starry Night painting, this would mean proving that it has been actively selling chocolates in the UK market by reference to this trade mark.
A cautionary tale: Banksy the shop retailer
An interesting and illustrative case in this space, is that of the artist Banksy who registered a number of his graffiti-style works as trade marks, including the "Flower Thrower", "Monkey Sign" and the "Bomb Hugger". Upon examination by the European Union Intellectual Property Office, the relevant artistic works were found to satisfy the distinctiveness requirement and the artist's company – Pest Control Office Limited – was granted the trade mark registrations.
However, since registration, the EUIPO's Cancellation Division has invalidated a total of six of Banksy's trade marks so far, under Article 59(1)(b) EUTMR, on the grounds that the owner had no genuine intention to use the marks in the course of trade at the time of applying to register the marks.
The EUIPO Cancellation Division acknowledged that Banksy's works would qualify for copyright protection, however "to protect the right under copyright law would require him to lose his anonymity which would undermine his persona." "As such, at least without exposing his true identity, it would be difficult for Banksy to rely on any copyright rights to the sign"; EUIPO Cancellation Decision No C 39 921 (INVALIDITY), pages 12 and 9.
Perhaps due to an unwillingness to lose his anonymity, the artist fought to protect the relevant art works under trade mark law. He later attempted to furnish proof of his intention to use the marks in trade, by opening a pop-up shop, Gross Domestic Product, which featured the registered works. The public was allowed to look at the window displays of the shop and buy the products online only, after a vetting process.
This was rejected as an instance of trade mark use, partly because the shop was opened following previous cancellation proceedings. It was deemed as a dishonest attempt "to circumvent the requirements of trade mark law"; EUIPO Cancellation Decision No C 39 921 (INVALIDITY), page 12.
In the EU, there is no requirement for the applicant to explicitly declare an intent to use the mark at the time of making a trade mark application, unlike in the UK where such a declaration is required. However, a trade mark – both in the EU and the UK – may be vulnerable to cancellation where it is found that the owner had no such intention at the time of making the application. This series of cancellations of Banksy's trade marks serve as a word of caution; an applicant for a trade mark must honestly intend to use the mark.
Even if an artistic work does not qualify for trade mark protection, it may be entitled to copyright protection, which arises on the application of an entirely different legal assessment. Copyright protection also offers unique benefits in respect of artistic works. It arises automatically in a work that meets the requisite legal criteria, meaning that the author need not engage in the process of registration to obtain their rights. Copyright also lasts for a significant period – until 70 years after the author's death.
Comparatively, a trade mark – as a monopoly right – may offer unique advantages in trade. For example, the registration of a trade mark avoids evidential burdens relating to allegations of copyright infringement. A trade mark can last indefinitely if successfully renewed, whilst copyright is exhaustive.
Although a trade mark brings clear advantages in trade, this is only the case if the owner actually uses their work in relation to products or services. Trademark law only caters for products and services which are commercialised. Unless commercialisation of an artistic work is part of the business plan, trade mark protection may be of limited use to an artist.
Commentary
The law presents us with a crossroad of copyright and trade mark rights, which artists can take advantage of. This intersection is only a narrow one and any artist wishing to take advantage of trade mark protection must be able to meet the criteria of trade mark law honestly and effectively. The example of Banksy is a telling demonstration of the legal principle against market use that is not genuinely commercial.
Before deciding which IP rights will be beneficial, you need to consider your business model first. To maximise legal protection, a budding artist standing at the legal crossroad should bear in mind that it is only worth taking the turn that leads to your desired destination.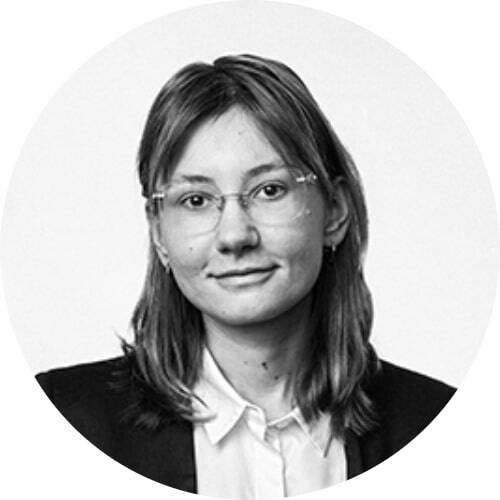 Karolina is a trainee trade mark attorney and a member of our trade mark team. Her core interest is in comparative trade mark practices, having studied trade mark law across multiple jurisdictions. Karolina's special interest is pro bono work, having completed an internship at the National Pro Bono Centre in London. She graduated with an LLB Law with Another Legal System (Singapore) degree, from University College London. This included a year placement at the National University of Singapore, where she studied Singaporean law. She also has a LLM in Intellectual Property Law, from University College London.
Sign up to our newsletter: Forward - news, insights and features
Contact Us
We have an easily-accessible office in central London, as well as a number of regional offices throughout the UK and an office in Munich, Germany. We'd love to hear from you, so please get in touch.