Spectromics is working to put our existing arsenal of antibiotics to best use in the fight against infection.
Forward: features are independent pieces written for Mewburn Ellis discussing and celebrating the best of innovation and exploration from the scientific and entrepreneurial worlds.
It's never a comfortable prospect to add to all the bad news out there, particularly when the world is grappling with a global pandemic, but there's no denying that COVID-19 is just one of the health emergencies we are facing – and will continue to face – over the coming years.
Sitting behind that immediate threat is another looming healthcare cataclysm. A recent UN report predicts that if we haven't come up with an answer to antimicrobial resistance (AMR) by 2050, there could be as many as 10 million deaths per year due to bacterial infection. To put that in context, that's a tally that would surpass cancer mortality.
Unlike COVID-19, the mechanisms and origins of AMR are well understood. As Neil Butler, Director of diagnostics technology business Spectromics (a Manchester University spinout), puts it: 'Antimicrobial resistance is governed by Darwinian laws where organisms fight for survival. In short, resistant bugs win. Many bacteria have replication rates of around 30 minutes, which provides them with many opportunities to mutate and develop resistance to the antimicrobial effects of antibiotics.'
We also know a lot about how to combat AMR. One strategy that has had some success is reducing the misuse of antibiotics in farming, where they're too often deployed to increase yields or to reduce microbial activity in fish farms. We can also stop prescribing antibiotics to patients who are clearly presenting with viral infections.
And, of course, 'we must continually add new antibiotics, preferably with differing modes of action,' Butler continues.

Yet he's the first to admit that developing new antibiotics is a lengthy and costly process, so much so that each one costs in the region of $2bn to get to market. 'They are some of the hardest drugs to develop, and when you do develop them the pricing you can achieve is generally pretty low.'

However, there is one other important course of action: diagnostics. These are complementary technologies that can be used to guide the use of our existing antibiotic supply.
Butler explains that infections are usually diagnosed either by identifying a particular organism using molecular diagnostics or by using tests that differentiate between viral and bacterial infection, such as CRP (C-reactive protein) or PCT (procalcitonin).
The problem here is that 'although such tests may provide guidance to possible effective treatments and whether an antibiotic shouldn't be used, they don't provide specific guidance on which antibiotics will actually provide effective treatment'.
In other words, even if you've established through testing which specific pathogen is involved, the testing can't tell you what antibiotic that strain is susceptible to. 'For example,' says Butler, 'we ran a test on about 250 E. coli strains and some of them had susceptibility to front-line drugs while others were totally resistant. So just because you know the molecular ID of a pathogen, it doesn't mean you know what is going to treat it effectively. A lot of our existing antibiotics will encounter resistance in 50% of cases.'
A logical solution
To address this problem, Spectromics is working on a new type of diagnostic test. Currently geared towards urinary tract infections (UTIs, one of the most common infections in humans), it takes what Butler describes as 'a logical approach' – getting straight to the issue of drug susceptibility.
'We don't try to ID the pathogen. We take a patient's sample, say a urine sample, and present it to a number of different antibiotics. We determine if a bacterial infection is present and out of those prospective treatments we say which ones will best treat that particular infection.
'It just makes so much sense. A diagnostic that allows you to select drugs that are going to kill a pathogen every time is a much better way of using antibiotic drug development capability. Antibiotics are precious resources that we should be using sparingly and in a very guided manner.'
"A diagnostic that allows you to select drugs that are going to kill a pathogen every time is a much better way of using antibiotic drug development capability"
The issue with UTIs, in particular, says Butler, is that Gram-negative bacteria are in play, including pathogens such as E. coli and Klebsiella. Knowing the pathogen doesn't tell a doctor which antibiotic will treat the infection, so a front-line drug is often prescribed and if this doesn't treat the infection another will then be prescribed, and so on. This empirical prescribing not only allows the pathogens the opportunity to mutate further but it also uses our front-line drugs and builds resistance to them.

Spectromics' solution is to test each patient with a rapid susceptibility test that tells a doctor which drugs work for a particular infection. The test uses ultraviolet-visible (UV-Vis) spectroscopy combined with computational techniques to obtain information regarding susceptibility and resistance in less than 30 minutes. This compares very favourably with conventional techniques where the time taken to determine antimicrobial resistance is typically at least 24 hours (which corresponds to the time it takes for an antibiotic to influence bacterial population growth). The use of UV-Vis spectroscopy also means that the rapid susceptibility test has various practical advantages because the sample does not require drying and can be analysed in situ (for example, while in a sealed, disposable cartridge).
The test used by Spectromics holds eight antibiotics in each cartridge. For any particular infection, between four and six antibiotics should show susceptibility. From that available group, the lowest-cost drug can be selected, or even one of the older drugs that is not so frequently used for reasons of resistance but that will be effective in this case.



Spectromics' sealed, disposable cartridge


'By selecting the drugs in this way, we can steward our available drugs and take pressure off the key front-line drugs,' Butler explains. 'It can also bring retired drugs, such as amoxicillin, back into play. We can add older, cheaper drugs to the array and even where there is substantial resistance in general, we would be able to say that in a patient with a particular infection it will work.'
Importantly, this approach will also conserve 'last-line', broader-spectrum drugs for later microbial challenges.
Getting to the point
Spectromics is developing its test to be administered at the point-of-care testing stage and is ultimately aiming for a ten-minute wait for the result.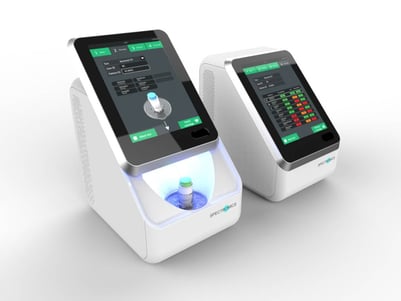 Spectromics' new diagnostic tool


Speed is important: if the doctor has to wait days for a result (for example, culture testing for susceptibility can take many days) and thinks a patient has a UTI, they are likely to prescribe empirically anyway, particularly as patients can be in significant discomfort.
A ten-minute test would also work well in a pharmacy setting (especially in large, multi-department chains), where patients could simply browse the aisles before returning for an effective prescription to take away.
The price point is also something to be considered. Spectromics is looking to sell each disposable cartridge for about $15, which it believes will show a cost advantage against the empirical prescribing of front-line drugs.
Forward momentum
The company has now been able to show that the test works effectively on hundreds of E. coli and Klebsiella strains and is now focusing on improving its sensitivity.
It is in discussions with a major UK consulting firm to help it to attain the sensitivity targets it needs to achieve detection of infections at 10,000 CFU/mL (to detect 10,000 organisms per ml of urine).
Once Spectromics knows that it can achieve the sensitivity and specificity targets it has set, it will then need to raise further finance to develop the clinical pilot-scale instruments and cartridges to allow large-scale clinical evaluations to validate the product's performance.
"A diagnostic that can guide the use of the right antibiotic for a particular patient has the ability to bring old, low-cost and safe antibiotics back into service"
'It's a lengthy process,' Butler says, 'and there is still a way to go. With drugs, once you've proven they work, they'll fly. But with diagnostics it can take years to scale a process to be profitable and self-sustaining.'
Nonetheless, a successful outcome for Spectromics should be worth the journey. A diagnostic that can guide the use of the right antibiotic for a particular patient has the ability to bring old, low-cost and safe antibiotics back into service.
Taking the pressure off current front-line drugs will also extend their utility. The net result is that new antibiotics that cost billions of dollars to develop will still be required, but hopefully in lower numbers. Meanwhile, faster, more effective treatment will save lives.
For Butler, while the COVID-19 crisis is 'a horrible thing that we are all going through', he does see a potential positive. 'People are starting to recognise the value that diagnostics plays,' he says. 'It is shining a light on diagnostics and the need to better diagnose infections as soon as they arrive, so that we can treat early.'
---

Test will be welcome
James Leach, Partner and Patent Attorney in the engineering team at Mewburn Ellis comments:
"Spectromics' technology offers the possibility of an antimicrobial resistance test that is low-cost, fast and effective. It's an enticing prospect and something I think the medical community would welcome with open arms."
Read more Mewburn Ellis insights about AMR and the importance of diagnostics.

---

Spectromics: Fast facts


Origin story:
Spin out from Manchester Institute of Biotechnology, Manchester, April 2014

Technology Founders/Inventors:
Roy Goodacre, Professor of Biological Chemistry, Manchester University (now at University of Liverpool) and Mathew Upton, Associate Professor in Medical Microbiology, Manchester University (now Professor, School of Biomedical Sciences, University of Plymouth)
Core Patent:
European Granted Patent number 3110963, 5 July 2017. Assigned to Spectromics.
A METHOD OF ANALYSING A SAMPLE INCLUDING A MICROORGANISM OF INTEREST, relating to the determination of antibiotic susceptibility using UV/Vis spectroscopy.
US granted patent number 10570436.
---
Find out more about Spectromics here.
Images provided by Spectromics.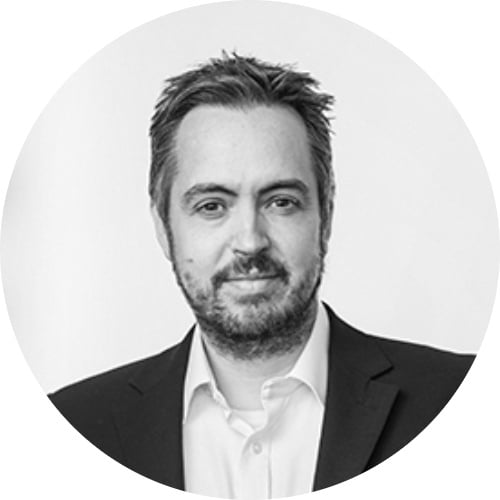 James is a Partner and Patent Attorney at Mewburn Ellis. He has a wide range of experience in patent drafting and prosecution at both the European Patent Office (EPO) and UK Intellectual Property Office (UKIPO) across a variety of industry sectors. James has particular expertise in the patentability of software and business-related inventions in Europe.
Sign up to our newsletter: Forward - news, insights and features
Contact Us
We have an easily-accessible office in central London, as well as a number of regional offices throughout the UK and an office in Munich, Germany. We'd love to hear from you, so please get in touch.