A recent decision of the European Union Intellectual Property Office (EUIPO) has seen a trade mark registration for the Banksy artwork 'Flower Thrower' declared invalid on the grounds of bad faith.
"Copyright is for losers"
In 2014, Pest Control Office Limited, a handling service acting on behalf of the artist Banksy, registered a copy of the Banksy artwork 'Flower Thrower' as a figurative European Union trade mark (EUTM) covering a wide range of goods and services, including paint, sunglasses, posters, bags, building materials, textiles, clothing, rugs, toys, art exhibitions and commissioned artist's services.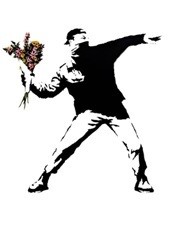 Banksy's "The Flower Thrower"

In 2019, Full Colour Black Limited applied to invalidate the registration alleging, inter alia, bad faith.
They noted that the mark is an exact reproduction of one of the most iconic and famous of Banksy's artworks, one which is a work of graffiti sprayed in a public place. Moreover, in his book, 'Wall and Piece', Banksy stated that "copyright is for losers" and that the public is morally and legally free to reproduce, amend and otherwise use any copyright works forced upon them by third parties. Full Colour claimed it is well known that Banksy's works are widely photographed and reproduced on a large scale by a range of third parties.
They alleged that the EUTM registration had been filed so that Banksy did not have to rely on copyright law for enforcement, which would require him to lose his anonymity. Therefore, the sole purpose of registering 'Flower Thrower' as an EUTM was to circumvent copyright law and to be able to prevent the ongoing use of the work, despite having no intention to use the mark and having already permitted its reproduction by others.
In response, the trade mark owner disputed the claim that Banksy had given "free reign" to the general public to use his copyright. They further argued that there was a legitimate objective to registration of the mark, namely preventing third parties taking advantage by copying 'Flower Thrower', knowing Banksy could not enforce unregistered trade mark rights and copyright without prejudicing his public persona.
"The least poetic reason to ever make some art"
In its decision, dated 14 September 2020, the EUIPO considered the evidence and arguments filed by both parties in detail. They noted that Banksy had made clear statements that he gave his express permission for the public to download and use his works of arts as they wished. Furthermore, despite stating this should not be for commercial purposes, evidence suggested he was aware of various companies using 'Flower Thrower' to commercialise goods and did nothing to stop them.
Consideration was also given to the fact that Bansky had never actually marketed or sold any goods under the contested 'Flower Thrower' trade mark at the time of the filing of the application for invalidity. Subsequently, there was evidence of the opening of a Banksy shop, which was not opened to the public, but the public could look at the window displays and buy the products online. However, Banksy was said to have commented that "the motivation behind the venture was "possibly the least poetic reason to ever make some art" – a trademark dispute", and evidence also showed he had stated he was making items "for the sole purpose of fulfilling trademark categories under EU law", i.e. demonstrating use of trade marks for various classes of goods.
"The proprietor's actions are inconsistent with honest practices"
Under European Union trade mark law, an EUTM registration is liable to be declared invalid where the applicant was acting in bad faith at the time of filing the application. There is no precise legal definition of bad faith, but an applicant will typically be considered to be acting in bad faith where their conduct departs from accepted principles of ethical behaviour or honest commercial and business practices.
In particular, bad faith may be found if the trade mark proprietor had no intention to use the registered trade mark in relation to the goods and services covered by the registration and instead had the intention either of undermining the interests of third parties, or of obtaining an exclusive right for purposes other than those falling within the accepted functions of a trade mark.
In its decision, the EUIPO concluded that when the EUTM registration for 'Flower Thrower' was filed, there was no intention to use the mark to commercialise goods or provide services. Instead, the EUTM was filed in order for Banksy to have legal rights that could be used to prevent third parties commercialising the work, given that there would be a number of difficulties in enforcing rights under copyright law. The EUIPO held that this constitutes bad faith and therefore the EUTM registration was invalidated in its entirety.
Comment
This decision is one of many recent decisions exploring the concept of bad faith and seemingly taking quite a generous approach to its interpretation. However, it is unlikely to be the end of the story. A decision like this could prompt further challenges to other trade mark registrations corresponding to Banksy's artworks. Therefore, an appeal seems highly likely. Despite Banksy having been "very vocal regarding his disdain for intellectual property rights", he seems set to be embroiled in intellectual property disputes for some time yet.

Rebecca is a Partner and Chartered Trade Mark Attorney at Mewburn Ellis. She handles all aspects of trade mark work, with a particular focus on managing large trade mark portfolios, devising international filing and enforcement strategies, and negotiating settlements in trade mark disputes. Rebecca has extensive experience of trade mark opposition, revocation and invalidity proceedings before the UK Intellectual Property Office (UKIPO), including very complex evidence based cases. Rebecca also has a strong track record in overcoming objections raised to trade mark applications.
Sign up to our newsletter: Forward - news, insights and features
Contact Us
We have an easily-accessible office in central London, as well as a number of regional offices throughout the UK and an office in Munich, Germany. We'd love to hear from you, so please get in touch.