As Chinese companies continue to grow and expand overseas, there has been a growing appetite to protect their brands. Over the years China has steadily climbed up the rankings of the number of EUTM applications originating from a given country, and in 2019 it came third with over 15,000 applications. As of July 2020 it was second only to Germany 1. A significant number of those applications are for or contain Chinese characters. As a rough measure, using the relevant Vienna code, there are currently nearly 13,000 EUTMs (live and dead) containing Chinese or Japanese characters . An important question for owners is: how are such marks viewed and protected at the EUIPO?

As a starting point, the EUIPO considers 'letters from non-EU alphabets' as figurative marks. In fact, the Chinese mark

is included in the examples of figurative marks in the EUIPO Guidelines 2.

This has very important implications for how a Chinese character mark would be assessed in any contentious proceedings before the EUIPO. In particular, figurative marks generally have a limited scope of protection and their analysis would predominantly focus on their visual impression. The characterisation of Chinese characters as figurative marks largely reflects the fact that Chinese writing is considered illegible to the general public in the EU and therefore it is not possible to conduct a phonetic or conceptual assessment. The full repercussions of this and the difficulties it poses to owners of Chinese character marks can be seen in the recent cases between the Inner Mongolia Yili Industrial Group Co., Ltd ('Inner Mongolia Yili') and the individual Wen Li.

In 2018 Wen Li filed an EUTM application for the mark

covering a range of food and drink related goods, including 'milk products; dairy products' in class 29. It was opposed by Inner Mongolia Yili on the basis of its EUTM registration for

in particular. Inner Mongolia Yili was unsuccessful both before the Opposition Division and in the subsequent appeal. In assessing the similarity of the marks, as expected, the Board of Appeal found that the average EU consumer would not be able to pronounce or understand the Chinese characters and that their attention would be 'more easily drawn towards the…Latin characters 'YILI''. However, astonishingly to Chinese speakers, it was held that there was 'no visual similarity between those two signs'. Despite the Chinese words in the two marks being identical, the Board of Appeal found that the characters 'are presented in a different way, specifically in terms of the number of characters and their composition'. As a result, there was no likelihood of confusion.

Having failed in its opposition, Inner Mongolia Yili turned to the prospect of an application for a declaration of invalidity of the now registered

mark on the ground of bad faith (which is not available as a ground of opposition under the EU Regulations). It was ultimately successful, but only after having filed extensive arguments and a significant amount of evidence proving its reputation as 'the No.1 milk and dairy products company in China and Asia' and that its marks YILI and

'are among the best known brands in China'. The Cancellation Division held that there was no commercial logic underlying the proprietor's decision to seek EU-wide protection for a home-made yoghurt business in London for a sign that has been considered for years as a well-known brand of the applicant for invalidity, and that it cannot be a mere coincidence that the registration is in the same food industry. It further considered it odd that the proprietor combined precisely the two elements associated with the applicant, when there are many other options of transliterating 'YILI' into Chinese and especially given the proprietor admitted at least a basic knowledge of the Chinese language. The registration was cancelled on the basis that it was filed in bad faith, with the proprietor's intention being to seek 'to block access to protection and, potentially, to use, by the applicant of its YILI and

marks in the EU'.

Inner Mongolia Yili's travails neatly illustrate the relatively narrow scope of protection afforded to Chinese character marks at the EUIPO. It would not seem to require much effort on the part of an unscrupulous third party to create a mark deemed sufficiently dissimilar; the addition of other elements, such as Latin character words or even additional Chinese characters, could be enough. Invalidation on the basis of bad faith is always a possibility but it is a ground that is very much dependent on the specific facts and circumstances of a given case, so that success is never assured and a large amount of time and effort is needed in preparing the evidence and arguments to mount the best possible case.

Obtaining an EUTM registration for Chinese character marks may still have some benefits, in serving as a deterrence and as a safeguard against third parties using or registering the same or a very similar mark. Nevertheless, owners need to be aware of the limitations. It is possible the position could evolve in the longer term: the EUIPO stance is based on the fact that the Chinese community is not considered a substantial part of the EU relevant public and EU consumers cannot read or understand Chinese characters. This could slowly change over time as the EU Chinese population grows and Chinese is increasingly taught at schools. In the meantime owners should be prepared to consider all options when enforcing their rights and to keep in mind the possibility of bad faith as a ground of invalidity.

1 EUIPO Statistics in European Union Trade Marks: 1996-01 to 2020-07 Evolution, sections 2.4-2.5
2 EUIPO Trade mark and Design Guidelines, Part B Examination 4 Case R 2395/2016-4 Inner Mongolia Yili Industrial Group Co., Ltd. v Wen Li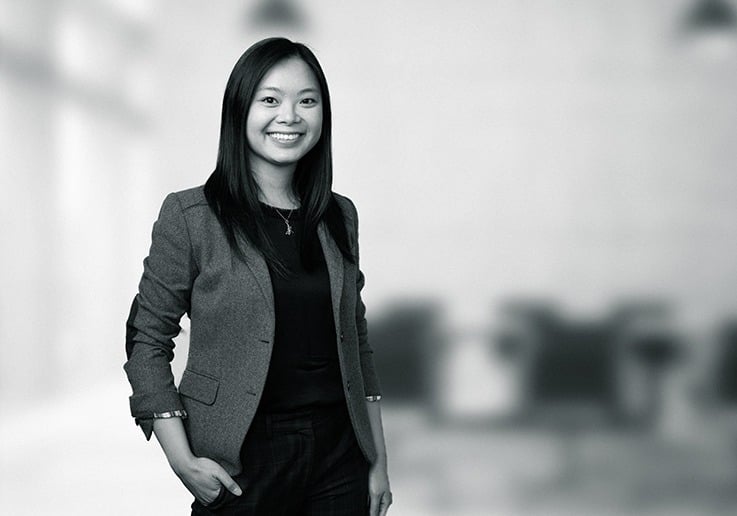 Jacqueline is a Partner and Chartered Trade Mark Attorney at Mewburn Ellis. She has extensive experience in managing large portfolios, particularly advising on international filing strategies and foreign filings and prosecution. Jacqueline's work includes acting in oppositions before the UKIPO and advising on multi-jurisdictional disputes, with extensive experience in negotiating settlement agreements. She has also been involved in Nominet and UDRP proceedings relating to domain names.
Sign up to our newsletter: Forward - news, insights and features
Contact Us
We have an easily-accessible office in central London, as well as a number of regional offices throughout the UK and an office in Munich, Germany. We'd love to hear from you, so please get in touch.