Earlier this year, in March 2023, the European Union's General Court provided some useful clarifications on consumer perception in the pharmaceutical sector. The case, Case T-175/22, Novartis v EUIPO – AstraZeneca, was an appeal against an unsuccessful application for a declaration of invalidity by Novartis, with the General Court ultimately dismissing the appeal.
Background
The applicant for invalidity, Novartis, is the owner of three registered EU trade marks (EUTMs), namely BREZILIZER, BREEZHALER, and ONBREZ. These marks are used in relation to inhalers and are registered in Class 5 for "pharmaceutical preparations", among other things.
AstraZeneca obtained registration for BREZTRI as an EUTM on 31 May 2018, for goods in Class 5, namely "pharmaceutical preparations and substances".
On 23 September 2019, Novartis filed an application for a Declaration of Invalidity at the European Union Intellectual Property Office (EUIPO) against the BREZTRI registration, claiming a likelihood of confusion with their earlier trade marks.
The Cancellation Division of the EUIPO rejected the application for a Declaration of Invalidity, a decision which was upheld by the Board of Appeal. Novartis then appealed to the General Court.
The decision itself is not particularly surprising, however the judgement raises some interesting points regarding consumer perception which are worthy of further consideration.
Consumer perception
The Court was unconvinced by Novartis' claim that medical professionals and consumers do not pay the same high level of attention to the commercial origin of pharmaceutical products.
Novartis did not dispute that the relevant public in this case included both medical professionals and the general public, since pharmaceutical preparations is broad enough to include both prescription and over-the-counter medicines, but they argued that the general public does not pay the same high degree of attention as medical professionals do when selecting products, owing to a lack of medical training and knowledge.
However, the Court held that the general public is just as attentive to the commercial origin of their medication as medical professionals are, given the important implications that medication has on their health and wellbeing. Regardless of whether that medication is prescribed or purchased independent of a prescription, the interest of the consumer in their own health means that they take extra care to check the commercial origin of their medication.
Novartis argued that the general public includes elderly people and children who are more easily confused, but the Court dismissed this argument, finding that Novartis hadn't put forward any specific argument as to why the level of attention of elderly persons is lower, and that usually, it is adults who purchase pharmaceutical preparations for the needs of children.
As such, the Board of Appeal had not erred in finding that consumers will pay the same elevated level of attention towards the marks, whether they are a medical professional or not.
Enhanced distinctiveness
The Court also considered if Novartis' earlier marks had enhanced distinctiveness. It was here that they found that the Board of Appeal had conducted an inadequate review of the evidence put forward by Novartis for the BREEZHALER mark.
The evidence showed the mark used in conjunction with another mark or sign, such as ONBREZ, ULTIBRO, SEEBRI, MIFLONIDE and XOTERNA. The Board concluded that the evidence did not establish that that mark on its own enjoyed enhanced distinctiveness in the European Union. However, the General Court found that
"It is apparent from the case-law that the acquisition of distinctive character may result both from the use, as part of a registered trade mark, of an element thereof and from the use of a separate mark in conjunction with a registered trade mark".
It is sufficient if, as a consequence of this use, the mark at issue performs the origin indicating function for the relevant public.
The Board of Appeal thus failed to correctly review the evidence. This was insignificant however, as the Court said
"even if the earlier mark BREEZHALER had enhanced distinctiveness acquired through use, that would not be sufficient to conclude that there was a likelihood of confusion".
Likelihood of confusion
The Court was very clear in its judgement that there was no likelihood of confusion between the three earlier marks and the later mark.
It found there was only a low degree of visual and aural similarity between BREZTRI and the two earlier marks BREZILIZER and BREEZHALER, and that this was insufficient for confusion to arise.
The Court agreed with the Board of Appeal that ONBREZ is visually dissimilar to BREZTRI and that the marks share no phonetic similarity, or at most a low degree of phonetic similarity.
It acknowledged that pharmaceutical companies often use 'long and complex' trade marks, which can be difficult to remember. However, it concluded that the relevant public will still be able to distinguish between marks with 'low visual and phonetic similarity' and with 'no conceptual meaning,' as in this case. Therefore, the Court agreed with the Board of Appeal that there was no likelihood of confusion.
It also quickly dismissed an argument that the three earlier marks constitute a 'family' and consumers would mistakenly believe the later mark belongs to the same family. A family of marks share a single distinctive element, with the addition of additional words or graphic elements. Alternatively, they can share a single prefix or suffix. For consumers to mistake a mark as part of the family, it must not only be similar to the marks belonging to the series, but also display characteristics capable of associating it with the series. In the present case, the element 'BREZ' is not reproduced identically in all the earlier marks.
Comment
This decision highlights that the general public pay a greater level of attention to brand names when selecting pharmaceutical products than they might pay to other types of products. This is predominantly because of the health implications of correctly choosing the right medication; consumers are more careful when making purchasing decisions that could affect their health.
When consumers pay a greater degree of attention, they are less easily confused, so potential claimants and opponents will need to work harder to make their case. Those who wish to persuade an EU Court or trade mark office that the degree of attention is lower for a pharmaceutical product is likely to need to submit market evidence to show that a particular group of consumers would in fact be confused.
Simply arguing that consumers are elderly or young will not be sufficient, given the Court's findings in this case. There may be scope to argue that a particular type of consumer is more prone to confusion due to a medical condition they have, such as dementia. However, one hurdle to overcome will be demonstrating that such patients do not have a family member or carer assisting with the purchase and dosage of their medication.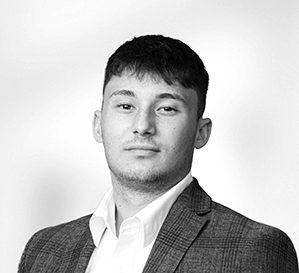 Jamie is a trainee trade mark attorney and a member of the firm's trade mark team. His interests are in contentious trade mark work, copyright and media law, having completed optional modules in these areas at university. He has previously worked as an IP assistant for a MedTech firm, assisting with contentious matters in patent law, contract law and trade secrets. He has also helped manage the firm's IP portfolio.
Sign up to our newsletter: Forward - news, insights and features
Contact Us
We have an easily-accessible office in central London, as well as a number of regional offices throughout the UK and an office in Munich, Germany. We'd love to hear from you, so please get in touch.