Historically, traders have placed symbols on products to indicate their origin. These symbols were thought of as a kind of trader's signature, which allowed consumers to know when a product originated from a distinctive trader.
Over the years, trade marks' origin-indicating value has only grown in force. The phenomenon of brand loyalty has evolved rapidly, which has meant that building the association between product and unique trade in the consumers' mind has become a significant commercial asset.
In the twentieth century, it was Frank Isaac Schechter, an American academic, who claimed that trade marks have evolved beyond their key function of indicating trade origin. He claimed that the value of the modern trade mark lies also in its "selling power"; trade marks act as powerful symbols that draw in custom. This school of thought is particularly relevant to the fashion industry, where unique designer branding is increasingly sought after by consumers. In short, a trade mark can indicate trade origin but also exert a force of attraction in its own right.
What is a trade mark?
Source indicator
A trade mark is something (e.g. a word or sign) which enables customers to identify goods or services as coming from a particular source. UK law has embraced the definition of trade mark as a "badge of origin" (Société des Produits Nestlé SA v Cadbury UK Ltd, [2016] EWHC 50 (Ch), [78]). It functions like a trader's signature.
Quality assurance
A reputable trader will want their products or services to have desirable qualities and the customer to associate the desirable qualities of their product with their unique trading source. A trade mark can therefore function as a guarantee of quality.
Advertising symbol
Marks can be helpful in building marketing campaigns that help establish the product's reputation on the market. This is particularly beneficial traders in the fashion industry, where the power of brand appeal is dominating the luxury goods market.
How do you obtain a trade mark?
A trade mark comes to exist only after grant of registration. To register a trade mark in the UK, an application must be made to the UK Intellectual Property Office.
An application for a trade mark will be assessed by a skilled examiner, who will judge whether the proposed mark meets the legal criteria for registration.
The fashion industry is leading the trend in use of innovative marks - shapes, sounds, animations and even smells have been registered across various jurisdictions. These marks are often referred to as "non-traditional" marks. They face a higher risk of receiving objections to registration than the more commonly registered word and design marks.
Non-traditional marks: what can I register as a trade mark?
In theory, any sign that can be viably represented on the register and used by the consumer to distinguish between different competitors, can be registered as a trade mark.
Whilst a word and design mark will more readily meet the above criteria for registration, the non-traditional marks may face more challenges.
Nonetheless, many of non-traditional marks have been successfully registered, for example:
Colour-only marks
The iconic red sole of a Christian Louboutin shoe has been granted registration as a trade mark (Christian Louboutin S.A. v. Yves Saint Laurent Am. Holding, Inc. - 696 F.3d 206 (2d Cir. 2012)) in the US.
Store layout trade mark
The Court of Justice of the European Union ruled that a design alone, which did not indicate the size or proportions of the layout of a store, may be registered as a trade mark, provided that the above mentioned registrability criteria are met (C-421/13 Apple Inc v Deutsches Patent- und Markenamt). For example, the layout of Apple's store has been registered as a 3D mark in the US.
Shape marks
The shape of Guerlain's Rouge G lipstick has been allowed registration as a 3D trade mark. The General Court ruled that the shape was an uncommon one for a lipstick product and so capable of being used by consumers to distinguish trade origin (T-488/20 Guerlain v EUIPO). This ruling is certainly one to take note of, for brand owners in the fashion and cosmetic industries.
Past practice has demonstrated that innovators within the fashion industry are prepared to use trade mark rights to their advantage. With consumers growing accustomed to more animated and divergent product, in a buzzing market, this is certainly a space to watch for budding designers.
Why should I register a trade mark?
An offensive monopoly
Registration gives its owner a legal monopoly to be the sole permitted user of the mark on the goods and/or services that it has been registered for. It allows the owner to prevent others from using the same or confusingly similar mark on the relevant goods and/or services.
Communicating with the consumer
Owing a trade mark assures you that consumers will only see your product as authentically originating from your own source and not a competitor's. Having this monopoly is a useful way of differentiating your business in a competitive market.
A trade mark confers valuable legal rights to its owner. It is an asset that brings significant commercial benefits, by facilitating the relationship between trader and consumer. The willingness of law to grant rights in respect of non-traditional marks especially, demonstrates that it is an intellectual property asset that is very relevant to brand owners and designers.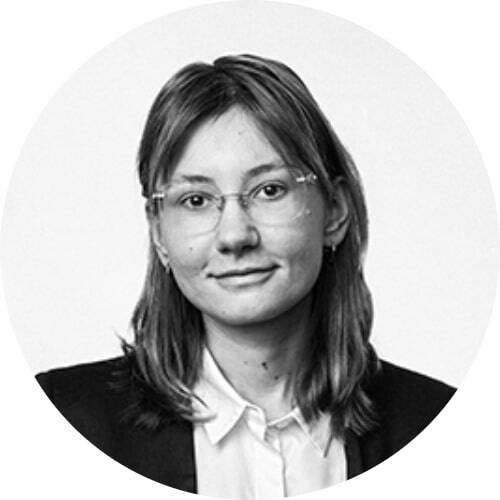 Karolina is a trainee trade mark attorney and a member of our trade mark team. Her core interest is in comparative trade mark practices, having studied trade mark law across multiple jurisdictions. Karolina's special interest is pro bono work, having completed an internship at the National Pro Bono Centre in London. She graduated with an LLB Law with Another Legal System (Singapore) degree, from University College London. This included a year placement at the National University of Singapore, where she studied Singaporean law. She also has a LLM in Intellectual Property Law, from University College London.
Sign up to our newsletter: Forward - news, insights and features
Contact Us
We have an easily-accessible office in central London, as well as a number of regional offices throughout the UK and an office in Munich, Germany. We'd love to hear from you, so please get in touch.