We are delighted to announce that Kate O'Rourke will join the firm on 1 April 2019.
Kate, a hugely experienced trade mark attorney and solicitor with more than 25 years' experience, will lead our growing trade mark team from our London office.
A former President of the UK Chartered Institute of Trade Mark Attorneys (2016 to 2018), she has been centrally involved in negotiations with the UK government around the implications of Brexit on trade marks and designs.
Having been at Charles Russell Speechlys for over a decade, she has led the firm's trade mark registration and protection team for more than five years, advising a range of international clients, including within the retail and leisure sectors. A recognised industry leader, she is Vice Chair of the INTA Pro Bono Committee and one of few women to be featured highly and consistently in international IP rankings. She was awarded an MBE in 2016 for services to education.
Kate will spearhead our plans to grow our highly regarded trade mark practice and further develop our large portfolio of EU-based and international clients.
Over our 150-year history, we have developed an unrivalled reputation for excellence across our range of patent services. We are now investing further in European trade mark hires. Our trade mark work grew strongly across 2018, with key lateral hires at partner level – including experienced trade mark attorney Dydra Donath into our Munich office – helping us to deliver 17% fee-income growth in the last 12 months.
Kate O'Rourke commented:
"Mewburn Ellis has a reputation for excellence that cuts across the entire intellectual property community. I'm delighted to have the opportunity to help drive the firm's ambitious plans to expand its high quality trade mark services still further."
Mewburn Ellis Partner Joanna Cripps commented:
"Kate's arrival at Mewburn Ellis could not send a bolder statement to the market about our firm's intent to offer the very best trade mark services available in Europe. We could not be more delighted to welcome her to the firm."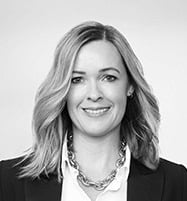 Maria is the firm's Chief Marketing & Business Development Officer and a member of the Management Board. She is responsible for all marketing and business development at the firm. Maria is also heavily involved in the Forward Community Programme at the firm. She was previously Group Marketing Director at an international IP firm and before that Marketing Director for a full service European law firm. Other roles have included Head of Marketing at the world's largest IP services provider and Account Director for a full service marketing agency.
Sign up to our newsletter: Forward - news, insights and features
Contact Us
We have an easily-accessible office in central London, as well as a number of regional offices throughout the UK and an office in Munich, Germany. We'd love to hear from you, so please get in touch.