16-17 November 2019 saw a momentous occasion: innovators, creators and thinkers came together for the world's first Graphene Hackathon. 24 hours for 10 teams to design, prototype and pitch new products, ideas and business based on graphene ink technology.
With three great prizes up for grabs (£250 for second place; £750 for first place; and a grand prize of up to £5k support from the Graphene Engineering Innovation Centre (GEIC) to develop the winner into a commercial business and product) all the competitors were keen to get going. People had come from across many different countries, universities and companies, as well as many different technical backgrounds (from physics to ballet!) for this opportunity.
With access to electronics, fabrics, inks and technical facilities at the GEIC, the teams came up with some truly amazing ideas and products in the short time available. From interstellar solar power to sign language translation; cycling to trucking, there really was no limit to the creativity and graft on show.
I was lucky enough to have the chance to do a brief introductory session about intellectual property; perhaps not the most thrilling part of the day (for some!) but a key part of any creative business. Fortunately I was scheduled early enough in the day that energy was still high!
Spirits were kept up by the amazing organizing team, all students themselves, who deserve immense credit for running the whole event so smoothly and keeping everyone energized, engaged and fed. After 23 hours of hacking the excitement was still as real as at the very start, testament to the event and the organisers.
But it wasn't just the products and ideas that were being judged – the 'Dragon's Den meets The Apprentice' pitches needed to include business planning and strategy too. Again it was impressive to see how much work and thought had gone into these. From market research and patent searching through to contacting potential customers to identify consumer need, the standard was remarkably high.
In the end, though, there could only be one four three winners. An "innovation prize" of £250, for the most ingenious use of technology, went to Glovene, who has created a glove system for translating sign language into text of speech. Such amazing opportunities for increasing accessibility are great to see.
The second prize, for the team with overall the second highest 'score' from the judging, went to Innovation INKlined, with their posture sensing equipment which has the potential to greatly enhance seating comfort, improving workers' health and reducing costs to employers.
The first prize, for the team with the highest overall score, went to Glovene (again!). An incredible product, impressive prototype, and professional pitch really paid off.
But it was another team, LIQUIDENTITY, who took home the biggest of the big cheques – up to £5000 of support, materials and mentoring from the GEIC to turn their idea (a product for assessing soil to improve crop yield, particularly in economically disadvantaged areas like sub-Saharan Africa) into a reality. Such a product could make a real impact in the world and they had made huge strides to making it a reality in the 24 hours they had. Just imagine what the next year might bring!
The creations on show, the business ideas pitched, the prototypes manufactured; all go to reinforce that the vision for the GEIC (and for Graphene@Manchester) really is working. Ideas become prototypes, are tested, reimagined, re-prototyped and commercially assessed under one roof, within short timescales. This accelerated 'lab to market' ecosystem is driving graphene innovation to a new level. We are delighted to be partners of the GEIC at this exciting time, and look forward to the next Graphene Hackathon!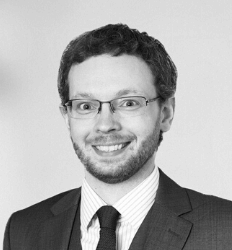 Matthew is a Partner and Patent Attorney at Mewburn Ellis. Working primarily in the chemical and materials science fields, he has significant experience of the intricacies of the EPO. Matthew advises and assists clients with all stages of drafting, prosecution, opposition and appeal before the EPO. Many of his clients are Japanese and Chinese businesses that are seeking European patent protection. These include multinational corporations in the fields of high-performance ceramics and carbon fibre technologies, as well as pharmaceutical and cosmetic companies. Matthew also works with several research institutions and university technology transfer departments across Europe.
Sign up to our newsletter: Forward - news, insights and features
Contact Us
We have an easily-accessible office in central London, as well as a number of regional offices throughout the UK and an office in Munich, Germany. We'd love to hear from you, so please get in touch.