The CEO and founder of Loop Industries lets us in on the revolutionary technology and development trajectory behind a truly circular plastics recycling solution.
Forward: features are independent pieces written for Mewburn Ellis discussing and celebrating the best of innovation and exploration from the scientific and entrepreneurial worlds.
Mewburn Ellis Forward: You have been described as an "environmental entrepreneur" – how did you get started in the sustainability sector and how did this lead you to Loop?
Daniel Solomita: I am a computer engineer by schooling and worked at Bell Canada for 12 years, but I always wanted to be an entrepreneur. My first opportunity came in 2011, when I left Bell to head up a landfill remediation project in South Carolina. That involved developing a process to clean waste Nylon 66 fibre and selling that material on to a compounding company [to create plastic pellets].
During that time, I met the chemist who had the original idea for our first generation (Gen 1) Loop technology, and I began funding research here in Montreal. That's how Loop got started. Eventually, I sold the US business and put all of my money into Loop.
Mewburn Ellis Forward: Can you explain the Loop recycling process in a general sense? How is it different from other approaches to recycling plastics?
Daniel Solomita: Today, most recycling is a mechanical process – you take water bottles, clean them, chop them up, melt the pieces and put them into a pellet form that goes into a new product. But mechanical recycling does not purify the product. And, actually, when you melt a product at high temperature and put it into a new shape you lose mechanical properties and the quality of the plastic is not as good.
If you think about what most recyclers do today, they just delay plastic's end of life. You may go from a bottle to a textile, but then that textile has to be thrown in a landfill, or in the ocean or gets incinerated. It's not a true circular economy.
What Loop has developed is truly the circular economy, using chemical recycling.
"If you think about what most recyclers do today, they just delay plastic's end of life."
To make PET plastic and polyester fibre, dimethyl terephthalate (DMT) and monoethylene glycol (MEG) are bonded together during polymerisation. Chemical recycling, which has been around since the '60s, involves breaking down PET (polyethylene terephthalate) plastic and polyester fibre into those two base chemical ingredients, DMT and MEG. And those are really the two products that Loop produces. Essentially, we are a petrochemical manufacturer, but instead of starting with petroleum we start with waste plastic.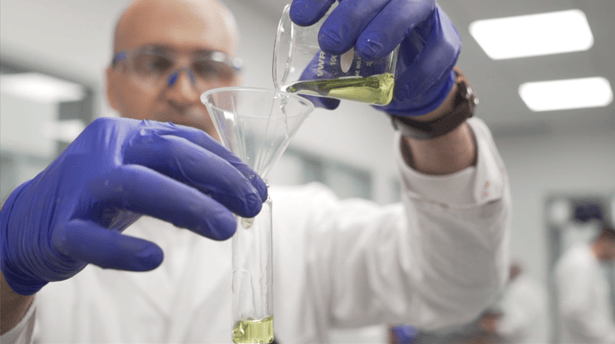 What Loop has developed is a proprietary catalyst that acts as a big pair of scissors and cuts the bond between those two petrochemicals to release them in our reactors. From there we purify them back to their original form so we can build them back up into PET plastic and polyester fibre of the highest quality. In simple terms, for example, we can take an old carpet and turn it into a water bottle for one of our customers.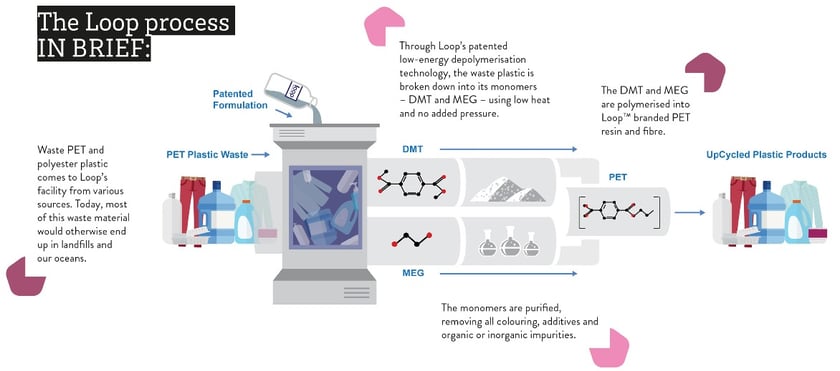 Where Loop's depolymerisation technology is so different from anything that has been invented before is that we do everything at very low temperature. Why is this important? First, with traditional depolymerisation at high temperature the main challenge is dealing with a lot of side reactions that occur and which cause yield losses and impurities.
Second, it uses a lot of energy, so it's not good for environment.
And finally, the more energy you use the more expensive your process is. So those are the three reasons why chemical depolymerisation has never been successful before, and that's what Loop's technology changes.
Mewburn Ellis Forward: Was there a turning point that led to the current process?
Daniel Solomita: I guess the biggest moment for the technology was when we moved from our Gen 1 technology to our second generation (Gen 2), which was in the summer of 2017.
Our Gen 1 tech was built on hydrolysis, and when we started scaling up from pre-lab to lab scale and then pilot scale, we were able to produce high-purity material. But we started seeing some question marks around scaling up the technology to commercial scale. So, two chemists and I started working on a purification technique to reduce the costs of our Gen 1 technology. That was when we developed the Gen 2 catalyst. That was a turning point for the company and a 100% redesign of the technology.
Mewburn Ellis Forward: Loop started in a garage but now has a growing clientele of huge companies (including Danone, PepsiCo, Coca-Cola and L'Occitane) for its recycled PET. How have you and your colleagues managed the scale-up?
Daniel Solomita: For any growing tech business, the scale-up is the most important step and we wanted to have it really well thought out before going on to build a commercial scale manufacturing facility. I think a big mistake some companies make is trying to rush the technology out the door.
We're not building something like an app that you can change easily. We are building sophisticated petrochemical plants that cannot be easily changed once construction starts. So, we really took our time to be sure of each piece of the technology was tested at our pilot plant in Montreal before going to the next step.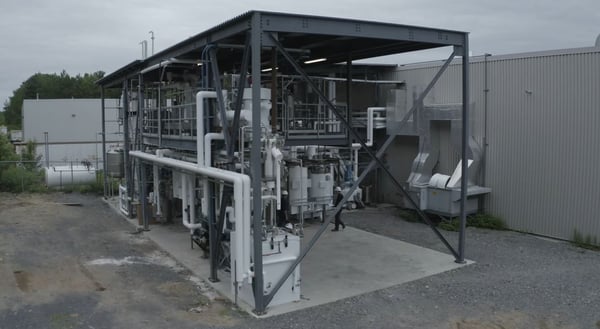 We also looked at bringing in an industrial partner that could help us with scale up and operations of our petrochemical plants, especially when expanding globally. Loop is good at a lot of things: we are good at chemistry and at creating relationships with customers. But operating and engineering a petrochemical plant is really not our strength. You need a specific skillset to be able to do those things.
The first industrial partner we brought on was Indorama Ventures, the largest PET and polyester fibre manufacturer in the world. They have really helped us to understand what it takes to implement technology at an industrial scale. Our second industrial partner is Worley, a global petrochemical engineering expert. The Worley partnership allows us to build an execution model we can use to begin building manufacturing plants anywhere in the world. We see a huge growth trajectory for the company and having the engineering and construction power behind us is hugely important.
Mewburn Ellis Forward: How do you manage supply-chain logistics without undermining your sustainability objectives?
Daniel Solomita: Because of our technology we are reinventing the supply chain. Everything we do is really the essence of the circular economy. We break something down into what it used to be and then build it back up into a product of the same quality or even a higher quality – and we can do that an infinite amount of times. There's absolutely no degradation in quality.
Until now, polyester fibres from clothing and carpets, as well as mixed plastics and contaminated plastics, were sent to landfill, incinerated, or ended up in our rivers and oceans. Loop's technology means that we can now transform these materials to produce virgin quality PET and polyester.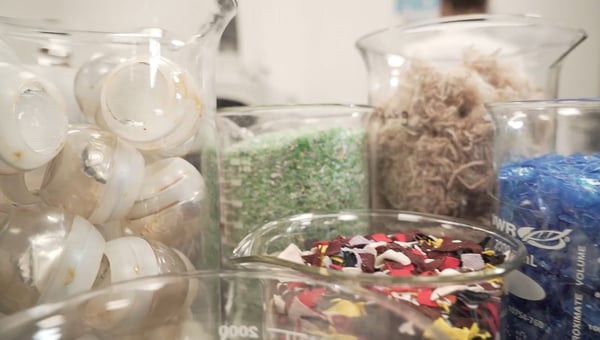 Once we get scale we can work on further reinventing the supply chain. Hopefully, we'll see the advent of apps through which people can get rewards for recycling plastic or, with autonomous vehicles becoming the norm we could develop a platform through which those vehicles pick up waste plastic when they are not carrying passengers. Corporations such as Amazon could collect waste plastic from people's homes after they deliver a package.
For the circular economy to work we need our manufacturing facilities closely tied to local supply chains, near large population centres where people are consuming plastics and where our customers are bottling their products. It's what we call 'Infinite Loop™' manufacturing – the latest and greatest enhanced recycling technology. This model will help reduce transportation, which is better for the environment and helps our customers reduce costs.
That's the evolution of the technology: putting up brand-new, greenfield, Infinite Loop™ manufacturing facilities around the world to support our customers and support governments' recycling infrastructures.
Mewburn Ellis Forward: You ask companies using the Loop technology to apply a mark to the end-product. Why is this something you have implemented?
Daniel Solomita: It's hugely important for us in these early stages of the company. When I started out, I began hearing the companies we worked with telling our story for us: that they were using this cool technology, that they were taking action on sustainability. I realised that we needed to leverage their branding, marketing and advertising budgets to promote our product. So I asked the brand owners to sign not only a supply agreement but also a marketing agreement that agrees to co-marketing and co-branding.
At first, a lot of the brand owners were hesitant, but I said: 'If you're not willing to do this, we're not going to be working together. For us, it's non-negotiable.' At the end of the day, we want to promote our brand and our technology.
I have said from day one that if I can convince a consumer to choose a brand because our logo is on it and because the bottle was manufactured using our technology, that would be the ultimate sign of success.
"If I can convince a consumer to choose a brand because the bottle was manufactured using our technology, that would be the ultimate sign of success."
Mewburn Ellis Forward: What are your hopes for the future reach of your product?
Daniel Solomita: Sustainability as an issue is not going away. Right now, the focus is on the brand companies that use plastic for bottles and packaging; they have this target on their back and are seen as the biggest polluters in the world. But I think the next wave that's coming is that people will realise that polyester clothing is an even bigger polluter. We've already started discussions with multiple polyester fibre users and clothing companies about being able to start the circular economy in fashion, because only Loop's technology can recycle a fibre. The fibre side is going to be a huge opportunity for us going forward.
When this next wave happens, it will be driven by multiple things: our customers knowing that they need to use more recycled content; consumers saying that they want to end plastic pollution; and government regulation mandating high percentages of recycled content in all plastic products.
Once you provide a solution, regulation can come in to make sure people are doing the right thing. I think that is what's going to happen in the plastic industry. You can get to 100% recycled content using Loop's technology, so as we make this shift our tech will be the leading technology out there.
We are currently working on expanding our manufacturing footprint with our first European Infinite Loop™ project and Asia will be not too far behind.
"Ten to fifteen years from now, every piece of PET and polyester fibre is going to be made with Loop's technology."
We've been laying down the foundation for the past five years, really taking our time, learning, adjusting. We reinvented ourselves and we turned the whole company around. We're not afraid to invest, fail fast and keep moving. Ten to fifteen years from now, every piece of PET and polyester fibre is going to be made with Loop's technology.
Mewburn Ellis Forward: It's been reported that one reaction to your process was that if it did what you said it does, you deserved the Nobel Prize. What are your thoughts on that?
I'd leave the Nobel Prize to the chemists. Those guys are really the drivers of the technology. I enjoy understanding the chemistry and the engineering, but they're the ones driving Loop's innovation.


---
PET project: IP is playing its part in exciting progress
Eleanor Maciver, Senior Associate and Patent Attorney at Mewburn Ellis Cambridge comments:
"The sustainable use of PET products is a huge issue given the prevalence of such products in our everyday lives. It is great to see a new wave of innovation tackling the shortfalls of previous PET recycling technologies and bringing a truly circular PET economy closer to reality."

---

Learn more about Loop here.
Written by Caitlin Mackesy Davies.
Images provided by Loop.

Eleanor is a Partner and Patent Attorney at Mewburn Ellis. She drafts chemistry patents for UK and international clients and is experienced in the prosecution of global patent portfolios as well as opposition and appeals before the EPO. Eleanor has a proven track record and recently won three valuable opposition cases for key clients. She frequently provides patentability and Freedom to Operate opinions for her clients.
Sign up to our newsletter: Forward - news, insights and features
Contact Us
We have an easily-accessible office in central London, as well as a number of regional offices throughout the UK and an office in Munich, Germany. We'd love to hear from you, so please get in touch.