In the fashion industry, intellectual property rights such as trade marks, copyright and design rights can be commercially lucrative assets. Fashion houses such as Gucci, Louis Vuitton and Chanel, which are ranked 98th, 109th and 136th respectively in the Brand Finance Global 500 2021 Ranking, each have, unsurprisingly, significant and very valuable global trade mark portfolios. As explored in this article, copyright and design rights also play a critical role, especially for runway collections. This article is part 1 of our Fashion Law series, brand enforcement will be explored in part 2 and non-fungible tokens (NFTs) will be examined in part 3.
In August 2021, the renowned Italian fashion designers, Domenico Dolce and Stefano Gabanna presented the Dolce & Gabanna Alta Moda Fashion Show in the picturesque city of Venice, Italy. The three-day fashion extravaganza in the City of Canals comprised three haute couture collections, namely: Alta Gioielleria, Alta Moda and Alta Sartoria. Simultaneously, the luxury Italian fashion house, Dolce & Gabanna unveiled its maiden non-fungible token (NFT) fashion collection, Collezione Genesi (Genesis Collection). The advent of NFTs raises complex and intriguing issues regarding the interplay between intellectual property rights and the underlying digital collectible. This article will focus on the intellectual property rights that can be leveraged by fashion designers and maisons to protect their runway collections.
Trade marks x Fashion Shows
Trade marks are indicators of the origin of goods and services. In the fashion world, well-known trade marks, such as the word mark PRADA and the FF logo, are synonymous with the luxury fashion houses. Likewise, the British Fashion Council which hosts the bi-annual London Fashion Week runway shows, owns a number of UK trade marks for LONDON FASHION WEEK. However, IMG Worldwide, LLC (IMG), which presents New York Fashion Week in conjunction with the Council of Fashion Designers of America (CFDA), were not the first applicants for the words NEW YORK FASHION WEEK and NYFW. Instead, an events company called Fashion Week, Inc., which also hosts fashion shows in February and September, had applied for and obtained the relevant trade mark registrations. Given how valuable this brand is, IMG and the CFDA soon made allegations of passing off inter alia against Fashion, Week, Inc. who it accused of seeking to "cash in on years of goodwill and publicity related to NYFW events that it has never had anything to do with". The United States Patent and Trade Mark Office registry shows that the Fashion, Week, Inc. has since abandoned a number of trade marks for NYFW as well transferring legal ownership of its NEW YORK FASHION WEEK mark to IMG. It is advisable that brands seek trade mark protection where appropriate and also implement a robust brand management system to readily identify potential infringers.
Copyright X Fashion Shows
Creativity is the cornerstone of the fashion industry. But an idea in and of itself does not attract copyright protection. Copyright, which is an unregistered right, protects creative expression, such as original artistic works which includes graphic works. For example, sketches of the Spring/Summer runway collections and their surface decoration and accessories unveiled at London Fashion Week (LFW) 2021 should attract copyright protection if the works are created by independent skill and effort. The importance of copyright in protecting digital works, such as those that might be used with an NFT, underlines how this long-established form of intellectual property continues to adapt and be a valuable asset today, and perhaps even more so as fashion moves into the metaverse.
Designs X Fashion Shows
Fashion designers such as David Koma, Michael Halpern and Victoria Beckham who are displaying collections at LFW under their eponymous brands may benefit from UK unregistered design rights which can protect the shape of fashion garments or the configuration of the whole or part of fashion garments, excluding the surface decoration (which is protected by copyright). Like copyright, the design must be original.
Similarly, fashion brands unveiling their runway designs at Milan Fashion Week 2021 (MFW) and Paris Fashion Week 2021 (PFW) could benefit from unregistered and registered Community designs for EU-wide protection. Unregistered Community Design rights (UCDs) confers on the holders only three years of protection to prevent others from copying their design throughout the EU. The scope of protection, however, is broad. It covers the lines, contours, colours, shape, texture and / or materials of the product, and even the ornamentation. But to qualify the design must be new and have individual character (i.e. producing a different overall impression on the informed user from designs that have already been available made to the public, which is not the same as copying). Due to the fast-paced and cyclical nature of the fashion industry, the short period of protection afforded by UCDs may be adequate for the lifespan of a fashion collection, especially as the protection is available without registration or cost. After all, as Coco Chanel said, "fashion is made to be unfashionable". Impressive revenues can be generated by "fast fashion" – i.e. encouraging consumers to purchase new clothing, which has inevitably paved the way for fast fashion brands such as Boohoo, PrettyLittleThing and Shein.
Brexit rendered UCDs invalid in the UK. Fashion brands and designers who are holders of UCDs that were first made available to the public before the end of the transition period (31 December 2020) will, however, benefit from the new corresponding UK Continuing or Supplementary Unregistered Design Rights, albeit their remit only extends to the UK.
Because Fashion collections presented at LFW may no longer satisfy the novelty requirement for EU-wide protection of designs and, similarly, designs for fashion collections presented at MFW and PFW may no longer satisfy the novelty requirement for UK protection of designs, timing of the first disclosure of designs is critical to protect your runway collections. The first showcasing of new collections may need to be co-ordinated across these jurisdictions, or you may need to consider filing design registrations during the allowed grace periods, in order to protect the intellectual property in your designs.
EU Registered Community Design rights (RCDs), and their UK equivalent, confer up to 25 years protection for new designs with individual character. The scope of protection extends to the appearance of the whole or part of the product. But you need to file a design right application in the EU and the UK. Fortunately, both types of European registered design benefit from a one-year grace period, so you can still get a registration even after showcasing your design for the first time on a runway.
Brand protection is a strategic commercial consideration for heritage brands such as Yves Saint Laurent, Bottega Veneta and Balenciaga which are owned by the French luxury brands group, Kering SA, but also for more recently established upcoming brands such as Ivy Park (est. 2016), Savage X Fenty (est. 2018) and SKIMS (est. 2019). But other forms of intellectual property rights can also be leveraged by fashion brands to consolidate and protect their market share, brand goodwill and reputation, and their creative expressions and innovations.
Mewburn Ellis has a respected reputation advising clients in the fashion industry in all "seasons" such as brand and design protection, and their management and enforcement; plus it is highly experienced in providing strategic advice to clients on the timing of the first disclosure of their designs. We act in collaboration with our clients who reap the benefits of our in-depth industry knowledge, world-class technical ability, and creative thinking, in order to position themselves to "walk the runway" to success.
---

Blog contributors


This blog was originally authored by Hilda-Georgina Kwafo-Akoto, with contributions from:
Pollyanna Savva
Kate is Head of Trade Marks and a member of our Management Board. She is a Solicitor and Chartered Trade Mark Attorney with over 25 years' experience in relation to trade marks and related copyright, design and internet matters.
Sean is head of our legal team and dispute resolution teams and a member of our Management Board. He has over 15 years of experience advising on contentious and non-contentious IP matters, including patents, trade marks, designs, copyright, database rights and trade secrets across a range of industry sectors.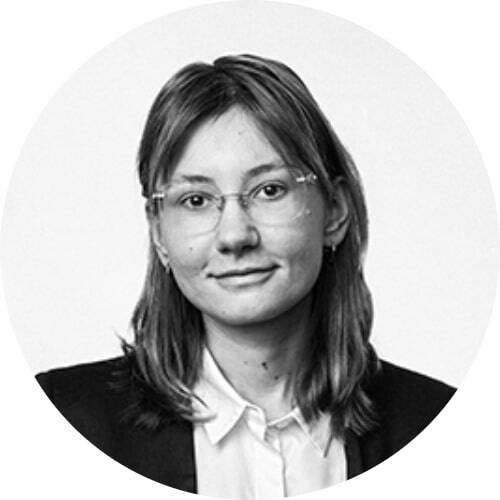 Karolina is a trainee trade mark attorney and a member of our trade mark team. Her core interest is in comparative trade mark practices, having studied trade mark law across multiple jurisdictions. Karolina's special interest is pro bono work, having completed an internship at the National Pro Bono Centre in London. She graduated with an LLB Law with Another Legal System (Singapore) degree, from University College London. This included a year placement at the National University of Singapore, where she studied Singaporean law. She also has a LLM in Intellectual Property Law, from University College London.
Sign up to our newsletter: Forward - news, insights and features
Contact Us
We have an easily-accessible office in central London, as well as a number of regional offices throughout the UK and an office in Munich, Germany. We'd love to hear from you, so please get in touch.