I guess it isn't all that surprising that it was tricky to get Nick Hounsfield and Craig Stoddart in the same room for a chat about their new venture, The Wave, in late October.
After a decade of dreaming, fundraising, building and (as I'll learn) a fair bit of nervous nail -biting, the pair had finally reached the launch of their first-of-its -kind inland surfing facility, with all the semi-controlled craziness (complete with a BBC news film crew setting up shop at 6.30am) that comes with it.
When they do come together for Forward, Hounsfield - the acknowledged visionary behind The Wave - is fairly laid -back about the reception his project has received, simply saying: 'We've got a lot of very happy, smiley people enjoying the vibe that we've created. Fundamentally, it has been a really positive first week.'
At that very moment, the £25m facility just outside Bristol - and featuring a lake the size of five football pitches - is pushing out up to 1,000 waves an hour, ranging from 0.5m to about 2m in height. These fan out across six distinct zones, each of which caters to a different level of surfer. It's a point of particular pride for the team that complete beginners are just as welcome on the water as the world's most experienced surfers.
The lake may be the star of the show, but it is supplemented by a clubhouse (carefully designed to blend into the surrounding countryside), a shop and a cafe. There are also plans to grow food on-site, to develop camping facilities and accommodation, and to set up an education centre. The team is in the process of planting some 16,000 trees, creating 425m of native hedgerow and more than six hectares of meadow, which will eventually surround the facilities with regenerated and biodiverse habitat.
If it all sounds ambitious, it is. And it certainly wasn't a foregone conclusion that the project would reach this point, as I will learn from Hounsfield and co-founder Stoddart. But first, I just have to ask how Hounsfield, who had been a practising osteopath, came to be the driving force behind a huge engineering project.
'My true passion is around people's health and wellbeing - and that's why I went into osteopathy,' he explains. 'I was trying to create an intervention that would help people overcome the things that are preventing them from being the best version of themselves. I've also been surfing for 40 years [he is a director of Surfing England], and I've always been very passionate about
the outdoors and being in nature.'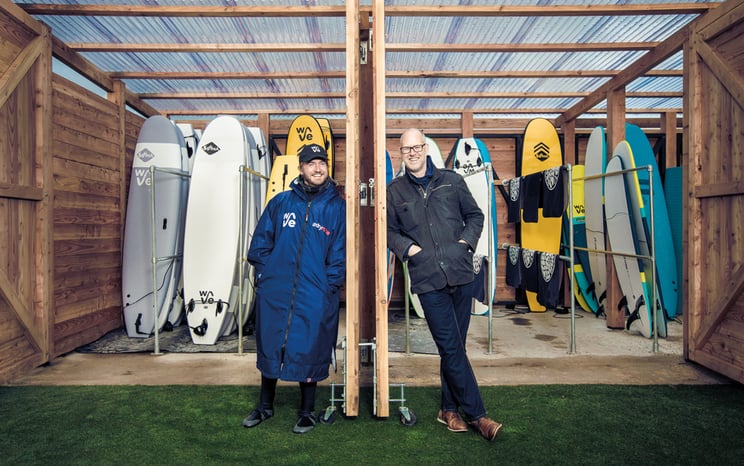 Nick Hounsfield and Craig Stoddart from The Wave
Turning point
'When my dad died, I made a promise on his deathbed that I was going to make a much bigger impact in this life,' Hounsfield continues. 'Maybe it was the right time to do something a little bit bold, a little bit crazy.'
A few months later, he saw coverage of a new technology that was being used to create inland surfing in the Basque region of Spain. 'That was the eureka moment: as soon as I saw waves rolling down a field in the middle of the countryside, it jumped into my head that if I built one of those in Bristol, it would bring people into a healthy space that I could deliver a whole agenda around.'
Enter Craig Stoddart, a qualified accountant who bought his first company at the age of 26. He had known Hounsfield for many years, as Stoddart's wife had trained as an osteopath alongside him. While Stoddart recognised the risk of going into business with a friend, he also knew that there was a great complementary skill base between them.
Stoddart describes Hounsfield as the 'brand vision ambassador', while he leads on the business side of things. 'Having been a CFO for a number of businesses and also an operations director, an MD and a consultant, I bring quite a big toolbox to the table - and that's useful when you're doing something for the first time,' he says. Stoddart offered the commercial nous, business modelling and structure, and helped to lay the foundations for a company that now has best-of-breed systems for health and safety, finance and HR. Expansion was also built in from day one, he adds. 'We've got to keep testing and improving, but we've got the fundamentals of something that is the turnkey solution to build future sites.'
The pair then worked together closely on strategy and culture. That final piece is referred to as 'waviness': 'It's quite difficult to explain,
but you know damn well when you've got it.'
Crucially, Stoddart says: 'Nick and I have got an incredible level of trust. That is absolutely vital. I've spent many years working with businesses that are failing, and one of the root causes is often a lack of trust. To have that at the board table is immensely important for me.'
In pursuit of funding, the pair spent two years trudging the streets of London, the Channel Islands and further afield, and presented to some 250 potential investors. They say that there wasn't
a single person who doubted it was a great idea, but most investors said: 'Tell us when you want funding for number two.'
There was a low point, Hounsfield recalls, 'when we had a really great person looking at us seriously, and the rug was pulled out from under our feet'. The project might have needed to be mothballed. However, not long after, a new investor came forward who had the funding to build a lake in London, but not the expertise. They came on board to fund Bristol, with London next in line.
As it turned out, though, the first-generation lagoon technology built by Spanish firm Wavegarden wasn't quite right. Its design meant that whenever there was a malfunction with any part, the lake would have to be drained. As the project depended on external investment, this risk just didn't pass the scrutiny of the due diligence stage, and it didn't sit well with the project in terms of the potential financial or environmental costs. Hounsfield and Stoddart reported these concerns back to Wavegarden and started looking at other technologies, with little success. Again, the project reached an impasse.
Nearly three years later, Wavegarden called back to say it had a new technology. This would address the team's engineering-related concerns and also accommodate even more people on the lake.
Hounsfield says: 'We took our investors out there, some of whom had never surfed before. Within about an hour and a half, one of our key investors literally ran out of the lake asking:
"Where do we sign?'"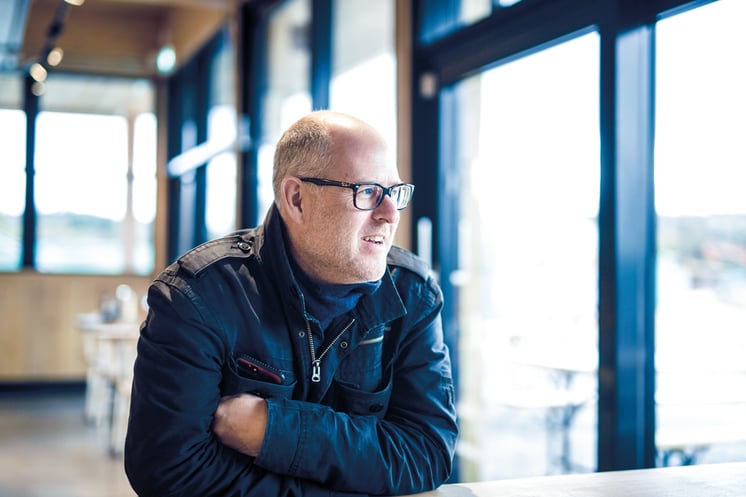 Craig Stoddart says: "Nick and I have got an incredible level of trust. To have that at the board table is immendsly important."
The OMG moment
Yet the challenges kept coming. Securing planning permission proved a mountain to climb. Then there was the engineering. The lakebed is probably one of the most complicated concrete structures on the planet, Hounsfield explains, and its shape had to be built to a tolerance of millimetres.
He recalls that when the design platform - which involved 'lots and lots and lots of curved surfaces that needed to be pretty much shaped by hand across an area about five times the size of a football pitch' - was put in front of the design and construction teams, 'they just scratched their heads and said, "That is literally impossible to build".
'But once everybody got through the oh-my­goodness moment, they went into problem-solving mode. Together we worked out a way to construct the lake bed, which basically meant breaking it down into about 1,000 individual facets, each to be poured individually. That was definitely a hairy moment where we thought either it can't be built or it's going to be so expensive that this is over before we've started.'
For Stoddart, who had no background in construction, every day was a learning experience. 'One of the mantras I have is that "we know we've got it wrong, we just don't know how wrong we've got it". So we made sure that we got the right people around us to advise or do the work in the areas where we don't have the skills. And we have learned a hell of a lot along the way.'
And, remember, he says: 'This is a world first. With that in mind, I think the thing I'm most proud of is that the distance between what we thought was going to happen and what is happening now is really quite close. Of course there are teething issues, but the way the team has come together and reached this crescendo point of opening so successfully is really a testament to the culture we have built.'
Of the final run -up, Hounsfield says: 'There were definitely extra nerves, because we had no line of sight around whether it was going to work or not. When we started to push waves, it literally looked like a stormy sea. It was so stressful I banned myself from the site until they had perfect waves rolling. I just wasn't sleeping at night.'
How do the pair define success now? For Stoddart, it's about 'the social impact of pure joy and lifting people's spirits - and that is absolutely what you feel when you see people walking out the door buzzing with energy and excitement about what they've just experienced.'
Hounsfield echoes this. 'The success of the project is about happiness, and along with happiness often comes hope. If we can create an uplifting community for people who are having a troubled time in their life or have various challenges - that's something that can spread.'
---
The vision: 3Wave Thinking
Even before a business model was produced, the team sat down to write up a sustainability policy, which, Hounsfield says, 'laid down the blueprint as to how we were going to be as a business and as people and engrained that in our thinking from day one'. At its core is the concept of 3Wave Thinking, 'which considers the effects of decisions not just on profit, but on the people around us and the planet we share'.
'Obviously, first and foremost, we need to be financially sustainable, but it would be absolutely crazy to build an inland surf destination, the environmental impact of which was going to lead to further destruction of the environment. A red line for us was that we would use renewable energy and, as soon as we possibly can, we want to generate our own power, look after our own waste on-site and grow our own food, potentially taking the sites off-grid.
'I've been very vocal about these goals, because we're very aware that this is a real opportunity to bring people on the journey with us, to have an honest conversation with customers and other businesses about whether it's an approach that is worth looking at.'
The Wave is also registering as a B Corporation - a business that meets the highest standards of social and environmental performance, with transparency and legal accountability built in - which really embeds that triple bottom line. Shareholders have to sign up to it and, Hounsfield says, if they ask for those principles to be taken out of the shareholder agreements and articles of association, that would raise a big red flag.
'What we want to prove is that there's a really strong business model, but also that by doing the right thing you make yourself more attractive to consumers, and people will put their money where their beliefs are,' Hounsfield says.
'We are at the beginning of that journey. But with future developments, we're going to start reaching out to millions of people a year. And that's the bit that excites me: if we can hold true to our vision, we can present a blueprint for a future-facing business that really can be a force for good.'
IP focus: Why the wave?
There are a few valuable bits of IP around The Wave, Hounsfield explains. Some are related to the proprietary knowledge that sits within the technology and the bathymetry of the lake. From a brand perspective, he says, the team thought about using the Wavegarden name, as other project partners for Wavegarden have done. 'But we came to the view that if we were serious about doing this in multiple locations, we could create a real distinction around our brand based around our values and our ethos. We started to see this much bigger vision for a brand that could roll out across lots of different revenue streams.' After going through 'about a thousand' potential names, the answer became clear: 'It's about waves. '
A Bristol-based team from Mewburn Ellis works closely with The Wave to support the protection and reputation of its brand, which is a key tool in perpetuating its vision. 'This vision,' notes Mewburn Ellis partner Sean Jauss, 'extends well beyond the creation of mechanical waves to a statement in keeping with the long-held surfing ethos: sustainability, community involvement, and the aloha spirit of treating each other with love and respect'.
He adds that: 'For those of us who surf, it was a race to try out the facility after it opened. Our expectations were met and exceeded.'
Author - Caitlin Mackesy Davies for Mewburn Ellis Forward
Photography - Will Amlot
---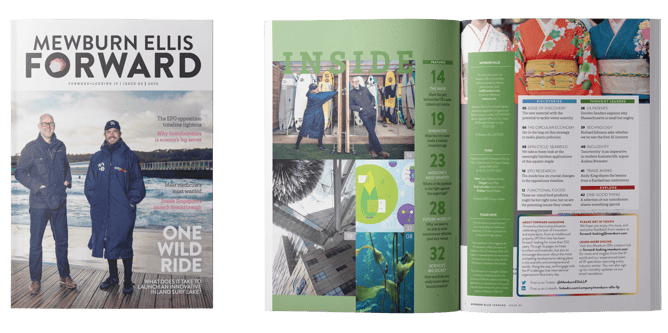 This article was originally published in the third edition of Mewburn Ellis Forward — a biannual publication that celebrates the best of innovation and exploration.
Subscribe to Mewburn Ellis Forward here.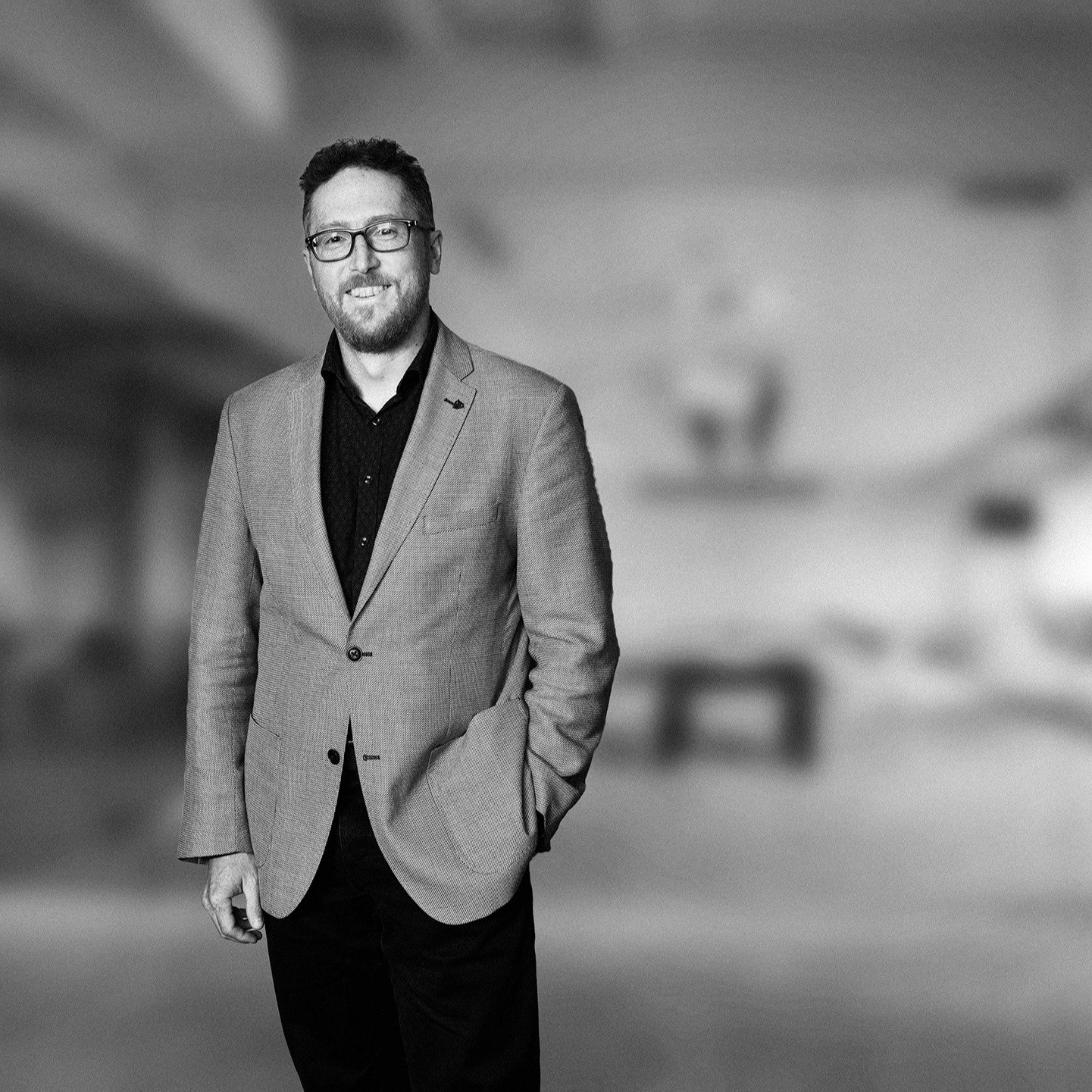 Sean is head of our legal team and dispute resolution teams and a member of our Management Board. He has over 15 years of experience advising on contentious and non-contentious IP matters, including patents, trade marks, designs, copyright, database rights and trade secrets across a range of industry sectors. He works closely with senior management and their external counsel to deliver a wide range of IP related projects in a pragmatic and commercially-focussed manner, including on IP protection, commercialisation, technology transfer and dispute resolution.
Sign up to our newsletter: Forward - news, insights and features
Contact Us
We have an easily-accessible office in central London, as well as a number of regional offices throughout the UK and an office in Munich, Germany. We'd love to hear from you, so please get in touch.