As part of our 'meet the team' series, we talk to partner, Andy King about going into IP as a second career, applying for what he believes may be the first ever series sound mark in the UK and the impact of post-Brexit arrangements on trade mark oppositions.
Andy began his career in marketing and advertising, working with blue chip companies for ten years before deciding to switch careers and train to be a trade mark attorney.
"Growing up I loved architecture and had dreams of designing grand sports stadiums but as I got older, I became less sure about what I wanted to do," he explains. "I kept my options open, studying sociology at university and ending up in marketing after completing a graduate management programme at a multinational company.
"After ten years in the industry, I just wasn't finding my job that interesting anymore, so when the 2008 financial crisis hit the marketing profession hard, I decided to take some time out to consider doing something completely different."
Andy was interested in the law but with a mortgage to pay, going back to university to study full-time wasn't an option. It was during a chance conversation with a former colleague's husband who was working as a patent attorney that he heard about trade mark attorneys for the first time.
"I looked into it and quickly saw that it would appeal to my interest in law, provide me with a stable career and tie in with my previous experience working with brands," says Andy. "It was ideal."
Andy spent time on work experience with BP and Unilever's trade mark teams and successfully applied for a trainee role with Mewburn Ellis, qualifying as a UK Chartered Trade Mark Attorney in 2011.
A career first
Twelve years on, Andy is a partner and enjoys building client relationships, as well as the variety of his role which, since joining the partnership, involves people management and business development alongside his trade mark work.
He is currently involved in registering a sound mark, which he describes as a "once in a career" piece of work.
"Sound marks - a type of trade mark covering a short jingle or tune - are very rare. In this case it is also a series mark. Series marks are where you apply for a series of very similar trade marks wrapped up in one application. It appears that I may be working on the first sound series mark ever filed in the UK.
"I knew we were breaking new ground when we had to ask the UK IPO how it could be done, given their system did not automatically allow for it. It's exciting to be part of."
Another stand out matter Andy worked on involved a client who found out that they were using the same brand name as another company for the same type of service.
"The client received a cease and desist letter from a trade mark owner whose interests were exactly aligned with theirs," he explains. "The owner held all the cards and it was difficult to see how we could advise the client to do anything other than change their name.
"But we then had an idea to try something of a 'Hail Mary' pass. We ran a search and unbelievably, found another registration, protecting exactly the right services, owned by a third party. With a bit of persuasion, we were able to get them to sell the rights to our client. That totally changed the landscape of the dispute, putting us in a very different position and enabling us to negotiate a co-existence agreement that allowed our client to continue to use their brand free from complaint in their chosen jurisdictions."
This was a real feather in Andy's cap as far as the client was concerned and this tactic is something he now considers whenever faced with similar circumstances.
Post-Brexit oppositions
More recently, Andy has observed an increase in companies considering bringing oppositions and thinks the swathe of new trade marks added to the UK register overnight in January 2021 is behind this rise.
Around two million EU marks were brought across as part of post-Brexit arrangements. This, explains Andy, is now causing an increased likelihood of conflict with new UK trade mark applications. It's essentially a numbers game.
"The UK application process includes a step whereby the UK IPO searches the register for potential conflicts and existing trade mark owners are notified when they arise," he says. "The EU does this too but its process is a little more inconsistent, so the UK searches tend to raise more pertinent issues.
"This, combined with the fact that before Brexit, a lot of these disputes happened at the EU IPO first rather than in the UK, appears to be driving an increase in complaints and oppositions."
Another trend Andy has seen in recent years is companies being less inclined to carry out trade mark searches before making an application.
"It's certainly something we would always advocate to avoid the risk of infringement," says Andy. "But increasingly businesses are either reluctant to incur the associated costs or are already wedded to the name and fear a search will turn up existing registrations.
"There are more and more registered marks out there so it can be harder to plot a course to using a given brand name and many are willing to take their chances and hope for the best."
Artificial intelligence
Reflecting on what the future holds for trade mark attorneys, Andy considers how artificial intelligence (AI) could see roles evolve.
"AI is set to impact the whole legal profession and we are already seeing some aspects infiltrate our own work," he says. "Trade mark search agencies, for example, are using AI tools already and we are looking at this carefully to see if we are happy with the way it is being used or whether we still need to continue with our established practice of conducting manual searches instead.
"It's not too much of a stretch to see how the likes of ChatGPT might be used to construct legal arguments so it is up to us to be dynamic, to examine how we might need to adopt new technology and how our roles might change as a result. It's about embracing the opportunities and not getting left behind."
Time to unwind
When he's not grappling with trade mark matters, Andy spends time with his two young children, aged three and five.
"Work and family don't leave me much time left to do my own thing," he says. "When I get the chance, I love playing and watching sport. My main passion is hockey which I've played since school. I'd be disappointed if I ever had to give it up – playing a match is a real release and helps me unwind after a busy week."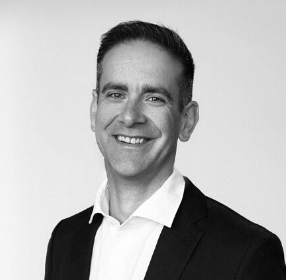 Andy is a Partner and Chartered Trade Mark Attorney at Mewburn Ellis. He handles a wide range of trade mark work, from searches, portfolio reviews and devising filing strategies to prosecution of applications, oppositions, revocation and invalidity actions. Andy has extensive experience representing clients at the UKIPO, EUIPO and WIPO (for international 'Madrid Protocol' registrations).
Sign up to our newsletter: Forward - news, insights and features
Contact Us
We have an easily-accessible office in central London, as well as a number of regional offices throughout the UK and an office in Munich, Germany. We'd love to hear from you, so please get in touch.