As part of our 'meet the team' series, we talk to Joseph Newcombe about being involved in the patenting of life changing treatments, the development of 'robot labs' and the strides being made by the pharmaceuticals industry to become more sustainable.
Joseph has always loved science, opting to study chemistry at the University of Sussex before going on to complete a PhD at University College London. Keen to pursue a career that would use his scientific skills and concerned about the insecure nature of many academic research roles, he began to look at alternative careers.
"I always wanted to go into science but during my PhD I was put off staying in research due to the common employment set-up of short-term contracts," explains Joseph. "A friend of my wife's was a patent attorney and when I found out more, I thought it might suit me. I went on a work placement, applied for some trainee positions, got the job at Mewburn Ellis and never looked back."
He joined in 2018 and qualified as a patent attorney last year, working with pharmaceutical companies, universities and research charities. "The patents I work on mean I get to delve deeply into the science," says Joseph. "I enjoy being able to really interrogate the data and explain to patent offices why something really exciting is happening with a client's invention."
"One of the most rewarding parts of the job is when you read the impact that a treatment that is the subject of a patent you are working on, could have on a disease that is currently not being treated very effectively, and can see how some people could have a better life as a result; it's a good feeling to be involved in something like that."
Environmental impact
Joseph likes to keep on top of new developments in pharmaceuticals and a piece he wrote for the Mewburn Ellis website looking at sustainability in the pharma sector caught the eye of Pharma Times which invited him to write a regular column on the subject.
"It's been a great way to find out even more about what the pharma sector is doing to reduce its environmental impact," says Joseph. "I've spoken to a lot of companies about sustainability and you only need to scratch the surface to see the innovation that is going on at every level of the research and development process and beyond."
Joseph explains that the pharma research and development, and production processes involve a lot of testing and extra measures, as compared to say, food production. These extra measures can be quite energy intensive, which increases environmental impact, but are important to avoid contaminants and protect patients as well as those working in the pharma industry.
"The way that pharmaceutical products are developed and manufactured can have a very large environmental impact, but as an intrinsically innovative industry it shouldn't be a surprise that so many passionate and committed people in the sector are turning their hand to the problem."
"They are working hard to see how they can improve efficiency, cut costs and give quicker access to new pharmaceuticals. Sustainability is an important part of this and is firmly on the radar of those working in drug research."
Artificial intelligence (AI), machine learning and robotics offer an opportunity to make research smarter and help target resources.
"There are a number of companies currently looking at creating 'robot labs'," says Joseph. "These could ultimately be remote research and development facilities staffed by robots where humans are no longer involved in the manual tasks. The potential benefits are huge - quicker, more efficient research with improved repeatability, where researchers can be more confident of the validity of the results. This would also free up scientists to do the thinking rather than practical work, allowing them to work from home or elsewhere. Teams from anywhere in the world would be able to collaborate together on the same project."
His background in organic chemistry means he is particularly interested in small molecule pharmaceuticals and chemistry based inventions and processes.
"There is real diversity in the way the sustainability question is being tackled. We are seeing developments to reduce energy usage and waste, reduce the use of harmful solvents and cut the size, weight and packaging of products to reduce shipping volumes," he says.
"One area of development is in tailoring the reagents, catalysts, and conditions that are used get to an end product to produce less waste. For example, producing certain chemical groups can involve a lot of material that is used to control reactivity and does not end up as part of the end product. Researchers are looking at ways to avoid reliance on these methods to reduce and clean-up waste streams."
Taking the lead
According to Joseph, big pharma is very much leading the way on ESG. Listed companies now include lengthy sections on ESG in their annual reports and smaller companies that may at some point want to partner or be acquired by them follow that lead. Suppliers also need to ensure they are demonstrating a commitment to sustainability if they want to win contracts.
"This has really ramped up over the last decade," he says. "Previously the one of the main drivers of innovation in green chemistry was safety – the need to get rid of harmful solvents and replace them with more water like substances for example. Nowadays emissions and other forms of environmental impact are also key considerations. Most pharmaceutical companies have sustainability targets set for 2030. We may well see some big leaps forward closer to that deadline."
One interesting area of development is cellular and gene therapies that are generally targeted at rare, chronic diseases. It can take a lot of energy and expense to produce these types of treatment which typically target small segments of the population. The pharma industry is beginning to think more about the long-term impact of these treatments and what it means in terms of emissions and cost as they increase in prevalence.
"These therapies will benefit people who might otherwise have been on medication and receiving treatment for years to come," explains Joseph. "So while they might use large amounts of resources at the outset, longer term they could represent a sustainable alternative treatment option, as well as being life changing for the patients involved."
Another important development has been the use of 3-D cellular cultures as models of disease for the drug development process. "Until now, animal testing has always been required before a drug went to market but recently the Food and Drug Administration in the US removed this as an absolute requirement."
"In practice, animal testing is still here for the time being, but I think in the future we are going to get to a place where less or even no animal testing is required. With 3-D models allowing us to fail faster, research could be targeted around what works at a much earlier stage. Results could then be much more predictive of actual effectiveness and clinical trial outcomes and the whole process will be less cruel."
Tour de Mewburn
When he's not working on patents or keeping tabs on the latest developments in pharmaceuticals Joseph enjoys getting outdoors. Last year he helped to organise a charity bike ride, visiting each of Mewburn Ellis's UK offices by bike. The 'Tour de Mewburn' along with a series of other fundraising challenges and events, raised over £30,000 for The Christie - the largest single site cancer centre in Europe.
"In my spare time I like getting into the countryside outside London where I live. I enjoy hiking, running, walking and cycling and last year was part of a team of colleagues who toured our offices by bike over five days. It was great fun, the weather was perfect and we took in some beautiful countryside, starting in Manchester and finishing in Bristol."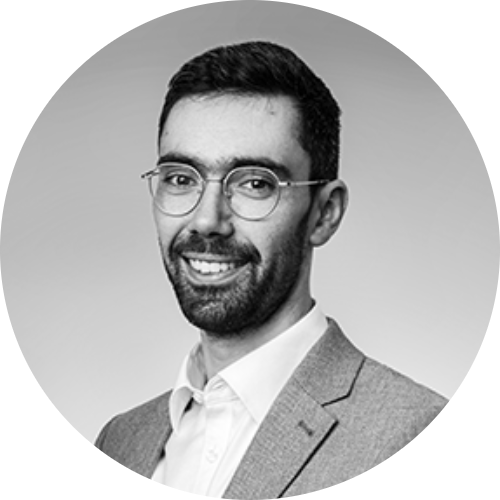 Joseph is a patent attorney working in the chemistry and materials field assisting in the drafting and prosecution of UK and European patents. He also has experience in opposition and appeal proceedings before the EPO and the management of national/regional phase entry of international patent applications.
Sign up to our newsletter: Forward - news, insights and features
Contact Us
We have an easily-accessible office in central London, as well as a number of regional offices throughout the UK and an office in Munich, Germany. We'd love to hear from you, so please get in touch.