As part of our 'meet the team' series, we talk to head of trade marks, Kate O'Rourke about how working in IP has led to her making friends across the world and why the metaverse is the biggest challenge currently facing trade mark professionals.
Kate O'Rourke didn't set out to become a trade mark attorney, growing up it was archaeology that interested her the most, but realising she probably didn't have the scientific skills needed, she chose to study law instead.
It was in her third year at university in Sydney that she got the opportunity to work at a specialist IP firm.
"My best friend worked for a firm that needed someone else to join as a trade mark searcher, so she asked me," Kate explains. "I worked there part-time during my final year and when I graduated, joining the firm seemed like the obvious thing to do.
"The people were great fun, bright and collegiate. It felt like a different culture from other areas of the law, with people genuinely working together to resolve disputes. I was also drawn to the international nature of the role – I realised quite quickly that in this business you get to work with people all over the world."
Twenty years on, it is still the people that prove her favourite part of the job. "Trade mark attorneys tend to enjoy what they do, are enthusiastic and love to share their experiences and what they are working on. That's an important aspect of the job – it's not an exact science so you need to be learning from your colleagues all the time."
Kate has made friends across the world, working with them on IP matters and getting together at conferences and events. "That network brings a real benefit to our clients when they need on the ground, local trade mark advice," Kate says. "They know that whichever country we are dealing with, it's likely we will have a good contact there who we can pick up the phone to."
Non-negotiable deadlines
One of the most challenging parts of Kate's job is the deadlines. "In trade marks they are generally not extendable and non-negotiable," says Kate. "It's not just about you getting things finished – you need to ensure you get instructions from your client on time, that those you are working with in other countries deliver what you need. There's no room for manoeuvre."
The job is also intellectually challenging, "There's a lot of case law - more so than in other areas of law - and it changes on an almost daily basis so you need to work hard to keep up to date."
The most stressful matter Kate ever worked on was the naming of a cruise ship. "We needed a name that could be used internationally and that didn't mean anything inappropriate or contradictory in other countries," she explains. "What's more it had to be kept secret until the day of the grand unveiling. If I got it wrong, I wouldn't know until the day of the big reveal when it would be painted in enormous letters on the side of the ship for all the world to see. Thankfully there were no complaints once it was made public and I was able to breathe a sigh of relief."
IP and the metaverse
The most talked about issue in trade marks is the challenge presented by non-fungible tokens (NFTs) and virtual worlds. "Increasingly we are looking at clearing trade marks for use in the metaverse as well as for the physical product," Kate says. "We want to make sure clients have the protection they need in virtual worlds as well as bricks and mortar. This is one of the most radical changes in recent years."
Some companies want to use the virtual world to publicise their brand – perhaps get virtual versions of their product into an online game. Others want to make sure they protect their brand from unlicensed versions appearing in virtual worlds, perhaps in contexts that would be bad for the brand.
Doing this in the UK can be very difficult explains Kate, "When you register a trade mark you have to state which products and services you are registering it for. To protect it in the metaverse you must show you will actually be using it in that context. This is not always easy for brands which would not have historically considered computing and software to be an area they are active in and are now having to seek out licensing deals in the sector."
"Five years ago this wasn't even on the radar for most companies and globalisation was considered the biggest challenge for trade mark professionals," says Kate. "Now it's a key issue, with complex jurisdictional issues, and we are all watching closely as we begin to see the first cases of misuse of trade marks in the metaverse."
Unregulated representatives
Another issue currently causing headaches for practitioners is the rise of unregulated representatives filing trade marks at the UK IPO. There are no rules against this, unlike at the EU IPO and, partly due to Brexit, there is a massive increase in applications made by those with no qualifications in the field.
"This is causing delays in the system and upping costs for clients who are having to pay their representatives to deal with more oppositions and explain the law to people who have no experience in how the UK IPO operates," says Kate. "CITMA (Chartered Institute of Trade Mark Attorneys) is campaigning to get the UK IPO to tighten up regulations to put an end to this and stop the system getting clogged up by those who simply don't know what they are doing."
Outside the world of IP, Kate loves to travel as well as indulging her love of art galleries and museums. "In another life I would have liked to have been a museum curator," says Kate. "I go to exhibitions all the time, the latest being the National Gallery's After Impressionism: Inventing Modern Art exhibition which I'd highly recommend – there are lots of works from private collections that you don't usually get to see and paintings by less well-known Spanish artists as well the most famous artists of the era."
Kate is committed to improving the representation of women at the top of the profession, "We are 50% female but are not seeing women equally represented at partner level, particularly as full-equity partners," she says. "The situation has not really improved a great deal in the last ten years and it's going to take more work to see women really progress. It's still the case that their caring responsibilities hold them back and many face discrimination, either because they are women, or because they work part time."
Pro bono is also a cause close to her heart. As a member of INTA's leadership committee she helped establish the UK IP pro bono service and is now working with legal advice charity Law Works on the provision of pro bono IP advice.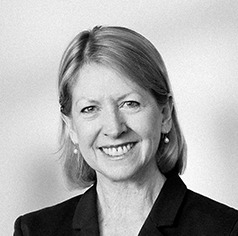 Kate is Head of Trade Marks and a member of our Management Board. She is a Solicitor and Chartered Trade Mark Attorney with over 25 years' experience in relation to trade marks and related copyright, design and internet matters. Her work includes advising on the adoption, registration and enforcement of trade marks internationally, with a particular focus on the leisure and retail industries with a global reach. She has a particular expertise in counselling clients on international filing and enforcement strategies and avoiding dilution of the value of trade marks. Advising charities has also been a key aspect of Kate's work and she was awarded an MBE in 2016 for services to education. Kate is the former President of the Chartered Institute of Trade Mark Attorneys and currently chairs the CITMA Brexit taskforce.
Sign up to our newsletter: Forward - news, insights and features
Contact Us
We have an easily-accessible office in central London, as well as a number of regional offices throughout the UK and an office in Munich, Germany. We'd love to hear from you, so please get in touch.