Pinning down a new drug name that will both catch attention and clear regulatory hurdles requires an exacting creative journey, writes Matt Packer
Forward: features are independent pieces written for Mewburn Ellis discussing and celebrating the best of innovation and exploration from the scientific and entrepreneurial worlds.
In 2020, the US Food and Drug Administration (FDA) – just one among scores of regulators around the world in charge of vetting medicines – approved 53 novel therapies for use on American patients. Hand in hand with those new treatments comes a fascinating array of new names – unusual blends of consonant and vowel sounds such as Oxlumo, Imcivree, Inmazeb, Byfavo, Veklury, Retevmo and Uplizna. Each one is an attempt to give the drug to which it has been attached a certain presence, memorability and – in terms of the medicine's proven therapeutic action – relevance.
Just like the chemical composition of the drugs themselves, those names must also be approved. And securing approval for the widest possible market reach requires pharma firms to negotiate a global ecosystem of regulatory obstacles.
As Mewburn Ellis senior associate Rebecca Anderson-Smith explains in a recent blog "Naming pharmaceuticals: considerations for choosing, clearing and registering pharmaceutical brand names", the process of selecting a trade mark for a new drug typically begins with the international non-proprietary name (INN) ascribed to its active ingredient. For example, ibuprofen is the INN for an active compound found within several different branded drugs, such as Nurofen and Advil.
A pharmaceutical firm will devise an INN for any new compound it is developing and then submit it to the global INN authority and management body, the World Health Organization. In parallel, some nations have non-proprietary naming systems of their own – for example, the US has its own Adopted Names framework.
However, that first step is but the prelude to a complex, iterative and often arduous effort to arrive at a final brand name. Unlike trade marks in other sectors, pharma brands must be developed with consideration of unique sensitivities around patient safety. With that in mind, a host of national and regional regulators – such as the FDA, the European Medicines Agency, Health Canada and Australia's Therapeutic Goods Administration – will scrutinise each proposed brand under a range of criteria. This may include whether the brand reads or sounds too similar to one already in use, or whether it could be mistaken for another brand when written out in cursive handwriting: a contingency against the hurried jottings of busy medical staff.
Underpinning that effort is an industry in its own right, comprised of naming agencies that help pharma firms navigate the creative logistics around drug-brand development. And given the specialist nature of that work, recent estimates suggest that drug makers will pay such firms up to $500,000 for services rendered during the creation of a single new brand. So, how do these businesses work – and what sort of advice do they provide?
To find out, Forward spoke to Scott Piergrossi, president of creative at global naming agency Brand Institute.
Surviving attrition
'The creative journey often starts before a lot of the traditional branding work – such as positioning and marketing strategy – begins,' says Piergrossi. 'Much of the initial input that helps to define a new name revolves around the creative thinking behind what a brand name should suggest or communicate in its messaging. Here we rely upon project teams on the client side to provide insights into the product and its potential points of differentiation. A naming brief is then developed to provide the directional and strategic framework for the creation of name candidates.'
The agency will then create a generous field of proposed names that will be whittled down over the course of the development process. This can amount to nearly 2,000 names before the first cut, Piergrossi explains. This seeming profligacy reflects a decade of relative regulatory harmonisation in this field, whereby global agencies are increasingly aligned that a new name must be significantly dissimilar to any existing drug name on the market. 'And that means there's going to be a high attrition rate.' He notes that the prescreening attrition rate – the very first screen that occurs during the creative phase, well before more in-depth name analysis occurs – has risen from about 33% in 2003 to as high as 95% today: 'As a result, we must create thousands of names just to get through creative pre-screening'.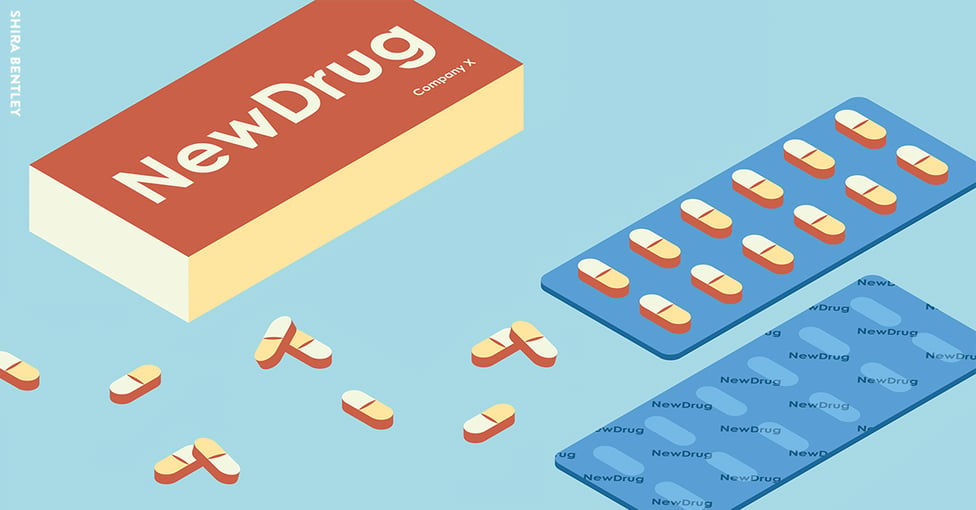 At the conclusion of that phase, he says, 'we will identify approximately 75 names to present to the client for consideration. We encourage the client to retain about 50 names that meet the naming objectives. Those names will then proceed into in-depth trade mark screens followed by name-safety and market research. Each step further whittles the list down until we reach the final presentation following market research, when we will typically recommend six to eight names that the client can consider submitting to regulatory authorities for review.'
Disaster check
Finding a name which will be acceptable to regulators, will not infringe existing trade mark registrations, and will be acceptable for registration in the desired trade mark offices is a delicate balancing act. Avoiding phonetic similarity with one or more existing brands is a particularly exacting hurdle to overcome, Piergrossi explains. 'Regulators understand the varying nuances of both prescribing and dispensing medication – and that errors might occur at multiple points along the line,' he says. 'As such, regulators typically prefer names to be wholly unique among all drug names, which is a challenge. If we were talking simply about X indication, or in Y prescribing environment, it may be a little easier. But it's very much against the entire universe of drug names.'
As part of addressing that challenge, Brand Institute runs its shortlisted names through an FDA system called Phonological and Orthographic Computerised Analysis, which quantifies the similarity of any proposed, new name against those already in its database. The FDA will then assess the results in the context of relevant threshold guidelines. However, Piergrossi points out: 'This isn't an immediate pass/fail. It's just the first step to clear. Then you have to examine other information about the drug, such as strength, route of administration – any cue that may help to differentiate it from another product. The fewer information overlaps you identify, the lower potential for name confusion.'
In tandem to considering if a name is acceptable from a regulatory perspective, trade mark searches will be required to determine if there are likely to be infringement risks associated with use of the proposed names in particular jurisdictions.
Other key challenges that naming agencies and their clients must overcome include:
Avoiding names that are unsuitable in non-English languages. During the market-research phase of name development the stakeholders undertake a 'disaster check' to ensure there is nothing in the proposed name that could be perceived as inappropriate or offensive in the majority of global languages. 'There are fail safes along the way,' Piergrossi says, adding that 'there are more eyeballs on drug names, from a linguistic standpoint, than for probably any other marketed brand name or category.' For this reason, many companies will opt to incorporate local advice on the meaning and connotations of potential brand names when devising an international trade mark clearance strategy.


Avoiding the impression that a drug does something it doesn't. In its assessment of a proposed name, each regulator will include a 'promotional review' procedure, designed to call out any claim, message or concept that could be perceived as fanciful or overreaching. Piergrossi explains that if you were to submit, say, 'Acceletra', which implies speed, that may be perceived as a claim and the name could be rejected. 'There are also considerations around stating something that's actually true, such as a name's indication. That may be discouraged based on a product's lifecycle, or potential future indications. So even a factually accurate concept may get pushback.' A misleading or deceptive name is also unlikely to be a registrable trade mark.


Ensuring the drug name is capable of functioning as an identifier. In addition to refusing registration of deceptive names, most trade mark offices will refuse applications to register names that are descriptive of the drug or any of its characteristics, or names which are generic or non-distinctive. Due to different language and cultural considerations, interpretation can vary significantly from country to country; a name acceptable in one might be considered objectionable in another.


Managing scenarios where a drug must have different names in different territories. This is necessary where a drug maker has been unable to clear an individual name for use in every part of the world. 'To secure clarity on regulatory alignment,' Piergrossi says, 'the best thing a client can do is to start early. But if time is of the essence and you do have a name approved by one regulator but rejected by another, we will typically pursue "clone names": single- or two-letter variants. For example, one anti-psychotic drug is marketed in the US as Rexulti, but in Europe as Rxulti.' However, warns Rebecca Anderson-Smith, this can present new challenges when it comes to managing parallel imports.


Essence of equity
Sales of Pfizer's blockbuster drug Lipitor peaked at $13bn in 2006 and declined further after its main patent extensions expired in 2011. But over the seven years from the start of 2013 to the end of 2019, it still managed to pull in annual, global revenues of around $2bn. As such, Lipitor's performance provides powerful evidence of the commercial cachet inherent in a well-crafted, well-positioned brand name.
'This is where we get to the essence of brand equity,' Piergrossi says, 'and the benefits of building a strong, lasting name. It's not easily achieved. But the emotional ties, especially when we think about drug products' safety and efficacy, can have real staying power, as evidenced by some well-known drugs when they go off-patent. From a branding standpoint, there are strategies that can help a drug switch from the prescribed part of its lifecycle to the over-the-counter stage, such as a modifier or variant of the name.' However, some names – such as Lipitor – achieve a level of consumer awareness that enables them to continue as they are, despite the availability of numerous generic versions.
And even outside of a drug's patented life, notes Anderson-Smith, trade mark registrations can typically be renewed indefinitely, providing a powerful tool to protect the brand name while in use, prevent counterfeiting and ensure competing products cannot have similar names.
The big bang
Given how the naming industry has evolved and adapted over more than three decades, Piergrossi predicts that its future will be every bit as vibrant. 'Drug names are becoming more novel – that's the term we like to use,' he says. 'When I think about the broad timeline of name development, my starting point is always the 1988 launch of Prozac. I call it the "Big Bang" of name development. It came out of nowhere. As the first blockbuster drug brand, Prozac was essentially a "blank canvas" name – it didn't mean anything. And yet it set the naming universe in motion.'
"The first blockbuster drug brand, Prozac was essentially a 'blank canvas' name – it didn't mean anything. And yet it set the naming universe in motion"
After that, Piergrossi explains, 'the 1990s saw the emergence of what we may call "clear messaging" names, such as Flomax. There's not much doubt about what that's trying to say. And in the early 2000s, we saw a shift to more or Latin-sounding brands, with Avastin, Lunesta and Lipitor: names that were a little more subtle, but still had discernible word parts. As the industry has evolved, we've reached a stage where names can be very suggestive and even embed multiple attributes. But they cannot overstep the mark from a marketing or messaging standpoint.'
Among the more novel strategies that are reshaping the industry today, Piergrossi cites 'breakaway consonant' brands such as Kcentra (an anticoagulant) and Qvar (a steroid medication), plus longer names such as Imbruvica, Tecfidera and the recently approved Zolgensma, a gene therapy for treating spinal muscular atrophy in children. 'These nine-letter names are interesting,' Piergrossi muses. 'The larger the real estate, the greater the scope to differentiate.'
Even so, he hastens to add, 'sometimes you can still turn up great, one-syllable names with lots of white space around them that you would never expect to find. Older brands such as Yaz set the tone for these, but more recently we've had Sprix, which is a spray formulation of a pain-relief product. One issue with single-syllable names, though, is dot-com ownership – typically, they won't be available. So, there are lots of factors to consider. But from a name-safety standpoint, certain strategies are proving particularly opportune.'
By any measure, drug naming is a field that demands attention to detail, adaptability and a taste for the long haul. But given the commercial potential inherent in a name that strikes a chord with the public, manufacturers with the deepest wells of strategic acumen will be best poised to capture value.
---

A singularly challenging sector
Rebecca Anderson-Smith, Senior Associate and Chartered Trade Mark Attorney at Mewburn Ellis comments:
"It can be difficult devising and clearing a potential brand name in any sector but, as this article highlights, it is particularly challenging in respect of pharmaceuticals where the regulators present additional challenges. There are steps you can take to give you the best chance of securing a suitable name within an appropriate time frame, which include keeping your options open as long as possible by searching a number of potential brand names. Choosing names that are either invented words or words that have no direct connection with your product, its ingredients, or what it is designed to do is also crucial."


---
Learn more on this subject in Rebecca's blog "Naming pharmaceuticals: considerations for choosing, clearing and registering pharmaceutical brand names".
Featured illustration by Shira Bentley
Written by Matt Packer

Rebecca is a Partner and Chartered Trade Mark Attorney at Mewburn Ellis. She handles all aspects of trade mark work, with a particular focus on managing large trade mark portfolios, devising international filing and enforcement strategies, and negotiating settlements in trade mark disputes. Rebecca has extensive experience of trade mark opposition, revocation and invalidity proceedings before the UK Intellectual Property Office (UKIPO), including very complex evidence based cases. Rebecca also has a strong track record in overcoming objections raised to trade mark applications.
Sign up to our newsletter: Forward - news, insights and features
Contact Us
We have an easily-accessible office in central London, as well as a number of regional offices throughout the UK and an office in Munich, Germany. We'd love to hear from you, so please get in touch.