In the race to bring forward sustainable solutions, worlds are colliding and ideas are flowing. As global leaders gather in Glasgow to discuss climate change, Alex Eliseev speaks to three network builders who are making productive partnerships possible.
Forward: features are independent pieces written for Mewburn Ellis discussing and celebrating the best of innovation and exploration from the scientific and entrepreneurial worlds.
Dr Tim Young looks forward to the day when he can visit a wind farm, look up at the majestic turbine blades spinning overhead and know they were made from a previous crop of blades or maybe some old aircraft wings.
It's not something many people think about. Most see wind farms as the green future of energy, a way to power homes without heating up the atmosphere or filling it up with harmful gases. But as robust as they are, turbine blades can only spin for so long. At some point, they need to be replaced.
Some of the spent blades end up in landfills. Others are incinerated (which warms the atmosphere) or partly recycled. Meanwhile, building new blades – some of which are as long as a football pitch – uses petroleum products. As a result, Young calls these 'imperfect solutions' to the climate crisis.
So, what makes a more perfect solution? Perhaps the answer lies in forming partnerships that allow players to look up and down the value chain.
For example, with 14,000 wind turbine blades due to be retired around the world in the next two to three years, there's already an estimated 50,000 tonnes of waste at stake. Now consider the rapid growth of the wind sector (advancing offshore wind is the first item on the UK government's Ten Point Plan for a Green Industrial Revolution) and the problem multiplies tenfold in a decade. A perfect solution would mean finding a truly net-zero way to install and recycle the turbines. It's the missing piece of the puzzle in so many of today's sustainability plans.
Exponential shift
Young is head of sustainability at the National Composites Centre (NCC), which provides a bridge between innovators and the UK's manufacturing industry. Like many others in his field, he's witnessing what he calls an 'exponential shift' in demand for sustainability-related projects. From start-ups to multinational manufacturers, 'every department has some kind of metric or drive towards sustainability', he says.
The same is happening inside the NCC, where members can vote to allocate funds to various types of research. In the past, these tended to focus on components that served specific industries such as the aerospace industry. Over the past two years though, a third of the research programme has become about sustainability, stretching across sectors.
The NCC (part of Innovate UK's Catapult Network) is now also collaborating with sister organisation the Centre for Process Innovation, which represents the foundation and process industries, an important early step in bringing new green materials to market. In the past, composites and chemistry didn't mix much, each playing its own part and running its own experiments. But when the two work together, good ideas can get on track faster, with less duplication and, in some cases, arrive years ahead of schedule. For example, at a recent Ocean Race workshop, Young sat in on sessions dedicated to sustainable collaboration among boat makers. 'We're seeing where industry is investing and how responsible parties are using their profiles to drive change across supply chains,' he explains.
Sometimes, a supply chain is long and has many links. This means that understanding it takes a great deal of talking and collaborating. It takes a project like the NCC's SusWIND initiative, delivered in partnership with the Offshore Renewable Energy Catapult. It pulls together key players including: energy trade association RenewableUK; The Crown Estate, which manages the seabed; wind-turbine company Vestas; energy firms such as SSE Renewables and Shell, and various consultants.
The SusWIND project is exploring how to make turbine blades from more sustainable materials, how to improve their design, and how to recycle them into things like thermal insulation or electric vehicle parts. The silica from the blades can potentially be used for anything from window panels to tyres. And while the benefits of the carbon offset outweigh the turbine blades' end-of-life dilemma, what SusWIND hopes to find are perfect solutions – a circular way to build, install, fix and decommission turbines.
'If each of us just looks at our own brick, we'll never build a wall. All we'll have is a pile of bricks,' says Young. 'We need to collaborate beyond our horizons and change the way we think.'
He says he's seeing the best results in collaborations that look at the activity, rather than the result, and in partnerships where ideas are shared between non-competitors – for instance, wind-turbine blade recycling experts and aerospace engineers. 'That's where we see things work.'
"If each of us just looks at our own brick, we'll never build a wall. All we'll have is a pile of bricks. We need to collaborate beyond our horizons and change the way we think"
Connections and crowdsourcing
Martin Garratt, founder and chief executive of Cambridge Cleantech, is noticing similar trends. Through his networking organisation and his work with Oxfordshire Greentech, he's helping innovators connect with 'innovation-hungry companies' and investors.
'To solve some of the difficult issues as an individual company, government body or academic is very difficult indeed,' says Garratt. 'We're seeing change. Corporates are increasingly looking for innovative solutions. These solutions are being generated, and we're also seeing an opening up of a new "this is good for the future of humankind" mentality.'
The connections are happening at digital and live events and through projects like Scale-Up, where solutions are crowdsourced across the network. Scale-Up involves six countries (five of which are ranked in the top 10 of the world's most innovative) and a web of innovators eager to provide solutions. For example, Garratt shares the story of Deutsche Telekom in Germany, which was looking for energy solutions for its 5G network. Its focus was on making the whole supply chain (which covers everything from its network masts to its vehicle fleet) as energy-efficient and sustainable as possible. Cambridge Cleantech sharpened the request and released it into the network, inviting ideas and pitches from six nations. It received more than 40 responses, which turned into 12 meetings, culminating in three companies being invited to speak to senior Deutsche Telekom staff.
Similar introductions are being made in the UK, including at the Dragon's Den-style Cleantech Venture Days. At a Cambridge Cleantech Venture Day in March, 50 investors requested 62 meetings with innovators. That's a good sign, says Garratt, since investors are picky about who they speak to.
Another example is when Barclays met Airex, a start-up working on a next-generation ventilation airbrick. A smart, connected device monitors temperature, humidity and weather reports, opening and closing accordingly. This helps homes retain heat while avoiding underfloor mould and damp. The meeting led to Barclays investing in Airex, allowing it to grow and helping to decarbonise the housing sector. The investment came from the bank's £175m Sustainable Impact Capital initiative.
Innovation with impact
Dr Sally Beken, founder of the UK Circular Plastics Network and a materials specialist at the Knowledge Transfer Network, reports she is also seeing exciting collaborations in sustainability. And, like Young, she's a big believer in the holistic approach.
"Humans are creative creatures but … the innovation that matters now will be the innovation that makes a positive impact"
'What we're looking for is systemic change. And, by definition, the system has many parts.' Failing to listen, talk and share information, Beken says, could result in unintended consequences and leave the planet in a worse state. She frames it like this: if we could magically remove all plastic from our planet, how much CO2 would we produce making the same items from other materials?
'There are no easy answers. We've got to get it right,' she says. 'The innovation that matters now will be the innovation that makes a positive impact.'
In August, a United Nations scientific report made it clear that humans can no longer stop global warming from intensifying, but, through a coordinated effort, we can prevent the most harrowing future. As nations pledge to become carbon-neutral within decades, the goal is to keep the atmosphere's temperature from rising by more than 1.5°C.
For Beken, going digital during COVID-19 helped her to become part of the solution. She says she's built 'better, stronger, deeper, more innovative and more sustainable' collaborations and has been able to meet a lot of people to find out what drives them and their businesses. She has helped creative, energetic people find each other or secure funding. One such connection was between the makers of wheelchair wheels and a composites company that found a way to build a better spring for wheelchair suspensions. Another involved two companies in completely different realms collaborating to build a healthcare product dispenser.
Beken's advice is straightforward: 'Read and look at as much life-cycle analysis data as you can. Understand the whole system and get to know people who understand behaviour change. Businesses that are prepared to pivot are the ones that will survive.'
And many businesses are pivoting. They are driven in part by regulation – like new rules in the UK that force companies to show their net-zero plans before unlocking contracts worth more than £5m – but also by incentives. A spokesperson for the UK's Department for Business, Energy & Industrial Strategy told Forward: 'Our message is clear. We need to do all we can to tackle climate change and create a cleaner future for all, from securing better access to reliable energy and establishing new industries in the UK, to creating high-quality jobs and export opportunities for British businesses. Supported by the UK government's £1bn Net Zero Innovation Portfolio, we are partnering with pioneering businesses across the country to help transfer their innovation into sustainable products and services.'
In July, the government published a new Research & Development roadmap, and its Innovation Strategy aims to make the UK a global hub for innovation by 2035. It's counting on the right partnerships to pull this innovation into the market. From the Clean Growth Fund to the Floating Offshore Wind Centre of Excellence, the UK government is working towards its climate commitments. It's particularly proud of the offshore wind sector, which it sees as a shining example of collaboration with the private sector. Meanwhile, it's people like Tim Young, Martin Garratt and Sally Beken who are guiding the winds of change in the right direction, one turbine blade or airbrick at a time.
---

A shared challenge
Paul Dunne, Partner and Patent Attorney, Mewburn Ellis comments:
"The challenge of setting society on a more sustainable footing is perhaps unique in its reach and relevance across industry as a whole. It's fascinating to read these real-world examples of how this shared challenge is leading to collaborative approaches to innovation - not only in technology development itself, but also in the way in which those developments are discussed, incentivised and funded."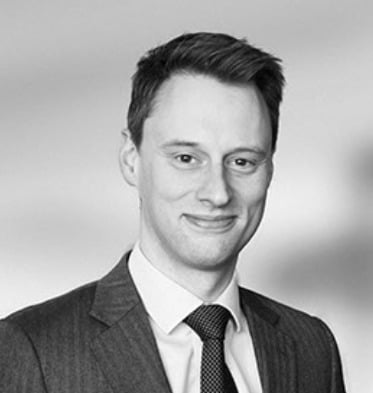 Paul is a Partner and Patent Attorney at Mewburn Ellis. His work is spread broadly across patent preparation, prosecution, and opposition work. Paul regularly handles opposition and appeal hearings at the EPO, where he has an excellent track record of obtaining successful outcomes for clients. He handles the coordination of third party observations against 3rd party patent applications in both Europe and the US. Paul also has particular experience, and a personal and professional interest, in the field of "green" polymer materials.
Sign up to our newsletter: Forward - news, insights and features
Contact Us
We have an easily-accessible office in central London, as well as a number of regional offices throughout the UK and an office in Munich, Germany. We'd love to hear from you, so please get in touch.