There are around a million boats in the UK and eventually they will all need to be recycled. The Blue Composites Project is on a mission to show how it can be done.
Forward: features are independent pieces written for Mewburn Ellis discussing and celebrating the best of innovation and exploration from the scientific and entrepreneurial worlds.
The Tiddy river estuary in Cornwall is so pretty, it looks like an advert for the tourism board. Stone cottages line the shore; there are kingfishers and black-tailed godwits. A keen sailor can hop on a craft and meander downstream to Plymouth, then on into the Channel.
But there's a blight. 'Three boats have been abandoned in the waterway in the last few months,' says local James Scott-Anderson. 'The problem is there's no compulsory registration of boats, unlike cars or motorbikes. When the owners want to get rid of a boat, they just take it to a marina, moor it, and do a runner. The boat sits there until it rots. There's no way to trace it.'
Scott-Anderson is more than an aggrieved observer. He's so passionate about the issue that his company Blue Parameters is heading an industry consortium to resolve the environmental catastrophe of abandoned boats.
It's a huge job. There are more than a million watercraft in the UK alone, and at the end of their lives they are either left to decay in the marina or handled in a so-called 'responsible' manner – smashed to bits and buried in landfill.
'Last year alone £29 million was spent landfilling boats,' says Scott-Anderson. 'The waste leaks into the soil causing who-knows-what damage. It can't go on.'
The problem is the glass reinforced plastic – or GRP – the boats are made from, commonly known as fibreglass. It's notoriously hard to recycle. In Norway, GRP is ground to a powder to make flowerpots and benches. In the US, a company called Eco-wolf uses fibreglass matter to make paving tiles and railway sleepers. It's a start, but what the industry needs is recycling. This is the aim of the Blue Composites Project spearheaded by Scott-Anderson, which he believes has the answer. 'It's a world first,' he declares. 'Groundbreaking!'
How to recycle a boat
It is the inherent structure of GRP that makes it such a difficult material to reuse. The fibres are consolidated together with resin and components in the mix. 'We disassemble the boat,' explains Scott-Anderson. 'If 300 screws went into the cockpit, then 300 come out. There's a lot of valuable stuff to extract, such as stainless steel, aluminium and other metals, and glass.'
Now comes the tricky bit: extracting the fibreglass materials and resin. For decades attempts to clean polymers from components involved solvents such as triethylene glycol. In the early 2000s a radical approach was developed by Blackburn-based family company BM Longworth. The company chairman John Norris and his son Peter invented a new system they called DEECOM, named after its use of pressure swings between compression and decompression. Superheated steam is applied to remove polymeric material from components. This is the method the group is harnessing to recycle boat hulls.
'At BM Longworth we're environmentalists at heart and innovators by nature,' says Jen Hill, the company's director. 'DEECOM was invented to allow the polymer industry to cease using TEG solvents or burning using pyrolysis. Now we've found many other value waste streams that it can help towards net zero and materials circularity.'
Boat hulls and other polymer products can be reduced to their constituent parts. The glue, resins, fibre materials and metals are all gently separated ready for use in a new role. The approach covers a variety of polymers which can be successfully extracted, including polyethylene terephthalate, polyethylene, polyamide and elastomerics.
It's a big moment for the boat industry. There's now no need to send boats to landfill, or an excuse to allow them to decay in a harbour. The entire structure can be recycled.
'DEECOM is novel and state-of-the-art and identifying the science behind it has taken a long time and a lot of industry and academic specialists,' says Hill. 'It's in fact so different that we've been asked to propose a new British Standard to have pressolysis acknowledged as a recycling process alongside more established methods like pyrolysis, solvolysis, and mechanical.'
Two patents protect the process, with an additional two granted since 2020.
'The reclaimed fibres can be used for a variety of purposes,' says Scott-Anderson. 'If the structural integrity is slightly reduced then they can be used to build caravans, for example. It is possible to build 95% of a caravan out of recycled GRP originating from boats.' Carbon fibre can be used for tennis rackets: the Wilson brand has produced a racket made from 50% recycled carbon fibre, which trials revealed had specifications within normal racket ranges. The strength is there.
Membership of the project is broad, and includes the British Yachting Association, British Marine, numerous boat builders, resin specialist Scott Bader, and Scott-Anderson's company Blue Parameters, with support from experts at the National Composites Centre based in Bristol. Cygnet Texkimp is the manufacturing partner, with the licence to supply DEECOM equipment to the composites industry.
Still problems to solve
The complexity of the problem is illustrated by the challenge of recovering value from the resin component. This is the domain of Scott Bader, a UK-based global manufacturer of adhesives, composites and functional polymers. 'We have helped support and fund James Scott-Anderson and his work,' says Dr Steven Brown, Technology Development Manager at Scott Bader and Sustainability Director at Composites UK. 'So far, we have not been able to recover sufficient amounts of resin to make new materials. The amount of water used in pressolysis means the resin is diluted in water, at a scale of parts per million. To make this a viable route to resin recycling, we need to find a way to concentrate the resin.'
Ideally, the resin portion would be extracted and recycled, to make the DEECOM process complete. 'I am optimistic we can get something of value out of it,' says Brown. 'We are in the process of talking to Cygnet Texkimp and BM Longworth to address this challenge.'
The resulting resin could be used for any number of purposes. 'It might not be the same resin as went into the boat,' says Brown. 'But it'll be usable. Resin right now is the missing part of the project.'
Waiting for the green light
So, will we see an end to boats rotting in St Germans and other harbours? Not quite. The economics of recycling are mixed. It currently costs around £100 per foot of boat to smash it and send it to landfill, assuming the owner wants to decommission their vessel rather than abandon it. The DEECOM process is not yet proven to generate profit. 'We are looking initially at breaking even, possibly with a small profit,' says Scott-Anderson. 'This is firstly about doing the right thing environmentally.'
Furthermore, the planned prototype in Falmouth is not yet under construction. 'We need £32,000 to get the project going,' says Scott-Anderson. South Hams council is offering £12,000. The rest is still required.
It's infuriating for Scott-Anderson and his team that so little capital is available. 'We can take this global,' he says. 'And diversify to other industries. Every year Boeing sends 300 tons of carbon fibre waste to the UK to be recycled. Ours is a modular system. We could fly a unit to Seattle and build it on the shop floor. Just think of the carbon footprint we'd save.'
For Scott-Anderson, it's a matter of principle. 'A G7 country should not be landfilling composites. We have the solution. It's ready to go. The potential is absolutely huge.'
How does DEECOM work?
The DEECOM process uses superheated steam pressure that swings between compression and decompression cycles to remove organics from contaminated components and assemblies. The process takes place in a controlled environment contained within a custom designed pressure vessel.
The components to be reclaimed are enclosed in the pressure vessel and the pressure in the vessel is increased and then rapidly decreased. Depending on the polymer type, temperatures above 200ºC will melt or soften the polymer and a degree of hydrolysis will occur.
When at pressure, the steam will penetrate fissures in the polymer where it condenses as superheated water. On decompression it boils, instantly cracking the polymer and carrying away broken particles along with the softened, degraded polymer fragments from the outer faces.
The pressure swing cycle is then repeated at frequent intervals and controlled automatically with no detrimental effect on the integrity of underlying fibres or components of value.
---

Recycling technology catching up to match boat manufacturing technology
Paul Dunne, Partner and Patent Attorney, Mewburn Ellis comments:
"The sight of abandoned boats rotting by the coast is a very visible reminder of the difficulties of achieving "circularity" for large composite structures, perhaps more so than other types of composite products which are hidden in specialist disposal facilities or landfill. It's great to learn about ways in which recycling technology is now catching up to match boat manufacturing technology, in a way which can bring new value to old boats. We look forward to seeing where the Blue Composites voyage leads in the future!"
---
Written by Charles Orton-Jones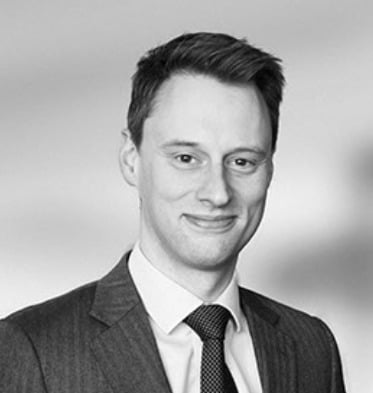 Paul is a Partner and Patent Attorney at Mewburn Ellis. His work is spread broadly across patent preparation, prosecution, and opposition work. Paul regularly handles opposition and appeal hearings at the EPO, where he has an excellent track record of obtaining successful outcomes for clients. He handles the coordination of third party observations against 3rd party patent applications in both Europe and the US. Paul also has particular experience, and a personal and professional interest, in the field of "green" polymer materials.
Sign up to our newsletter: Forward - news, insights and features
Contact Us
We have an easily-accessible office in central London, as well as a number of regional offices throughout the UK and an office in Munich, Germany. We'd love to hear from you, so please get in touch.