Brands which include personal names – the so-called eponymous brands – are now commonplace in our fashion industry. Naming a brand after an individual can emphasise the intimate bond that exists between the creative and their product. It also sends out a desirable message to consumers; it signals that a brand's product is imbued with an element of personality. Some of the most iconic designers have followed this practice, such as Prada, Chanel and Alexander McQueen, to name a few.
Before turning your own name into a fashion label, it is important to consider the common legal issues that may arise. Familiarising yourself with the UK's legal rules on registering personal names as trade marks, can help you avoid the common pitfalls.
Can I register my own name as a trade mark?
There are no rules that prohibit registration of personal names in the UK, except for names of members of the Royal Family. The United Kingdom Intellectual Property Office (UKIPO) permits applications for trade marks which include first names, surnames or both. Those applications are subject to the same legal requirements which must be met by any sign to be registered as a trade mark in the UK (see our article on the basics of trade mark registration).
Yet, an applicant does not have a superior right to register their own name as a trade mark.
Every application will be checked against earlier trade marks that are recorded on the UK register. Once the application has been submitted, the examiner at the United Kingdom Intellectual property Office (UK IPO) will identify any earlier trade marks that may conflict with the application. The examiner will alert owners of earlier marks if the applied-for sign creates a possible conflict owning to its similarity. Following this, any third party that owns a prior mark can submit an opposition to the application. If the opposition succeeds, the application will be refused.
This examination approach is practised in respect of all types of signs, even those including personal names of the applicant.
This means that if you apply to register your own name when there is already an existing earlier registration for the same or similar mark, the application may be refused as explained above. This was the case in Tiffany and Company ('Tiffany & Co.') v Tiffany Parmar ('Ms Parmar') (O-010-20) where Ms Tiffany Suzanne Parmar applied to register a mark which included her forename: "Tiffany: Cotswold Lashes By Tiffany". Her application was opposed by the famous US jewellery company Tiffany & Co, which had registered rights in the "Tiffany" name. The United Kingdom Intellectual Property Office (UKIPO) found in favour of Tiffany & Co, refusing Ms Parmar's registration even though she was incorporating her personal name into the mark.
Applications for registration of a famous individual's name, if not made by the individual concerned, will have to also be accompanied by a letter of consent. This is a written declaration, addressed to the UKIPO, that gives the applicant permission to register and use the famous individual's name in trade. Without written consent to the application by the individual concerned, the application will be refused under section3(6) of the UK Trade Marks Act 1994. This may be especially relevant to beneficiaries of estates, as well as executors of a will.
Can I use my own name as a trade mark, if someone else has already registered it?
Believe it or not, but many individuals in the UK have the surname Beckham. You may be interested in registering your own name as a trade mark or simply using your own name commercially, without intending to draw a connection to another individual. For example, someone with the surname Beckham may wish to open a bakery business without implying affiliation with the famous footballer!
Registration: As explained above, you may be prevented from being granted a trade mark registration in case of an opposition being made against your application, if it is successful. This legal rule applies to all marks, even those that include the applicant's own name.
Use in trade as a trading name: It may be possible to simply use your own name in trade, even if that name has already been registered as a trade mark by someone else. The UK Trade Marks Act 1994, section 11(2)(a), states that "A registered trade mark is not infringed by the use by an individual of his own name or address". This can be used as a defence against claims of trade mark infringement.
However, this provision comes with a noteworthy caveat: the use of the trading name must be "in accordance with honest practices". Whether use is honest will depend on the circumstances. The Court of Appeal has strictly stated that intentional use of misleading names, used to take advantage of the section 11(2)(a) defence to infringement, will amount to a dishonest attempt to avail oneself of another's registered trade mark (Hotel Cipriani Srl v Cipriani (Grosvenor Street) Ltd, [2010] EWCA Civ 110, [68-69]). As such, using a misleading name intentionally, is not permissible.
What should I look out for when entering into commercial agreements?
It is possible to transfer your right to use an eponymous trade mark by agreement. Once you have agreed to transfer your rights to an eponymous trade mark, use of your own name in trade may be impermissible and you will not be able to use the section 11(2)(a) defence to defend claims of trade mark infringement. When agreeing to transfer your rights in an eponymous brand, you should stay aware of how your future ventures may be affected.
Two illustrative examples are that of the famous "Karen Millen" and "Bobbi Brown" brand acquisitions.
Karen Millen: Millen v Karen Millen Fashions Ltd [2016] EWHC 2104 (Ch)
Karen Millen co-founded an eponymous brand, "Karen Millen", in 1981, as a budding designer entering the fashion world. The brand enjoyed staggering success. In 2004, Karen Millen sold her share of the businesses under an agreement which Karen Millen Fashions Limited, Mosaic Fashions US Limited later acquired. As part of the sale, she agreed not to use any intellectual property rights of the "Karen Millen" brand, in any business. She also agreed not to use the name "Karen Millen" or any other confusingly similar name, in any business that was similar to or competed with the purchasers, anywhere in the world. At the time of the 2004 agreement, the business sold women's clothing and fashion accessories only.
In 2011, a dispute arose when Karen Millen, the designer, decided to return to the industry. She planned to launch a new business selling homewares under the name "Karen Millen", and other products, including clothing, under the name "Karen".
The High Court held that the designer's proposed use of the "Karen Millen" mark on homewares would breach the 2004 agreement. The agreement was interpreted as strictly prohibiting the use of the "Karen Millen" name on any products that would cause confusion with the purchasers' "Karen Millen" brand. A consumer who saw "Karen Millen" on homewares would almost inevitably confuse this with the fashion brand, according to the judgment. The court also held that the agreement prohibited the designer from the use of the word "Karen" even without the word "Millen" on clothing, as this would also cause confusion with the brand.
One of the key questions concerned what intellectual property rights had been transferred to the purchasers under the 2004 agreement. Karen Millen argued that the sold business had to be assessed against the intellectual property rights and range of products sold by "Karen Millen" in 2004 only. In response, the judge noted that whilst some intellectual property rights are fixed in time – such as trade marks – "certain of the individual rights were changeable over time" (paragraph 167), such as a brand's goodwill. Goodwill is essentially a brand's reputation, or power of commercial identification. When the designer agreed to transfer her business' goodwill in 2004, this meant that any future growth of this goodwill would continue to be owned by the purchasers. This aspect of the agreement was not "frozen in time" (paragraph 169), contrary to what the designer had argued.
In short, the designer was prevented from using her own name on homewares and clothing. The agreement she had entered in 2004 was interpreted strictly and its terms favoured the purchasers.
Bobbi Brown Cosmetics
In 1991, Bobbi Brown founded her own beauty brand, Bobbi Brown Cosmetics. Four years later she sold the ownership of the company to the Estée Lauder Companies Inc., transferring the trade mark rights in the "Bobbi Brown" name. After initially working for Estée Lauder Companies Inc., in 2016 she left and signed a non-compete agreement with the company.
The agreement prohibited the entrepreneur from launching a new brand under her own name. To tackle this contractual obstacle, the entrepreneur applied to register "Jones Road" and "Jones Road Beauty" as trade marks for her new venture in 2020.
Sales of ownership of eponymous name often also include prohibitions on marketing any new venture in a way that would suggest affiliation with the original brand. To prevent breaches of commercial agreement, disclaimers are often used to alert consumers that the individual is no longer affiliated with the company that is trading under their personal name. In this case, this is often seen in the form of an explicit disclaimer such as: "Bobbi is no longer affiliated with Bobbi Brown Cosmetics Company."
Key takeaways for eponymous brands
Consumers are used to seeing eponymous brands and associating them with famous individuals. Before naming a brand after yourself it is important to take the necessary precautions; check that there are no existing identical or similar trade mark registrations in the countries where you are planning to trade. If there is a successful opposition made against your application, this may prevent you from being able to lawfully use your own name in trade. Coco Chanel's advice is relevant to aspiring trade mark applicants: "In order to be irreplaceable one must always be different."
If you successfully obtain a trade mark registration, remember to guard this highly valuable asset. Be particularly cautious when agreeing to any transfers of ownership to your intellectual property rights and stay aware of what this could mean for your brand's future.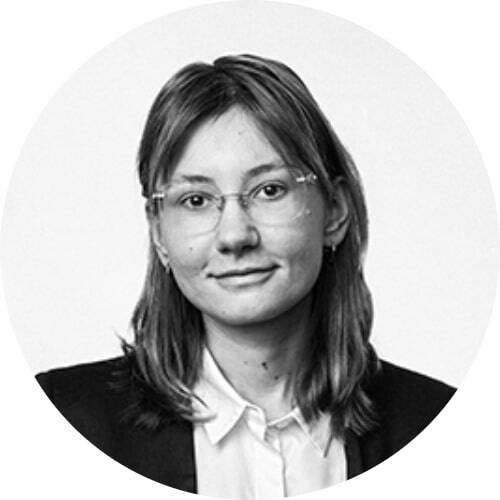 Karolina is a trainee trade mark attorney and a member of our trade mark team. Her core interest is in comparative trade mark practices, having studied trade mark law across multiple jurisdictions. Karolina's special interest is pro bono work, having completed an internship at the National Pro Bono Centre in London. She graduated with an LLB Law with Another Legal System (Singapore) degree, from University College London. This included a year placement at the National University of Singapore, where she studied Singaporean law. She also has a LLM in Intellectual Property Law, from University College London.
Sign up to our newsletter: Forward - news, insights and features
Contact Us
We have an easily-accessible office in central London, as well as a number of regional offices throughout the UK and an office in Munich, Germany. We'd love to hear from you, so please get in touch.