The maverick scientist leads the SMI Hub in Manchester. He's bringing together environmentalists, economists and social thinkers to create a truly original approach to sustainability.
Forward: features are independent pieces written for Mewburn Ellis discussing and celebrating the best of innovation and exploration from the scientific and entrepreneurial worlds.
The great detective Sherlock Holmes had a brother called Mycroft who worked for the British civil service. His role was unique. "All other men are specialists," explained Sherlock to Dr Watson. "But his specialism is omniscience." Mycroft saw all information across government. "In that great brain of his everything is pigeon-holed and can be handed out in an instant."
There is a parallel with Professor Michael Shaver. There are many specialists in the field of renewables, sustainability and recycling. Professor Shaver is an anomaly – a man with the overview of all fields. His goal is omniscience of the entire ecosystem.
Just summing up his roles offers a hint of his extraordinary mind.
Professor Shaver is the Director of the Sustainable Materials Innovation Hub in Greater Manchester, which works to combat plastics pollution.
He is also Professor of Polymer Science in the School of Natural Sciences at the University of Manchester, where he leads initiatives in sustainable polymers. A third role is Director of Sustainable Futures, a pan-university initiative growing interdisciplinary research in solutions to environmental challenges. And he's an entrepreneur, founding a company called ReCon Squared to audit the percentage of recycled plastic in packaging.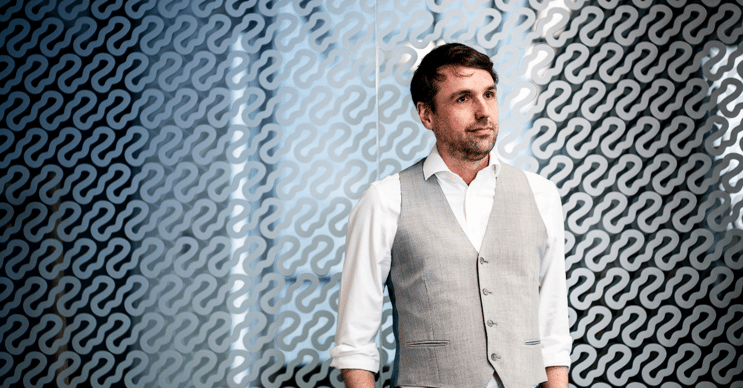 Professor Michael Shaver, Director of the Sustainable Materials Innovation Hub and Professor of Polymer Science in the School of Natural Sciences at the University of Manchester
His output is prodigious. He is co-author of 115 research papers across a dazzling range of fields. There is the technical, such as his paper last year: "Light-induced polymeric frustrated radical pairs as building blocks for materials and photocatalysts". And the political: "Tackling household plastic waste: best practice for a circular economy".
His main office is at the SMI Hub, where he works alongside 30 researchers in six divisions. "We are unique in the UK, if not Europe, in that we have social scientists working alongside economists," says Professor Shaver over Zoom from his office. "We have people doing environmental impact assessments sitting by polymer engineers and fundamental chemists. We pull all those perspectives together in a proper interdisciplinary way."
So what does the professor see from his unique vantage point?
"Omniscience is really hard in this space," he admits. "But it's when you zoom out you see where the failures in the system are. What are the challenges to adopting a new technology? What are the barriers to effective government policy? You have to understand innovation in its broader context."
He sees the glitches in the policies proposed by others in the green movement.
"We have organisations and academics who are greenwashing the heck out of stuff because they want their company to survive or want to be able to publish a cool paper. And that creates a dichotomy where what we think is sustainable often has a lot of unintended consequences."
Example? "Originally we were doing a lot of work on developing biodegradable plastics. And we realised they meet a standard, but don't actually degrade in the environment of release. And they certainly don't degrade at the same speed as food in an anaerobic digester. So it's like, oh man, we're doing this stuff and selling it. But we're creating as many problems as we are solving."
Economics is as important as chemistry
A major theme in the work of Professor Shaver is the importance of money. Environmental projects need to make financial sense. Obvious? Not to many in the environmental movement. "If you have the best innovation ever, but it's economically disastrous, it's not going to happen," he explains.
This alone marks him out as unusual. Environmental researchers usually worry about negative verdicts on sustainable projects. Professor Shaver is candid: whatever the financial and energy costs, he'll say so bluntly and clearly.
His desire to factor in every variable means his conclusions can be counterintuitive. Recycling, he says, is not always the answer. For plastic products reuse can be the superior option.
"Recycling is not a panacea," he says. "Every time we recycle we degrade the materials a little bit. Our work looks at understanding and controlling that degradation. It's important to know when reuse is the better solution."
Bank card waste
Professor Shaver is also an academic who loves to get his hands dirty with real-world challenges. The SMI Hub is currently tackling the issue of bank card waste. With an estimated 29 billion cards in the world today, their environmental impact is significant.
"We are working with Mastercard on the depolymerisation of credit cards. The cards are made of PVC, which is a really bad plastic. It's low footprint, as it's easy to make, but it has a lot of unintended consequences. PVC is really difficult to recycle because it releases HCl gas, which starts to eat your reactor. So they go to landfill. And they are multi-material. They have a chipset inside, a bunch of dyes and a barium magnetic strip on the back. It's really complicated to address."
The SMI Hub has found a way to break a new kind of bank card down into its original components. "We do a chemical depolymerisation. We do selective chemical recycling. That enables us to take the plastic away. Then we segregate the metals and barium and stuff with economic value. Then with water we purify the monomers and repolymerise."
Hidden forces
A constant theme in Professor Shaver's work is searching for overlooked factors. It's not acceptable to focus on a single advantage of a scheme. All issues must be included to understand what is, and what is not, worth doing.
He cites the example of recycling glass milk bottles. He embarks on a detailed analysis of all the factors in a cost-benefit analysis. "You need to know where the bottles are being reused. Glass is heavy. Are you carting them around a long way? That adds to the footprint."
And there's the number of times an object is reused. "Do people actually reuse the milk bottle? Look at the example of reusable grocery store bags. People often build up a large collection of them in their houses."
Another passion is identifying hidden or overlooked consequences of policies. For example, the UK leads the G7 in cutting carbon emissions but outsources a significant amount of manufacturing to the other countries. "We are also exporting plastic waste and importing recycled plastic," he says with a shake of the head. "I say to government ministers, we don't need to become a manufacturing society. We need to focus on being a remanufactured society. That's our next aim."
This extends to the social sphere. A lot of us want to recycle but our actions can fall short. Why? Laziness? Not so, says Professor Shaver, who wrote the catchily titled paper The future of UK plastics recycling: One Bin to Rule Them All. He demands a simple, harmonised national waste collection method. A single household bin for plastics is his preferred method – the One Bin method.
Anyone who has scratched their head over what goes in the blue, green or black bin, or had the system arbitrarily change, will understand his thesis.
"That title was a joke that will end up on my gravestone," he says with a laugh. "The message is you need consistency around social practice. Instead of building your ideal system, you need something that leads to the best outcomes. You need to understand what people are able to understand and do."
Hands on
A recent project is to tackle fraud in the recycling world. "We have a tax in the UK on plastic packaging that is not at least 30% recycled. But the question is whether plastic meets that criteria. How can you authenticate and report to the tax authorities?"
His answer is ReCon Squared, a not-for-profit maker of a fluorescent dye, invisible to the naked eye, which shows up under ultraviolet light and is introduced into recycled plastic. The fluorescence intensity reveals the mix of recycled fluorescent plastic with virgin polymer. The technique works with most high-volume plastics used for packaging, including polyethylene, polypropylene and poly(ethylene terephthalate), with no impact on material properties.
The project is sponsored by the likes of Kraft Heinz, label-maker OPRL, and health and hygiene giant Reckitt, Tesco, Britvic and others.
It's early days for what could be an industry changing concept. "We've had £250,000 in sales so far," says Professor Shaver. "We've got angel investors coming in. ReCon Squared is not-for-profit to retain integrity. We don't mind if other people go off and profit from this. Any profit we make will be invested back into making sustainable plastic safe."
As we wind up the interview, he's still announcing new projects. "The construction sector produces 60% of the waste in the UK. Huge! And we've got a really complicated waste stream. We have the demolition of buildings, we've got new builds, and we have materials coming out of those buildings. Our new project is Future Homes at the SMI Hub, which looks at sustainability. We are looking at the entire supply chain to see how we can revolutionise standards. One skip to rule them all!"
He ends with a punchy message for policymakers. One they ought to have heard before, as Professor Shaver consults both within the UK, the UN and other national governments: "We have to stop exporting plastic waste. We need to invest in recycling. And we need to take care of our own plastics management. The best thing the UK can do is become a global leader. Then we can actually go into a global forum and say something. Right now we are going in and saying things that we are not delivering."
Professor Shaver's vision is a circular economy that recycles and reuses in the most economically and socially optimal way possible. The challenge is mapping out every cost and variable to find the best solutions.
It's a massive undertaking. And one that requires the collaboration of a spectrum of experts working together. Professor Shaver is adamant this interview focuses on the collective efforts of his colleagues at the SMI Hub, not him alone: "I think it's important to say that we do what we do because of the assembled interdisciplinary team."
Collectively, they are demonstrating how environmental policies can be shaped, taking into account all economic and social constraints. It's hard to see how any other approach can work.
"I find it fascinating to try to understand everything," he says. "It's a pleasure to work along other with researchers and scientists to see how all the parts fit together."
The future of UK plastics recycling: One Bin to Rule Them All
By Martin Burgess, Helen Holmes, Maria Sharmina, Michael Shaver
"The use of plastics, and even the existence of this versatile material, has been increasingly demonised in the UK. Public campaigns exist to expand use of recyclable cups and to eliminate plastic straws. Retailers supplying 80% of the market are now members of the UK Plastics Pact, with goals to ensure that products are designed to be recycled, that recycling takes place and that more recyclate is used in new products.
"Public awareness has not translated into action, as domestic collection rates for discarded plastics remain pitifully low. We started with a systems-wide vision that these rates can only be increased if all household plastic recycling is made easy and consistent – christened 'One Bin to Rule Them All' – and used this premise as a starting point to examine the implications of a fully mixed plastics waste stream entering the supply chain. An agenda for future research was developed through 25 interviews with senior industrial and commercial management and a cross-sector workshop.
"We determined that if improved household collection rates are to translate into significantly improved recycling rates, rapid progress is required in four areas: standardisation (materials, kerbside collections, waste sorting), infrastructure investment, development of cross-supply chain business models and creation of higher-value recyclate. Creating a harmonised national solution to plastic waste sorting is critically dependent on maintaining value in discarded plastics. This in turn reduces plastic leakage into the environment. Enabling this value-based scenario in the UK would form a best-practice model for other regions."
Full paper published in the journal Resources, Conservation and Recycling
---
One size will not fit all
Eleanor Maciver, Partner, Patent Attorney and Sustainability Champion at Mewburn Ellis comments:
"When I met Professor Shaver, his ability and passion for considering all of the factors needed to reach truly sustainable solutions to some of the biggest problems we face as a species was both insightful and inspiring. Our chat reminded me that whilst undoubtedly more sustainable technology is needed on various fronts, it is equally important to understand the economics and behaviour of the target audience (e.g. businesses or individuals) as well as policy as these will play important roles in whether a more sustainable solution will work in the 'real world'.

It's great to hear more about the unique team at the SMI Hub and their work partnering with business to carry out this full, holistic, assessment and help implement sustainable solutions. One size will not fit all; the factors that affect one issue will not be the same as those effecting another. Although 'One Bin to Rule them All' does sound like generally a good idea to me at least!"

Eleanor is a Partner and Patent Attorney at Mewburn Ellis. She is also our Sustainability Champion and is responsible for leading the firm's environmental strategy and our sustainability collaboration group, ensuring this remains an important focus for the firm. Eleanor drafts chemistry patents for UK and international clients and is experienced in the prosecution of global patent portfolios as well as opposition and appeals before the EPO. She has a proven track record and recently won three valuable opposition cases for key clients. She frequently provides patentability and Freedom to Operate opinions for her clients.
Sign up to our newsletter: Forward - news, insights and features
Contact Us
We have an easily-accessible office in central London, as well as a number of regional offices throughout the UK and an office in Munich, Germany. We'd love to hear from you, so please get in touch.