Tom Jelliffe is the founder of ultra-durable earphones brand Tzuka. Here's how he took his concept from eureka to market, with no technical background.
Forward: features are independent pieces written for Mewburn Ellis discussing and celebrating the best of innovation and exploration from the scientific and entrepreneurial worlds.
'How much did I know about manufacturing before all this? My knowledge was non-existent. I mean, my degree is in geography and business management.'
Tom Jelliffe is a classic entrepreneur. He's taken his product from first idea to the brink of his first sale despite being a total novice. The president of Y Combinator, the world's most active seed investor, says the ideal founder should be 'relentlessly resourceful' like James Bond. In this regard, Jelliffe is 007 in full tuxedo mode.
Jelliffe got the idea for unbreakable earphones while at Loughborough University. 'Me and my gym buddy broke nine pairs in our final year,' he says. 'We were like, "This is ridiculous". We searched for a pair made for more extreme workouts, but realised whether you spend £20 or £200, the ear buds are made exactly the same way. Just two pieces of plastic glued together, usually made at the same few factories in the far east.'
He vowed to build something better.
'We spent a year designing a wired model, before switching to true wireless. And that's when the business really started.'
He pitched the idea for a university course module. 'I got the highest mark ever from that! It dragged up my final grade.' The brand name Tzuka, pronounced Tuh-Zuka, came after a brainstorming session with his family.
What followed was a tale of three steps forward, two steps back. 'I applied to the Loughborough University graduate enterprise programme called The Studio. I failed the first time. I tried to set up Tzuka from my home, [it was] horrendous, just awful. It was never going to work. I spent six months tutoring to pay the bills, and then reapplied to The Studio and got in.'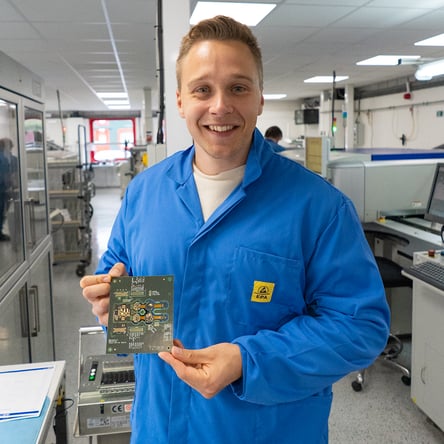 Tom Jelliffe holding a piece of Tzuka tech


He researched the expertise he'd need to bring in. 'I remember my first meeting with mechanical engineers and electronic engineers. They might as well have been speaking in Korean. I had absolutely no idea what was going on. I felt quite vulnerable, in a way. But they have always been fantastic with me.'
At every juncture he'd reach out to experts to fill in the gaps in his knowledge. This was 2019; within a year it was clear Tzuka had serious potential.
How to build unbreakable buds
'What we've done is revolutionise the casing,' reveals Jelliffe. 'We've broken hundreds and hundreds of pairs of earphones and seen that they basically all have the same clamshell design. Two pieces are popped together. What we do is inject the bud with a compound so it becomes a solid block. The industry uses an IK rating for impact protection. We are trying to hit an IK09, potentially IK10.'
The concept is hard to perfect. 'When we inject the compound, we need to know exactly how viscous we want it. We need the battery to vent and have room to expand. We need to make sure the speaker can get airflow to it, and the microphone can breathe. There are so many things to think about!'
The bud is moved during injection to ensure even flow: 'A single air bubble under impact could cause it to crack.' The result is a waterproof and drop-proof set of earbuds ideal for everything from swimming to marathon running.
'One of our key features is the unique operating mode,' says Jelliffe. 'You can download and store 60 hours of your favourite songs or podcasts on the earbuds. Then you can turn off your phone or computer and still be able to play music, there are no range limitations. Swimmers love this – other brands are waterproof, but what's the point when they don't play underwater?'
The simple moral of the tale – one Jelliffe returns to again and again – is the value of asking experts for help.
He turned to The Manufacturing Technology Centre for advice on design and construction. 'They support all our mechanical engineering effectively,' says Jelliffe. 'We've been able to use their amazing facilities in their Coventry base.'
Innovate UK played a key role, supplying a dedicated innovation advisor and offering advice on who to talk to. Innovate UK was also able to supply a £3,000 grant. The money funded an intellectual property audit by Mewburn Ellis, led by patent attorney Dan Thornton.
Intellectual Property audit
'An IP audit is where legal experts look at your product and highlight where they think IP can be generated, whether that's through patents, trademarks or design rights. The result is a list of things they think have potential, with a percentage chance of success. So it might say you have three opportunities for a patent, and a prioritisation of those opportunities for maximum value, so you know where to focus. The audit also recommends what to trademark.'
The IP audit by Mewburn Ellis was critical for Jelliffe and Tzuka. 'The process with Mewburn Ellis massively improved my understanding of intellectual property. I learned the importance of applying for a patent before publicising my invention, because once you've disclosed, you will not be able to get a valid patent.'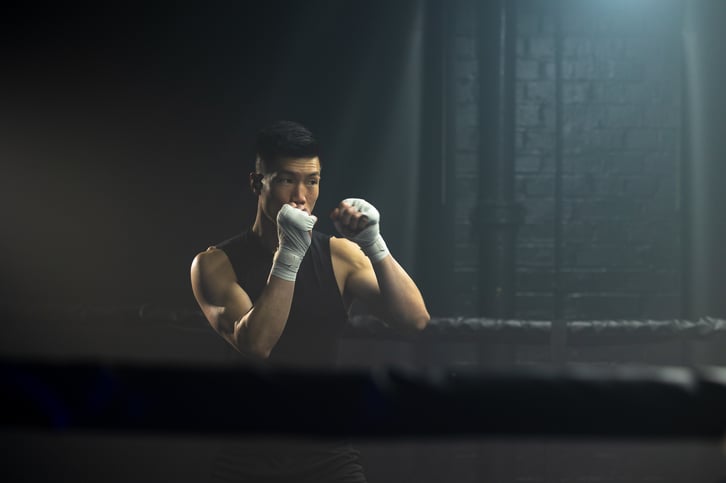 The Tzuka earbuds in action


Mewburn Ellis helped Jelliffe identify his most valuable pieces of intellectual property. 'We saw the importance of building an IP portfolio, it's vital to a business like ours. If we get it right, we can be attractive to a big global brand plus it adds significant value to the company. Selling to a larger technology brand is very, very common in the earbuds space.'
A second grant by Innovate UK helped Tzuka and Mewburn Ellis apply for the company's first patent. The details are under wraps, but Jelliffe regards the step as a milestone in the company's progress to becoming an IP-rich premium brand.
Ready for launch
At the time of our interview, Tzuka is on the brink of putting the first generation of earbuds on the market. 'Our electronics have been sent off to the manufacturer and will take six weeks to assemble and to get back,' says Jelliffe. 'Then we'll put them into our housing. We'll do more testing, and if all goes well, we'll have a model ready to launch. First run is 4,000 units.'
Everything is designed, engineered and manufactured in the UK. Sales will be done directly to avoid giving half the sale price to retailers.
The big challenge is to generate publicity. 'We have relationships with a number of Olympic athletes and international rugby players for marketing,' says Jelliffe. 'But won't do it too early. Right now, everything is in stealth mode with little to nothing on our social media. We're keeping things under wraps until all the launch-ready testing has been completed.'
The first sale will be the culmination of a long journey for Jelliffe. It's been a hard graft. His first round of investment meant he could take a salary for the first time. 'A thousand pounds a month,' he says. 'At the time I had £1.17 in my bank account. I screenshotted it so I could remember the moment.'
Commercial interest is already soaring. 'There is licensing potential, and medical and military applications too,' he says. 'I've got a meeting with a high-ranking officer in the British Army tomorrow.'
Jelliffe and Tzuka are an inspiring example of what can be achieved with a vision, ferocious determination, and the help of a wide roster of experts. He has a unique product, secure IP, and a roadmap to take his product to global markets.
'It's been four years of work,' reflects Jelliffe. 'My graduate friends are driving nice cars and having lovely holidays. But I just said to myself "you've got to do it. You've got to make it happen".'
In 2023, the dream is set to become a reality.

---

A proactive approach
Dan Thornton, Partner and Patent Attorney, Mewburn Ellis comments:
It's exciting to witness Tom's entrepreneurial spirit and the consequent growth of Tzuka. Tom is an expert in partnering to achieve his commercial aspirations, and IP is just one example. Tom was right to pursue an IP audit; Tzuka is exactly the kind of business that is well-served by a focused IP portfolio at modest expense. Using a range of registered IP, Tzuka has taken a proactive approach not only to securing its position in the market, but also to making itself an attractive proposition for investment or acquisition.

I look forward with excitement to seeing how Tzuka will develop in the years to come (and also to buying some new earphones!).


---
Written by Charles Orton-Jones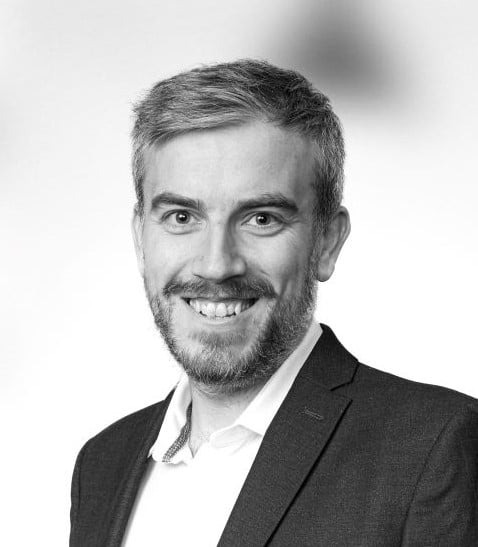 Dan is a Partner and Patent Attorney at Mewburn Ellis. He works on all aspects of the patent application process in the mechanical, electronics, and engineering sectors. This includes patent drafting and prosecution. Dan is also experienced in providing freedom to operate opinions and the freedom to operate process.
Sign up to our newsletter: Forward - news, insights and features
Contact Us
We have an easily-accessible office in central London, as well as a number of regional offices throughout the UK and an office in Munich, Germany. We'd love to hear from you, so please get in touch.