There is no denying that the Covid-19 pandemic has reshaped many aspects of our lives. Those lucky enough to be spared by tragedy have tried to focus on the benefits of this new way of life, like a new found appreciation for lunchtime walks, and the ability to spend more time with our families. There is also potential for beneficial changes on a larger scale, such as healthcare or climate change. One field in particular that has flourished in this new ecosystem is that of digital therapeutics (DTx) and digital health in general.
Digital therapeutics sit within the wider field of digital health, which covers the application of digital technologies to health data in support of goals related to lifestyle, wellness, health, life sciences or clinical operations. Within this broad field, DTx have been defined in various ways. A good practical starting point for the purpose of this article is the definition provided by the German Digital Healthcare Act (DGV, more on that later) which defines a DTx as "a medical product of a low risk class… that relies on digital technologies and supports patients or healthcare providers in the detection, monitoring, treatment or abatement of illnesses... injuries or disabilities". See more on this on p31.
This more or less matches what the Digital Therapeutics Alliance classifies as "digital medicine" (which include digital biomarkers and diagnostics, remote patient monitoring solutions and products that treat or manage a disease), itself including DTx stricto sensu (products that deliver evidence-based therapeutic interventions to prevent, manage, or treat a medical disorder or disease).
A field poised to flourish
Digital therapeutics present a number of opportunities that had already been identified by the pharma and healthcare industry, even if those opportunities had not yet been deeply explored or exploited.
First, DTx typically have a faster and lower risk development cycle than a traditional therapeutic. A new drug typically takes over a decade to develop, and involves very costly and high-risk clinical trials. By contrast, a DTx is by definition a low-risk product (from a clinical point of view), and although the collection of clinical evidence is very often still a necessary part of the development of a DTx, this can typically be performed faster and with a more cost efficient infrastructure, thereby lowering financial risks. Further, the process of characterising, manufacturing and scaling a traditional therapeutic is peppered with bottlenecks and drop out points where a product simply has to be abandoned. By contrast, a DTx can typically be developed relatively quickly and most bottlenecks overcome by increasing development man hours. Further, both development and deployment of a DTx is less hindered by practical barriers that have become much more obvious in the last year: practically all of it can be remote and distributed.
Secondly, DTx simply open new possibilities: there are things that a pill (currently) just cannot do. Collecting data, providing recommendations, interacting with a user, etc are just examples. Areas that are particularly likely to benefit from the new possibilities afforded by DTx include mental health and some chronic diseases. In these areas, traditional approaches have often seen limited success or simply could not provide a solution to patient's needs because the needs relate primarily to day-to-day management of symptoms, treatment management, day-today treatment delivery, and remote monitoring. While some of these can be met by healthcare practitioners (HCP) within a traditional setting, HCP capacity was already limited in most healthcare systems even prior to the current crisis, and crucially was not practically available to a great many people.
This leads us to another potentially game changing benefit of DTx: they offer solutions that are by and large very easily scalable and thus have potentially global reach with minimal expense on the technology side. The practical aspects of reach for any therapeutic are of course much more complicated than this due to regulatory and reimbursement considerations. Nevertheless, a DTx is less likely to suffer from bottlenecks related to manufacturing and distribution (a reality that has never been more real than it is now for all populations and individuals still awaiting "the shot") and the cost per user is likely to scale very advantageously.
Finally, digital health has the power of data built into its very core. Thus, many DTx can be improved through use (just as Google's results can get better as the user base increases, or even get better specifically for you as you use it). Further, DTx solutions can work alongside HCPs to make it easier for them to connect with patients, to provide them with more complete and up-to date data, and to provide solutions that simply cannot be provided by HCPs. Crucially, this means that DTx can provide complementary benefits to traditional HCP-led care, enhancing the quality of care for the highest number of people. This is essential for adoption as patients are unlikely to adopt solutions that are perceived as just another way to cut costs and automate what a human used to do without substantial further benefits to the patient or HCP.
How the pandemic gave that potential a boost
The aforementioned benefits are not new, and were to some extent already recognised prior to the onset of the pandemic. For example, Germany's DGV that provides a framework for digital health applications to be considered as medical products (which can be prescribed by doctors and reimbursed by the country's statutory health insurance funds) shortly predates the pandemic. However, the healthcare and pharma industries traditionally move with extreme caution (and very slow pace compared to the digital industry), such that the development and adoption of digital health solutions remained marginal.
The pandemic has forced both of these industries to radically change the way they operate. With increased pressure on healthcare and increased risk for patients and HCPs, the need for remote solutions for the delivery of healthcare suddenly became all too real. The need for mental health solutions also came to the forefront as isolation and increased stress took its toll on many. Pharma companies also had to change the way they work and quickly develop and adopt remote solutions throughout the clinical research pipeline. In short, the need for DTx solutions was higher than ever, providing the ideal opportunity for these technologies to demonstrate their worth.
The sudden and drastic effects of the crisis have also created an unprecedented need for increased speed of development and access to market. The former was met by increased funds and efforts, as both investors and management of larger companies picked up on the need, increasing in-flow of funds to DTx start-ups and prompting the development of enhanced digital health strategies within larger companies. The latter was met by multiple regulatory agencies, governments and payers across the worlds, providing more favourable regulatory environments including fast track approvals, emergency use authorisations and new reimbursement regimes for digital health solutions.
Signs that the digital transformation of healthcare is well and truly underway have popped up everywhere. For example, the US' Medicare announced that healthcare providers would be able to bill for remote health visits in the same way as in-person visits during the pandemic. Still in the US, the Food and Drug Administration has recently published an action plan1 for artificial intelligence/machine learning-based software as a medical device.
In Europe, the EU's existing digitalisation agenda (Digital Europe)2 has been reinforced with a stronger focus on health and healthcare, with the EU set to invest €5.3bn through EU4Health3 (in its own words, "the EU's ambitious response to Covid-19") to provide funds to health organisations and NGOs to pursue various objectives including digital transformation. In the UK, the recently created NHSX4 aims to be, in the words of Secretary of State for Health and Social Care Matt Hancock "a bridge between healthcare and technology".
On a more general level, the last year has proven that it is possible to develop and deploy a vaccine in a fraction of the time that we used to expect. The need for speed drove the realisation of it, and it will drive patients' expectation of it. This sets a new precedent against which the speed of development of therapeutics will be measured, and all actors in the system (even the slowest ones like regulatory bodies) will likely be changed by this.
Last but not least, new needs have encouraged new collaborations between partners that may have previously been more guarded, to make the most of combined resources and expertise. For example, many pharma companies have a lot of data but not necessarily all of the in-house expertise they need to exploit it. One clear example of such synergies is in the context of AI for drug development (see eg, the partnerships between Novartis and Microsoft,5 or GSK and Nvidia),6 a field that already existed but where the lack of suitable covid drugs created a more pressing need.
DTx in the post-pandemic world and the challenges of the future
Although some of the needs discussed previously will hopefully ease, many of the changes spurred on by the pandemic are likely here to stay. Indeed, there is arguably no strong incentive to revert adoption of technologies that are cheaper, more convenient, solve a previously unmet need and/or have prompted new procedures and regulations to be put in place. Some of these changes are not currently set up to last (eg, telehealth reimbursement in the US), but adoption by both patients and HCP bolstered by the pandemic could be sufficient to push for a more permanent change.
From an IP and competition point of view these changes are already having visible and growing consequences. As the field is growing, it is becoming more competitive, meaning that it becomes more important to protect one's market. Further, there is a growing awareness of the potential for IP protection of digital inventions in general, and for digital health in particular. This means that a denser IP landscape is building, emphasising the value of protecting one's USP and ensuring freedom to operate. Finally, the growth in the field will likely lead to more intense competition for talent. As a computational biologist myself I think that this is fantastic, but I do also hope that this will be met by new generations of trained and keen talent.
This blog was originally published in Intellectual Property Magazine.
Want to learn more about the patent landscape in digital health? Download our Special Report.
Read Camille's other therapeutics blogs.
---

References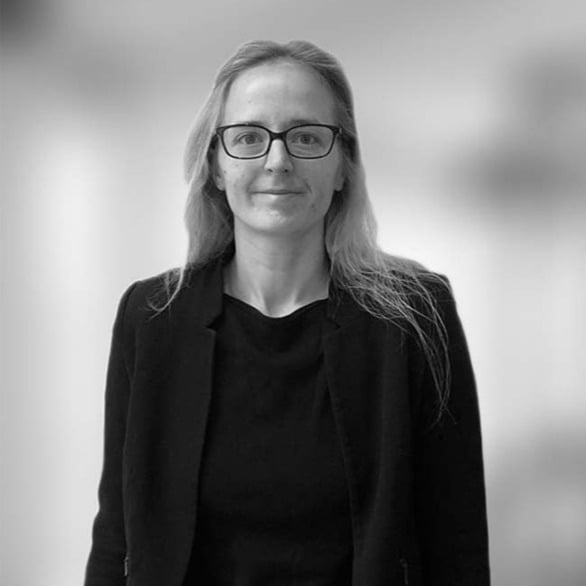 Camille is a Partner and Patent Attorney at Mewburn Ellis. She does patent work in the life sciences sector, with a particular focus on bioinformatics/computational biology, precision medicine, medical devices and bioengineering. Camille has a PhD from the University of Cambridge and the EMBL-European Bioinformatics Institute. Her PhD research focused on the combined analysis of various sources of high-content data to reverse engineer healthy and diseased cellular signalling networks, and the effects of drugs on these networks. Prior to that, she completed a Master's degree in Bioengineering at the University of Brussels and a Masters in Computational Biology at the University of Cambridge.
Sign up to our newsletter: Forward - news, insights and features
Contact Us
We have an easily-accessible office in central London, as well as a number of regional offices throughout the UK and an office in Munich, Germany. We'd love to hear from you, so please get in touch.