Australian start-up Baymatob combines an array of sensors with artificial intelligence to identify heavy bleeding after childbirth before it is visible.
Forward: features are independent pieces written for Mewburn Ellis discussing and celebrating the best of innovation and exploration from the scientific and entrepreneurial worlds.
When Dr Sarah McDonald gave birth to her second child, it was traumatic. The labour experience and the pain she felt were completely different to her first birth. Rather than dismiss it as bad luck, McDonald decided to take action. As a mechatronic engineer, she felt something could be done to understand what had caused the huge difference and whether it could have been treated.
"I remember being so shocked that my experience of birthing Ollie was of no clinical relevance or interest," explains McDonald, who had previously worked for medical device manufacturer Fisher & Paykel Healthcare before taking a break to have children. "I made it my mission to make sure no one went through what I did or worse."
Almost ten years later her company Baymatob has just closed a $3 million equity investment round to take Oli, the AI-enabled sensor device named after her son, to market. The maternity sensor, monitoring, and diagnostic platform enables healthcare providers to acquire, interpret and predict critical information on pregnancy progression.
The four-armed device attaches its sensors to the maternal abdomen via a custom electrode and is designed for use in clinical settings when women have their pre-natal appointments and during the intrapartum period after birth.
"I did my honours on Parkinson's disease, quantifying different physiological signs," says McDonald. "I knew I could collect similar data in pregnancy but when I started to talk to people about the problem I was put in my place because I wasn't a doctor. I ended up doing a PhD in medicine just so that I could take what was in my head and put it into a device."
The first proof of concept for Oli was pulled together by McDonald herself and she managed to demonstrate that the different things she was feeling during that traumatic birth could be measured and acted upon.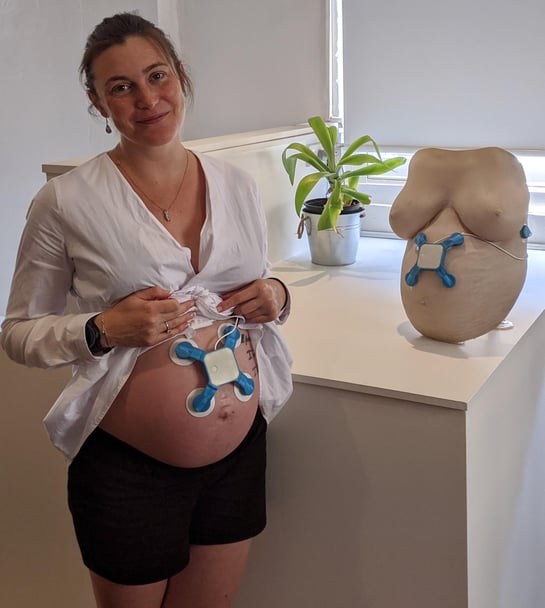 Dr Sarah McDonald wearing Oli, the AI-enabled sensor device named after her son


"When we started getting the data we realised there was potential to work across a number of maternity issues, such as reduced movements, but when we started speaking to regulators it became clear that we would be better off focusing on one issue at a time, so we began with postpartum haemorrhage."
Postpartum haemorrhage (PPH), or excessive bleeding after childbirth, is the leading cause of maternal death across the world. It claims one mother every seven minutes worldwide.
"The device itself is a collection of different sensors in one," explains McDonald. "The sensors work together to measure a range of different physiological signals, presenting mother and baby as a singular system, which doesn't currently happen. It basically allows us to know if a contraction is constructive, leading towards a favourable outcome, or destructive."
Having collected information about maternal and fetal movements, temperatures, uterine muscle and cardiac output, the Oli device uses AI and machine learning to crunch the data coming from the sensors. The algorithms identify patterns of physiological signals from the multi-modal data and how they link to future health outcomes for mother and baby. These patterns are not easily identifiable on human visual assessment, so handing the job to an AI which can absorb large datasets over long time periods is key. "There's a certain nuance in how we balance the data, depending on whether we are checking for foetal movements, PPH, or any other issue," says McDonald.
Last year, Oli received Breakthrough Device designation by the US Food and Drug Administration. The FDA's Breakthrough programme aims to provide patients and healthcare providers with access to medical devices much quicker than normal and is only awarded to projects it recognises as having the potential to provide "a more effective treatment for life-threatening or irreversibly debilitating diseases or conditions." While this doesn't mean the device is FDA approved yet, it grants the company additional support and an expedited regulatory review path.
Baymatob is currently trialling Oli with over 500 patients, collecting data both before and after labour. The investment from this round will enable Baymatob to finish its data-heavy testing. But McDonald admits they'll need further fundraising to bring Oli to market: "We're literally about to open another fundraiser. Within a couple of weeks we'll have the data we need to finalise the training for our PPH algorithm which is really exciting. Then we need to dive into our clinical trials for that, which will feed into the approvals we need to bring Oli to market."
Oli is designed to be used in a clinical setting rather than for at-home monitoring but could have transformative effects for isolated communities as well as in antenatal wards across the world. It will be a huge step forwards for an area that has seen relatively little innovation in the past 50 years.
"We're still measuring the same things that our grandmothers would have had measured," says McDonald. "Even the sexy new devices coming out are focusing on the same things. Unfortunately, there just aren't many women who innovate in this area because of the lack of representation in STEM. I was lucky that because of my training I was able to act. I knew the status quo wasn't good enough."
---

An inspiration to other women
Rachel Oxley, Partner and Patent Attorney, Mewburn Ellis comments:
It is really exciting to see women driving forward innovation with the goal to help other women through what can be a very challenging time of their lives. The insight gained from first-hand experience of a traumatic birth can only have strengthened the passion and perseverance exhibited by Dr Sarah McDonald. She should serve as an inspiration to other women who feel driven to innovate in the Femtech field as a result of their experiences and the experiences of other women around them.

Here at Mewburn Ellis, many attorneys within our large Medtech team have an interest in helping Femtech innovators protect their ideas and investment. We consider other ground-breaking developments in our Femtech special report to be released later this year.


---


Written by Charles Orton-Jones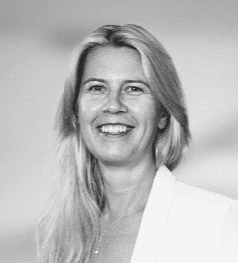 Rachel is a member of our engineering and chemistry & materials patent teams and has experience working in a number of industry sectors including transport, Medtech, food & beverage, industrial chemistry, mechanical & structural engineering and Cleantech. Rachel deals mainly with original drafting, prosecution, opposition and opinion work. Her clients include British universities, UK-based SMEs, domestic and overseas corporations.
Sign up to our newsletter: Forward - news, insights and features
Contact Us
We have an easily-accessible office in central London, as well as a number of regional offices throughout the UK and an office in Munich, Germany. We'd love to hear from you, so please get in touch.