Long considered the poor relation of solar and wind-based solutions, why is ocean energy now experiencing a new wave of interest?
Forward: features are independent pieces written for Mewburn Ellis discussing and celebrating the best of innovation and exploration from the scientific and entrepreneurial worlds.
There will soon be something new and powerful nestled 11m under the waves off the west coast of Wales. From the surface or shore, it will be entirely invisible, but when it springs into action in early 2021, its impact could be felt across the world.
Originating in Perth, Australia, and shortly to be installed just off the coast of Pembrokeshire is the prototype of an innovative wave energy converter called mWave™. Created by Bombora, its technology could enable a sea change, one that helps to bring ocean energy in general – and wave power in particular – firmly into the renewable energy ecosystem.




A 3D depiction of mWave™ which could bring ocean
energy into the renewable energy ecosystem
Untapped opportunity
Ocean energy, sometimes referred to as blue energy or marine energy, is widely acknowledged to have huge potential to take its place next to wind and solar in driving the clean energy revolution we'll need if we are to meet international climate agreements, cut carbon emissions and begin to make the changes required to keep global temperature increases to a survivable level.
The sector encompasses projects that harvest the energy generated by tides, currents and waves (tidal barrages, for instance, which are the most mature technological solution in the sector), as well as processes that exploit the thermal energy created by temperature differences between the surface and deeper water, or the salinity gradient created where fresh water converges with salt water.
Sitting within the wave energy family, Bombora's mWaveTM uses unique, patented technology that has been through six years of development. Whereas conventional wave-energy converters extract power from the movement on the ocean's surface, mWaveTM capitalises on the energy created in the form of pressure beneath the waves. It's equipped with a series of air-inflated rubber membranes, arranged to sit at an angle facing the incoming waves. Put simply, as waves pass over the device, the air inside these membranes is squeezed into a duct, then through a turbine, emerging via a generator as electricity. The power generated by mWave is delivered direct to shore via a subsea cable.



Watch mWave™ in Action (watch more)
The ocean energy sector as a whole could drive an enormous range of new activities in addition to utility power, as suggested by the range of applications discussed in Powering the Blue Economy™, a report prepared by the US Department of Energy in 2019. These new opportunities include powering ocean observation and reporting systems, seawater mining and marine aquaculture (including seagrass and algae farms), charging underwater vehicles and even powering offshore data centres to accommodate rising global computing demand.
The report also points out the role of harnessing ocean energy to help coastal areas withstand extreme weather events, providing power in the event of outages occurring on the traditional grid and even supplying 'desalinated water or electricity in remote coastal areas not easily serviced by emergency responders' in the wake of a disaster.
Constant current
Unlike its renewable energy stablemates, ocean energy doesn't suffer from downtime, because the oceans are in constant motion. When it comes to tidal energy, there is built-in predictability: we've understood the actions of the tides for centuries, and they are predictable years ahead. And because other forms of ocean energy can generate energy in all weathers, it can perfectly complement less predictable solar and wind installations. In particular, wave energy is a good fit as a partner for wind: as the wind speed picks up, it drives the waves, and when the wind stops powering turbines directly the waves will continue to generate energy long after the wind has subsided.
Research studies to date suggest that ocean energy is also safe for wildlife, with little to no adverse effect on marine life. Of course, as installations increase and bed in, further study will be needed. Crucially, ocean energy emits no CO2. The use of such installations in Europe could avoid the release of 234m tonnes of that destructive greenhouse gas, according to Ocean Energy Europe (OEE) which is the industry body for ocean renewable energy in Europe. These sound environmental credentials mean that it presents a compelling alternative to highly polluting fossil fuels for island nations and could be the key to them becoming energy independent.
"Research studies to date suggest that ocean energy is also safe for wildlife, with little to no adverse effect on marine life"
In its 2019 Overview of Ocean Energy Activities, Ocean Energy Systems (an intergovernmental technology collaboration programme) explains that the EU 'sees ocean energy as a means to meet decarbonisation targets… and has supported the development of the sector through its Strategic Energy Technology Plan and the Blue Growth Strategy'. The document points to key centres of activity such as Scotland and Wales in the UK, Australia – where funding has been announced for a 10-year Blue Economy Cooperative Research Centre – and a number of initiatives in India and China. 'Many countries around the world have revised or set ambitious targets for emission reductions and the production of electricity from renewable resources,' the report notes. 'Ocean energy could contribute to attaining these targets while creating synergies to aid in tackling sustainable development challenges as well.'
It's no wonder then that Rebecca Lewison, an ecologist at San Diego State University, is one of a baker's dozen of academics and researchers that have called for a 'Teal Deal' in the US that would bring renewable marine energy firmly into that country's framework of measures to tackle climate adaptation and mitigation.
Blue needs green
Similarly, Rémi Gruet, CEO of Ocean Energy Europe, has said that economic recovery packages in the wake of the COVID-19 crisis 'must make renewables, including ocean energy, a cornerstone of the new economy'. Writing recently for rechargenews.com, Gruet has called for Europe to provide the stimulus for 100MW of ocean energy by 2025 and up to 5GW by 2030. This, he says, 'will give a clear signal to both the sector and investors, leveraging more private investment and enabling projects to hit the water. This will propel this new industry into the mainstream, where it can replicate the successes of its offshore wind predecessors.'
Indeed, access to finance is acknowledged as one of the primary factors that has held back ocean energy while other renewable technologies have forged ahead. In order for ocean energy to take its place in the renewable ecosystem, projects not only need finance for innovation and the validation of prototypes, but also a revenue support path at the point at which projects are ready to deploy.
Sam Leighton, Bombora's managing director, attributes some of this reticence to invest to setbacks in early projects: 'Fifteen years ago, there was a lot of enthusiasm about wave energy and a lot of companies working in the space. Unfortunately, a lot of companies have failed, so there is feeling among the investment community and the whole industry that wave energy is a poor cousin of solar and wind.'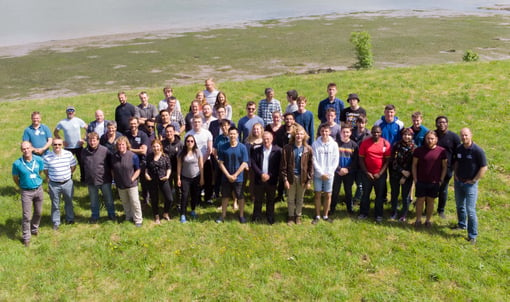 Bombora team hosting the inaugural Wave Challenge Weekend to inspire the next generation of engineers
Happily, Bombora has found ways to forge ahead. Its move to Wales, where it has now established a European base, followed a major capital raising round and the receipt of a £10.3m European Regional Development Fund (ERDF) grant through the Welsh Government to develop a 1.5MW mWaveTM prototype.
Leighton says that the Welsh Government and Marine Energy Wales have created a good environment for the marine industry, 'nurturing the whole ecosystem of developers like us and connecting us to the supply chain'. Having arrived in Wales with a team of just three, Bombora has been able to 'work through the process to rapidly evolve the Pembrokeshire project into a real product, which is currently undergoing final assembly'.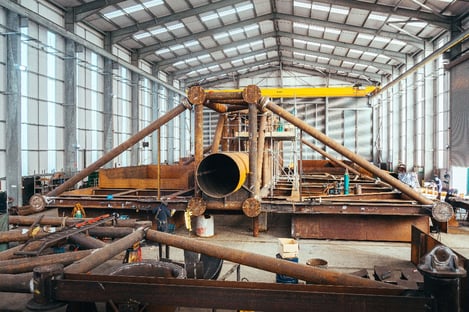 The Pembrokeshire mWave™ prototype is currently undergoing final assembly
Leighton explains that with the Pembrokeshire prototype, 'we're looking to demonstrate that we can play on the same field, and that we can play in the global utility-scale power generation market. This project is about proving that we have a product that can do it, and then we'll be looking to grow the industry with partners and a supply chain from there.'
Once the Pembrokeshire prototype has proved successful, the next iteration is a commercial project in Lanzarote building on what has been learned. From there, Bombora is progressing plans to develop projects in Japan, Ireland and Australia.
Simplicity is the secret
The mWaveTM product was built on the realisation that there were several different energy paths to exploit, explains Leighton. 'All other wave energy devices use the motion of the wave, so the surge back and forward. The a-ha moment for us was actually around the fact that there's energy beneath the wave in the form of pressure, which we can tap into. So, rather than being up in the damaging surface area, our device is submerged safely below the waves.'
"The a-ha moment for us was actually around the fact that there's energy beneath the wave in the form of pressure, which we can tap into"
'The transmission process is also quite different', he continues. 'Our path from the wave energy through to electrical energy is a very simple one. We turn the pressure beneath the wave into airflow, sending it direct to the turbine in the most efficient way.
'You need an immensely strong structure to withstand the storm waves on the surface, but you need a much more simplified structure beneath the waves. And there are very few moving parts. Basically, it's a modular approach, a bit like a Lego set, where every part is removable and can be serviced on shore. That keeps operational and maintenance costs down.'
As well as overcoming the survivability hurdle that dogs all ocean energy projects, mWaveTM also tackles the vexed question of cost. Its design and modular construction are no accident, but were intended to provide wave energy at a cost that is competitive with other energy sources.
Partnership potential
Bombora is also looking at opportunities for projects where it works together with the wind industry and optimises output, says Leighton. 'So, for example, if you do co-location or the integration of wave energy with wind, you can get more power output from an energy farm or increased power output from a site. There are the synergies that exist between wave and wind, the combining of those two gives a better overall outcome.' In this vein, Bombora has already announced a collaboration with ORE Catapult to look at the feasibility of co-locating mWaveTM with floating wind structures.
Leighton continues: 'We see that it is important that we continue to diversify and increase the renewable energy industry and to add this third major tier. As the world continues its march towards decarbonisation, our product can form a part of that. This is what drives us.
'It's about building a whole ecosystem to enable wave energy to become part of the norm for renewable energy. We'd like people who are thinking about doing a renewable energy project to see that wave energy sits right beside solar and wind in the offering.'


---

Ocean energy: the early IP
While innovators like Bombora are certainly refining the offer, ocean energy itself is nothing new. The first patent involving wave energy was filed in 1799 by a French father and son, and since then many hundreds of wave energy patents have followed.
Rachel Oxley, a partner at Mewburn Ellis who works alongside associate Ben Boyd on Bombora's patent worldwide portfolio comments:
"As the world looks forward to more sustainable and cleaner energy resources, it is great to see the innovative wave energy conversion technology described in patents and research papers over the years become a commercial reality that can make a really positive contribution to the world's future energy needs."


---
Ocean energy: On the up
In its 2019 overview, Ocean Energy Systems says that the cumulative energy produced by wave and tidal stream energy has increased from less than 5GWh in 2009 to some 45GWh in 2019.
In Europe alone, ocean energy could provide 10% of the continent's energy needs by 2050, according to Ocean Energy Europe (OEE). OEE also reports that 2019 saw an increase of 25% in the capacity of wave energy generation and is forecasting 2020 to be 'a bumper year' for ocean energy, with new tidal and wave devices expected to provide 6.4MW in Europe and 3MW in the rest of the world.
Images supplied by Bombora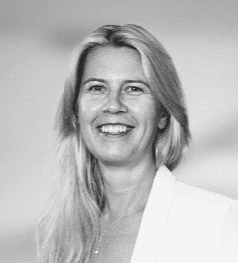 Rachel is a member of our engineering and chemistry & materials patent teams and has experience working in a number of industry sectors including transport, Medtech, food & beverage, industrial chemistry, mechanical & structural engineering and Cleantech. Rachel deals mainly with original drafting, prosecution, opposition and opinion work. Her clients include British universities, UK-based SMEs, domestic and overseas corporations.
Sign up to our newsletter: Forward - news, insights and features
Contact Us
We have an easily-accessible office in central London, as well as a number of regional offices throughout the UK and an office in Munich, Germany. We'd love to hear from you, so please get in touch.