Graphene has been heralded as a game changer in the research and development of new materials since it was discovered and isolated by researchers at The University of Manchester in 2004. It is the world's most famous '2D material'.
There is a lot of talk about graphene but what are its uses and potential future uses? The properties of graphene are such that almost any industry might benefit from it. Incredibly strong, exceptionally thermally conductive, and almost totally inelastic, it could revolutionise countless areas in construction, manufacturing, consumer products and more.
There has been talk of putting it in everything from trainers to trains, concrete to condoms. Graphene is also 'tuneable', by the incorporation of various dopants and functional groups, further expanding its use into sectors such as battery and semiconductor technology. It is not hard to imagine, for example, a car of the future in which every part contains some graphene or graphene derived product.
The University of Manchester has set up a multi-million pound research centre to focus on developing innovative new applications for graphene. The Graphene Engineering Innovation Centre (GEIC) is a £60m R&D initiative set to open in late 2018, designed to bring together specialist organisations from across the country and the world – including scientists, technicians, innovators and IP experts – to share knowledge and identify opportunities to advance the use of the material across countless products and industries.
The work of the GEIC is so important as graphene is entering its 'difficult teenage years' in terms of its potential being realised. People know about graphene and are excited by what might be possible – but that potential must be realised. While more and more uses of graphene are found at the laboratory scale, the challenge of making it a useful industrial material are many. As advances are made and shared, the potential market expands for everyone working in the field.
The innovations that are taking place in relation to graphene can be and should be protected through intellectual property rights. Protecting the often hard-fought advances made in such a fast developing area is vital for securing a business future for smaller companies. There are so many fascinating areas of graphene research being worked on, it would be a tragedy if the people doing that research did not receive due protection and reward for their work.
We at Mewburn Ellis are proud to be official affiliate partners of the GEIC and are excited to be working with them to realise the full potential of this 'miracle material.' It is such an exciting time for graphene, the current vibrancy of inquisition and exploration cannot be wasted. James Baker's vision for 'Graphene City' in Manchester is fantastic and we are delighted to be part of the community as it grows and evolves.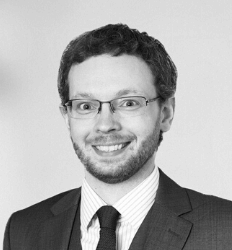 Matthew is a Partner and Patent Attorney at Mewburn Ellis. Working primarily in the chemical and materials science fields, he has significant experience of the intricacies of the EPO. Matthew advises and assists clients with all stages of drafting, prosecution, opposition and appeal before the EPO. Many of his clients are Japanese and Chinese businesses that are seeking European patent protection. These include multinational corporations in the fields of high-performance ceramics and carbon fibre technologies, as well as pharmaceutical and cosmetic companies. Matthew also works with several research institutions and university technology transfer departments across Europe.
Sign up to our newsletter: Forward - news, insights and features
Contact Us
We have an easily-accessible office in central London, as well as a number of regional offices throughout the UK and an office in Munich, Germany. We'd love to hear from you, so please get in touch.