'Imitation is the sincerest form of flattery' is a motto that does not fare well with intellectual property owners. Once you obtain IP rights, they are an asset which can be used to aggressively prevent potential and actual practices that interfere with your business.
To reap the full benefits of your IP rights, the first step is knowing what they can achieve.
Making a Customs 'Application for Action' (AFA) can help you stop the entry of infringing and counterfeit imported goods at the border. This is an effective mechanism available for IP owners to pre-empt infringing practices and prevent the sale of counterfeit goods and goods that infringe your rights in the market.
Fighting the importation of infringing and counterfeit goods
AFAs are a low cost and time-efficient way of helping to prevent infringing and counterfeit goods from entering the market. An AFA involves (Custom's) Border Force in the protection of your rights.
The sale of counterfeit goods is an unfortunate part of commercial reality. Counterfeit goods are often manufactured abroad, imported, and then sold in the domestic market - imitating a brand without the brand owner's authorisation.
The presence of counterfeit goods in the market can be of great detriment to the rightful owner's business. If the goods sold are of inferior quality, they can cause reputational damage to your brand. Additionally, they can have a diluting effect on the brand name; this is when the force of recognition of your brand for consumers is weakened.
Some sectors are particularly vulnerable to the damaging effects of counterfeit goods. These include luxury goods, pharmaceuticals, cosmetics and high-value products such as watches and collectable trainers.
What is the AFA process?
An AFA is a mechanism that puts the Border Force authorities at the border of the relevant country, on notice of your IP rights. The Border Force authorities will apply the information given in the AFA, to identify, seize and potentially destroy products that are inauthentic copies that infringe your IP rights.
An AFA can be based on any IP right, such as a patent, trade mark, design, geographical indication or copyright and it can cover a specific country or territory.
At the UK border, upon identifying potentially infringing goods, the authorities will contact you to check whether you think the goods are genuine. You will be asked to confirm if you think the goods infringe your rights and whether you agree to their destruction. The owner of the goods will also be contacted. If the goods are infringing, they will be prevented from entering the country.
You can also choose to pursue further legal action against the identified infringer.
What are the advantages of the AFA?
An AFA is a highly effective pre-emptive measure and it is used to prevent the sale of infringing goods before they enter the country.
It is cost-effective.
In the long-term, it can also help you save money, as it may help mitigate the need to deal with infringing practices that could have arisen after the import of infringing goods.
It is a strong weapon against counterfeiters.
It safeguards your IP assets against reputational damage and brand dilution.
It can particularly benefit trade mark owners.
Brand names and logos are at a particular risk of reputational damage and dilution, as they are so easily identifiable by consumers from just a quick glance at the product.
What are the requirements to obtain an AFA, in the UK and in the EU?
Owners of IP rights, such as patents, trade marks, geographical indications, copyright or designs are eligible to apply for an AFA. You can apply to protect multiple rights, which relate to one, or more, products.
First, you will need to decide which territories you wish to target. The application processes for AFAs covering the UK and the EU are separate. The territory covered by the AFA will depend on the IP right(s) on which it is based.
For example, to obtain a 'Union AFA' - which covers all the Member States within the EU - you will need to have IP rights based on EU law applicable throughout the Union. For example, a EU trade mark, or an international trade mark designating the EU can act as the basis for a Union AFA application.
Materials showing the right(s) in use, and how both genuine and counterfeit goods and packaging will or should look, can be submitted as part of the application to help aid Border Force in making a decision when faced with a suspect import. For example, if one of your products is routinely copied and there are key differences between it and the original that can be highlighted, an AFA including this information will greatly assist in the prevention of said counterfeits entering the market.
Our advisors are on hand to help you navigate this process internationally. We will consult with you on your business needs, assess your IP portfolio and recommend the strategy that is right for you, going forward.
A checklist of examples of different types of useful evidence for an AFA is set out below:
• Catalogues evidencing the goods for sale.
• Pictures and photos of the trade marks applied to the goods that they cover.
• Marketing materials that identify how the trade marks are utilised in the course of trade.
• Lists of importers, exporters, manufacturers, approved retailers and distributors.
• Photos of original goods and packaging.
• Photos of counterfeit goods and packaging.
• Comparison charts / documents showing key differences between counterparts / originals.
• Lists of product numbers / serial numbers / barcodes – essentially any key details that may be incorrect on counterfeits, e.g. counterfeits may utilise a different serial number.
• Differences between products intended for different markets (i.e. UK vs EU).
• Any other evidence that would assist Customs in easily identifying genuine or counterfeit goods, as well as use of the trade marks in commerce.
How can I start the application process?
Depending on the territory, the timeline can vary.
In the UK, the application process is very quick. You can expect a decision within a matter of days after the application has been submitted. Once it has been granted, it will be valid for one year from the decision to grant your application, which can be later extended.
During the application process, we will ask for some details from you and prepare an effective application that suits your goals.
Double-down on counterfeiters
If you are selling goods on Amazon, you may consider doubling down on infringers by registering in the Amazon Brand Registry. You can read our article on this here.
Key takeaways
Speak to us before deciding whether to pursue an AFA. Our team of specialist advisors will be able to assess your IP assets and recommend a fitting strategy for your business and commercial goals.
Making a Customs Application for Action is a key mechanism that can help you exploit your IP assets to their full potential early on.
When it comes to counterfeiting, 'Nip it in the bud' is a very fitting motto for IP owners!
---

About the authors
This blog was co-authored by Frederick Steele and Karolina Fryzlewicz.


Frederick (Fred) assists the firm's Solicitors and Litigators in all aspects of the litigation process. This includes research into case law and court formalities, analysis of the law and considerations within a case, as well as all formalities such as checking Civil Procedure Rules, pulling together bundles, disclosure and preparing necessary documentation. He also handles letters and correspondence in a dispute and has assisted with every major litigation case that the firm has run since joining in 2019.
Email: frederick.steele@mewburn.com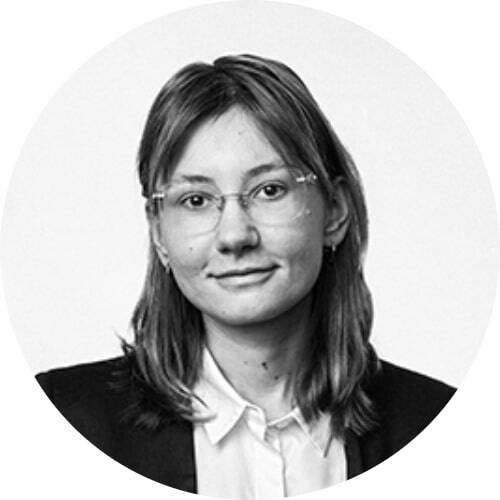 Karolina is a trainee trade mark attorney and a member of our trade mark team. Her core interest is in comparative trade mark practices, having studied trade mark law across multiple jurisdictions. Karolina's special interest is pro bono work, having completed an internship at the National Pro Bono Centre in London. She graduated with an LLB Law with Another Legal System (Singapore) degree, from University College London. This included a year placement at the National University of Singapore, where she studied Singaporean law. She also has a LLM in Intellectual Property Law, from University College London.
Sign up to our newsletter: Forward - news, insights and features
Contact Us
We have an easily-accessible office in central London, as well as a number of regional offices throughout the UK and an office in Munich, Germany. We'd love to hear from you, so please get in touch.