In this final blog in our non-traditional pharma trade mark series, we will be examining position marks, as well as considering what the future might hold for non-traditional trade marks in the pharma space. Will it be possible to register smells and tastes in the future?
Can they be registered?
A position mark refers to the specific way in which a sign is placed on or affixed to goods.
When applying to register a position mark, the representation needs to clearly define the position of the mark and its size or proportion with respect to the relevant goods.
An example of this is STADA Arzneimittel AG's EUTM Registration No. 018172864 for packaging which shows the position of a pink corner design and their STADA logo. These elements are used consistently across a number of their products.
| | |
| --- | --- |
| | |
| EUTM Registration No. 018172864 | Image from stada.com |
Meanwhile Gilead Sciences owns three EUTM registrations for position marks corresponding to the placement and colour of elements on a bottle. EUTM Registration No. 018285553, for example, includes the description "The mark consists of the colors red and gray as applied to the top cap used as packaging for the goods and the placement of a design of a shield and leaf, both shaded in black and white, to the left of the word "GILEAD" in gray. The matter shown in broken or dotted lines is not part of the mark and serves only to show the position or placement of the mark". The registration covers "Pharmaceutical preparations; antiviral pharmaceutical preparations; pharmaceutical preparations for treatment of coronavirus".
| | | |
| --- | --- | --- |
| | | |
| EUTM Registration No. 018285553 | EUTM Registration No. 018310852 | EUTM Registration No. 018310855 |
What are the challenges?
To be accepted for registration as a trade mark in the UK and EU, a position mark must comply with the criteria established by the Court of Justice of the European Union in Sieckmann. It must be clear, precise, self-contained, easily accessible, intelligible, durable and objective. In addition, the shape must be distinctive enough to function as a badge of origin.
A position mark is unlikely to be viewed as distinctive if the key elements of the mark appear to be merely decorative.
By way of example, in January 2020, when Italian company ALFASIGMA S.p.A. applied to register a position mark in respect of pharmaceutical products under EUTM Application No. 018178498, the application was rejected on the grounds that the mark is not immediately able convey information to the consumer about the origin of the products. Instead, the EUIPO said that consumers may think that the configuration of the striped design on a box simply constitutes a new aesthetic motif adopted by the owner for its products.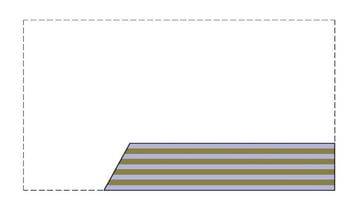 EUTM Application No. 018178498


Meanwhile, whilst STADA Arzneimittel has been able to register a position mark comprised of their pink corner design with the STADA logo (as shown above), separate applications for a position mark consisting solely of the pink corner design have received objections in a number of EU countries and in the UK on the grounds that the mark is not distinctive. An appeal is currently pending at the EUIPO.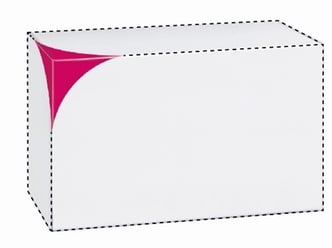 EUTM Application No. 018131247


Gathering and filing evidence of extensive use and arguing that consumers have come to see the position mark as a trade mark through use may enable you to overcome an objection like this, but it can be a laborious and costly exercise. Furthermore, if the application is an EUTM application, you will need evidence from across the whole of the EU. This can be difficult for many companies who will have only sold their product in certain specific countries.
Can they be enforced?
There are few examples of registrations for position marks being used to prevent use and registration of other marks in the pharma field. However, we can look at the principles established in other sectors, including footwear where position marks are seemingly more common.
In 2018, the General Court of the European Union issued a decision in Case T629/16 Shoe Branding Europe BVBA v EUIPO – adidas AG confirming a previous decision of the EUIPO Board of Appeal in which they rejected an application to register a position mark consisting of two parallel lines on a shoe (EUTM Application No. 8398141) on the grounds it would take unfair advantage of the reputation of Adidas' EUTM Registration No. 3517646 for a figurative mark consisting of three parallel stripes on a shoe.
| | |
| --- | --- |
| | |
| EUTM Application No. 8398141 | EUTM Registration No. 3517646 |
An individual, Fernando Ruz Gutierrez, has also successfully enforced his EUTM Registration No. 017473621 for a footwear position mark against part of both EUTM Registration Nos. 017837014 and 017883036.
| | | |
| --- | --- | --- |
| | | |
| EUTM Registration No. 017473621 | EUTM Registration No. 017837014 | EUTM Registration No. 017883036 |
These decisions demonstrate that position marks can be considered similar to other types of marks, both where the overall presentation is very similar (as in the Adidas case) and where the later marks are similar designs in the abstract.
It is worth noting that in these cases the later marks and the earlier marks were all in the same sector, namely footwear. Position marks might be more difficult to enforce against trade marks which cover less similar goods, although the legal tests are the same.
Are there other types of non-traditional trade marks?
In this blog series, we've looked at shape, colour, sound, motion, multimedia and position marks, but this is not an exhaustive list of the types of non-traditional trade marks you might be able to register. Other types of trade marks accepted by the UKIPO and EUIPO include patterns and even holograms.
Theoretically, there is no limit on the types of trade marks you could apply to register in the UK and EU. In the past, people have tried to register smells and tastes.
Back in 2000, a company called The Aromacology Patch Co. Ltd. applied to register a smell mark, "THE SMELL OF VANILLA" for a variety of goods under EUTM Application No. 001807353, including "Patches for application to the skin, adhesive patches for application to the skin" in class 5. The applicant claimed to be the proprietor of a patent for vanilla smelling patches and the only party offering such goods in Europe. The EUIPO conducted a quick internet search and found more than 5,400 examples of patches associated with a vanilla smell, including for health, weight loss and aromatherapy purposes. They concluded that the mark was not capable of distinguishing the goods of one undertaking from those of another, and therefore refused the application.
In the same year, Eli Lilly and Company applied to register a taste mark "THE TASTE OF ARTIFICIAL STRAWBERRY FLAVOUR" for "Pharmaceutical preparations" under EUTM Application No. 001452853. This was rejected by the EUIPO on the grounds that there are many artificial strawberry flavoured pharmaceutical products on the market. Furthermore, whilst taste may be a factor in choosing a particular product, it is not indicating the origin of the goods, it simply makes them more palatable.
As we mentioned in our first post, the reality is that smell, taste and tactile marks are currently unacceptable in the UK and EU as they simply cannot be represented in a way which complies with the requirements of the trade mark offices. Of course, with technology developing and adapting all the time, who knows what the future of non-traditional trade marks might hold. Watch this space!

Rebecca is a Partner and Chartered Trade Mark Attorney at Mewburn Ellis. She handles all aspects of trade mark work, with a particular focus on managing large trade mark portfolios, devising international filing and enforcement strategies, and negotiating settlements in trade mark disputes. Rebecca has extensive experience of trade mark opposition, revocation and invalidity proceedings before the UK Intellectual Property Office (UKIPO), including very complex evidence based cases. Rebecca also has a strong track record in overcoming objections raised to trade mark applications.
Sign up to our newsletter: Forward - news, insights and features
Contact Us
We have an easily-accessible office in central London, as well as a number of regional offices throughout the UK and an office in Munich, Germany. We'd love to hear from you, so please get in touch.